Amid military violence, Myanmar's people find empathy and solidarity
City people now see military differently, they now feel empathy with ethnic minorities, says Karen man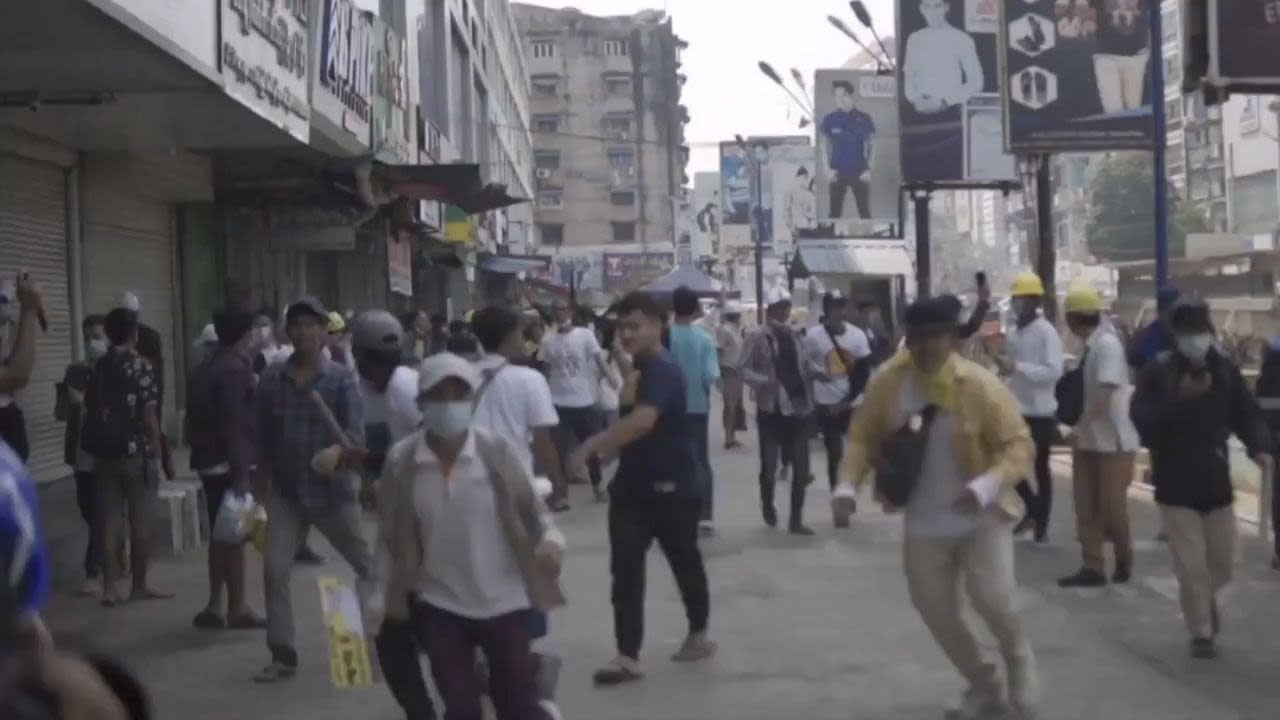 For Kang Myant, a member of Myanmar's Karen ethnic minority, discrimination has always been part of life. "It's often in the little things," he told LiCAS.news in a phone interview from Myanmar.
"For example, I went to a government school when I was young. There they told me that I needed to get a Burmese name," Kang Myant said. "And when I applied for an ID card, the immigration officer told me that my name was wrong. He told me to get a Burmese name."
With officially 135 ethnic minority groups, and several unrecognized minority groups, such as the Rohingya Muslims, Myanmar is one of the most diverse countries in Asia. But for decades ethnic communities have been discriminated by the Bamar, Myanmar's largest ethnic group.
Their languages weren't good enough.
Their names were too long, too short or too foreign.
Their cultural and religious ceremonies were wrong, and there was much more that didn't fit in the Bamar's view of Myanmar.
Often, they were also seen as terrorists who wanted to attack the Bamar while most ethnic armed groups were either defending their territory or fighting for a greater amount of independence.
But things are changing.
Background photo: Anti-coup demonstrators march in Nyaung-U, Myanmar March 17 in this image obtained by Reuters.
The military coup in early February, in which the elected government of Aung San Suu Kyi was pushed out of power by commander-in-chief Min Aung Hlaing, has brought people from different ethnic groups together.
Members of minority groups notice that the brutal violence of the military against protesters is creating a better understanding in the country of how much ethnic minorities have suffered under military violence since the 1940s.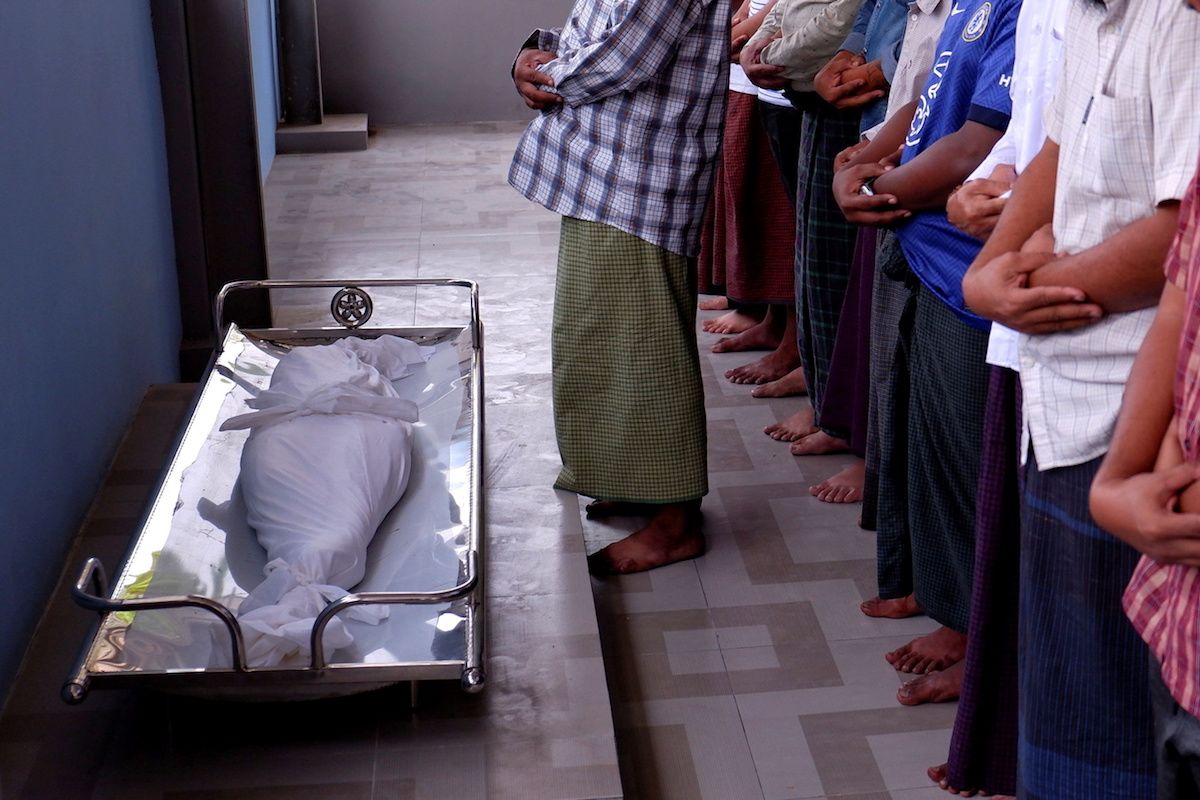 Since Feb. 1, the Tatmadaw, the name people in Myanmar use for the military, has killed at least 320 protesters and arrested 2,981, according to human rights group Assistance Association for Political Prisoners.
"People in the city now see the military differently," Kang Myant said from Myanmar's biggest city Yangon. "They now feel empathy with the ethnic minorities," he said.
"Now they understand why the ethnic groups decided to pick up weapons. They always thought that the ethnic groups were terrorists, but now they see how brutal the military is."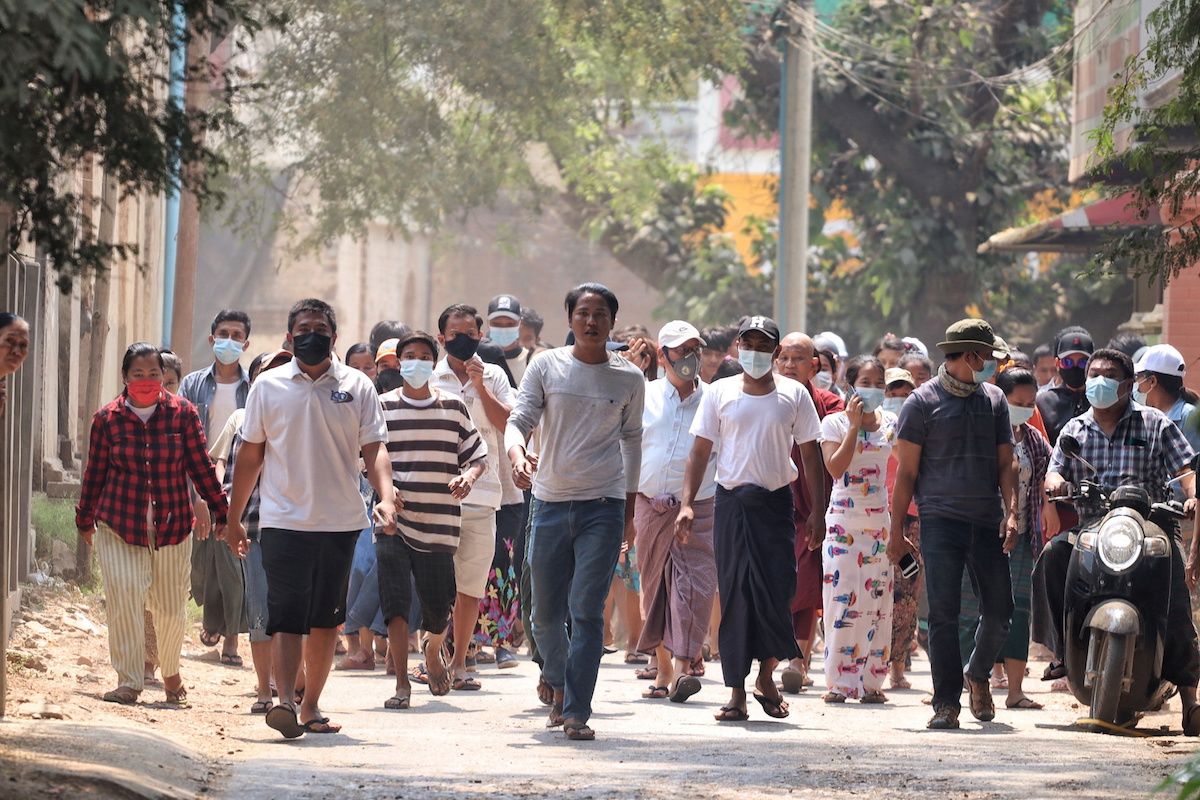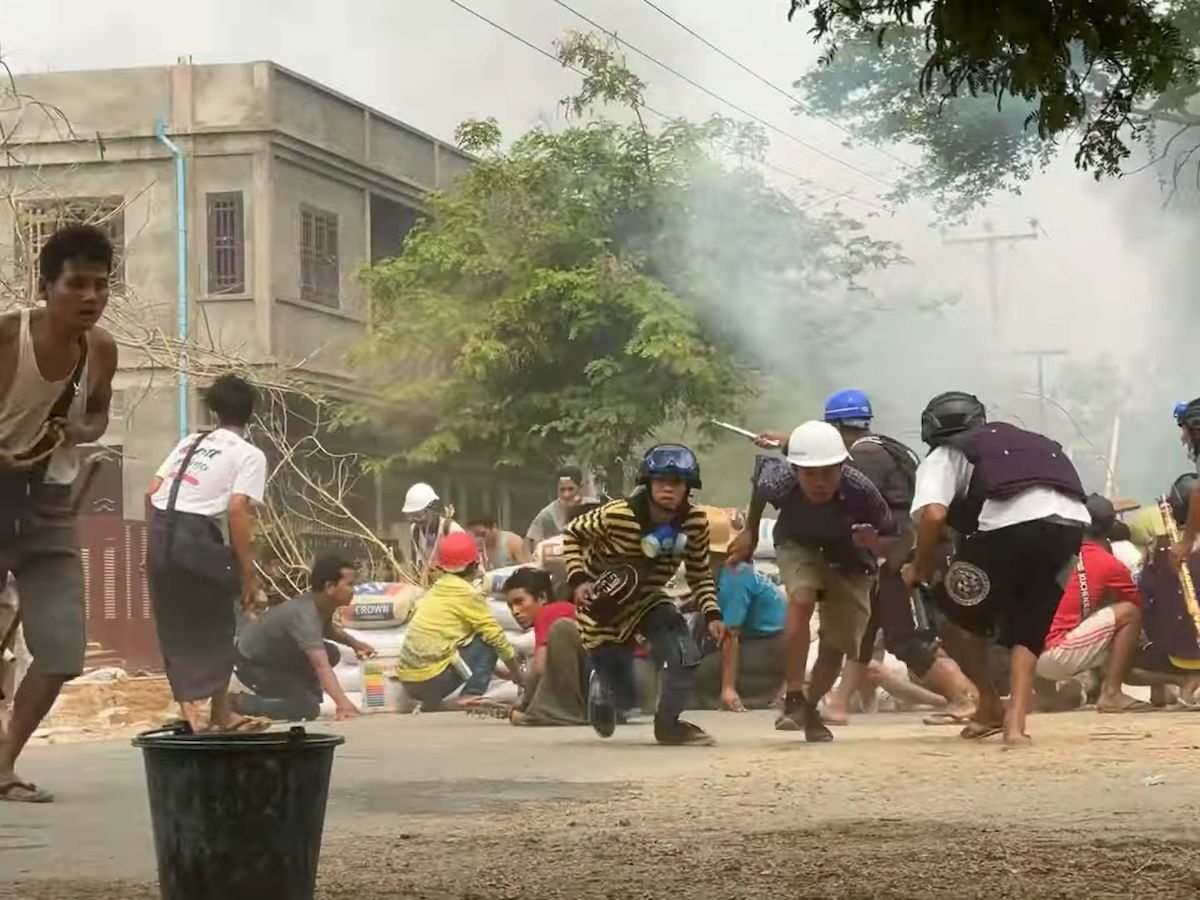 Protesters take cover during clashes with security forces in Monywa, Myanmar March 21, in this still image from a video obtained by Reuters.
Protesters take cover during clashes with security forces in Monywa, Myanmar March 21, in this still image from a video obtained by Reuters.
For decades Myanmar's ethnic minorities faced a policy of suppression and discrimination. During years of military rule, which only ended in 2011, they were treated as second-class citizens.
Their cultures and customs were under threat, as were their languages. For decades teachers were not allowed to teach ethnic languages in Myanmar. Only in 2015, after a transition from military rule to civilian rule, the ethnic groups were receiving more rights. That included the teaching of ethnic languages, culture and history in government schools.
But problems are far from over.
Most notable has been the discrimination of the Rohingya Muslims, who were the victim of a fierce crackdown in 2017. In February last year the Office of the High Commissioner for Human Rights published a report in which it explored the root causes of human rights violations against the Rohingya and other minority groups.
During the presentation of that report to the UN Human Rights council Michelle Bachelet, the UN High Commissioner for Human Rights, said that "discrimination and exclusion against religious and ethnic minorities have characterized many of the laws and policies of Myanmar for over half a century."
Thi Mon knows all about it. Although she lives in Yangon, she's ethnically Rakhine. When her parents moved from Rakhine State, in Myanmar's far west, to the country's biggest city they were shamed and laughed at.
"In the beginning they only spoke Rakhine and not Burmese, so no one would take them seriously," Thi Mon told LiCAS.news over the phone. "We had to be strong to face it."
Thi Mon, who also doesn't want her real name to be mentioned because of safety reasons, said that many people in Yangon now feel the same way about how bad the military is.
Background photo: A military supporter points a sharp object as he confronts anti-coup protesters during a military support rally in Yangon, Myanmar, Feb. 25. (Reuters photo)
Realizing they have one common enemy, people are no longer looking at what makes them different from each other, instead, they protest together, she said.
"We have people from different types of groups working together," Thi Mon said. "Different educations, different ethnicities, different religions; it all doesn't matter anymore but before the coup we didn't even say hi to each other."
The new wave of empathy and solidarity has even reached colleagues of Aung San Suu Kyi. This week Dr. Sasa, Myanmar's special envoy to the UN, said that justice will be delivered for the Rohingya Muslims. Sasa is a member of the Committee Representing Pyidaungsu Hluttaw (CRPH), a shadow government formed by members of Suu Kyi's National League for Democracy (NLD). In the past few weeks Sasa, who goes by only one name, has become one of the main spokespersons for the ousted government.
His statement is remarkable. In recent years many NLD-politicians refused to acknowledge the suffering of the Rohingya. In December 2019 Aung San Suu Kyi shocked the international community when she went to the International Court of Justice in the Netherlands to personally defend Myanmar against accusations of committing genocide against the Rohingya.
Now one of her colleagues said that the military has committed ethnic cleansing and crimes against humanity, and that the Rohingya should have the freedom to decide where they belong.
The exiled Rohingya activist Nay San Lwin confirmed that the situation is changing. "Since the coup a lot of Burmese people have apologized to me on how they treated the Rohingya," he said from Germany.
"They realize that they believed the fake news from the state. They see that the same units that killed the Rohingya, are now killing people during protests in the cities. People in Myanmar now understand that the military is the common enemy."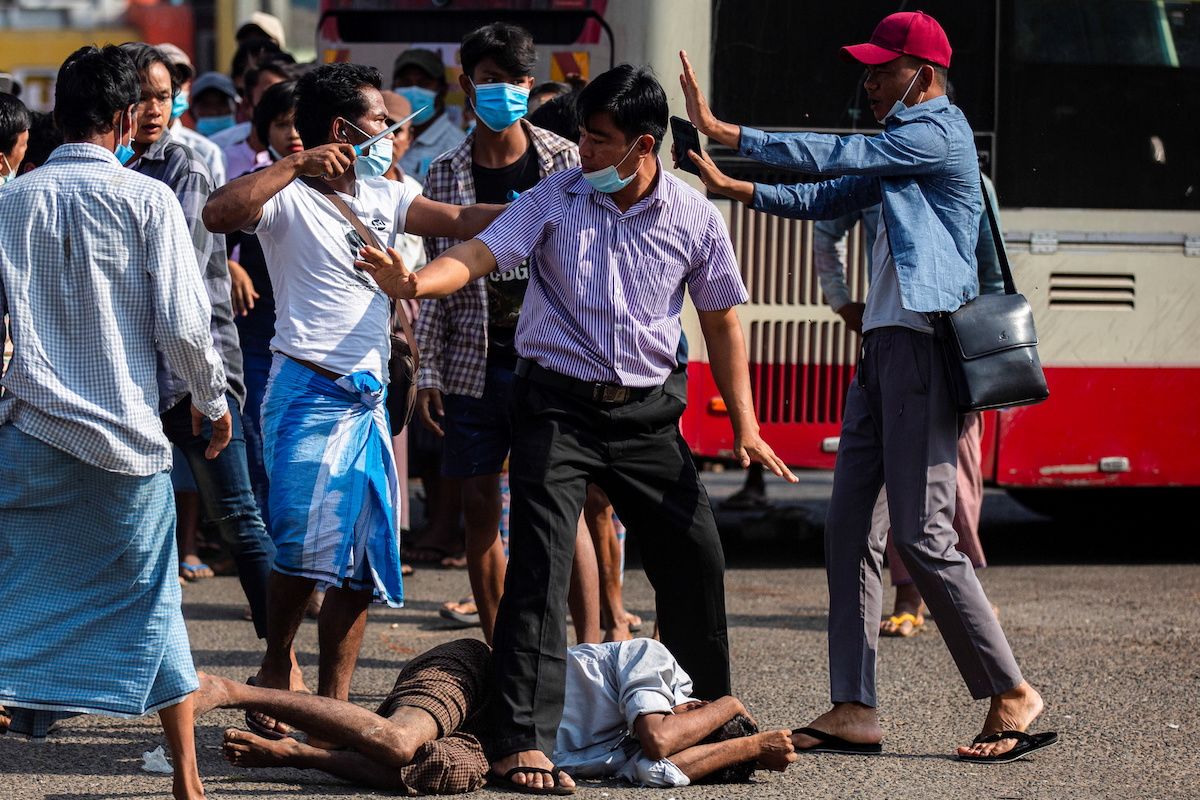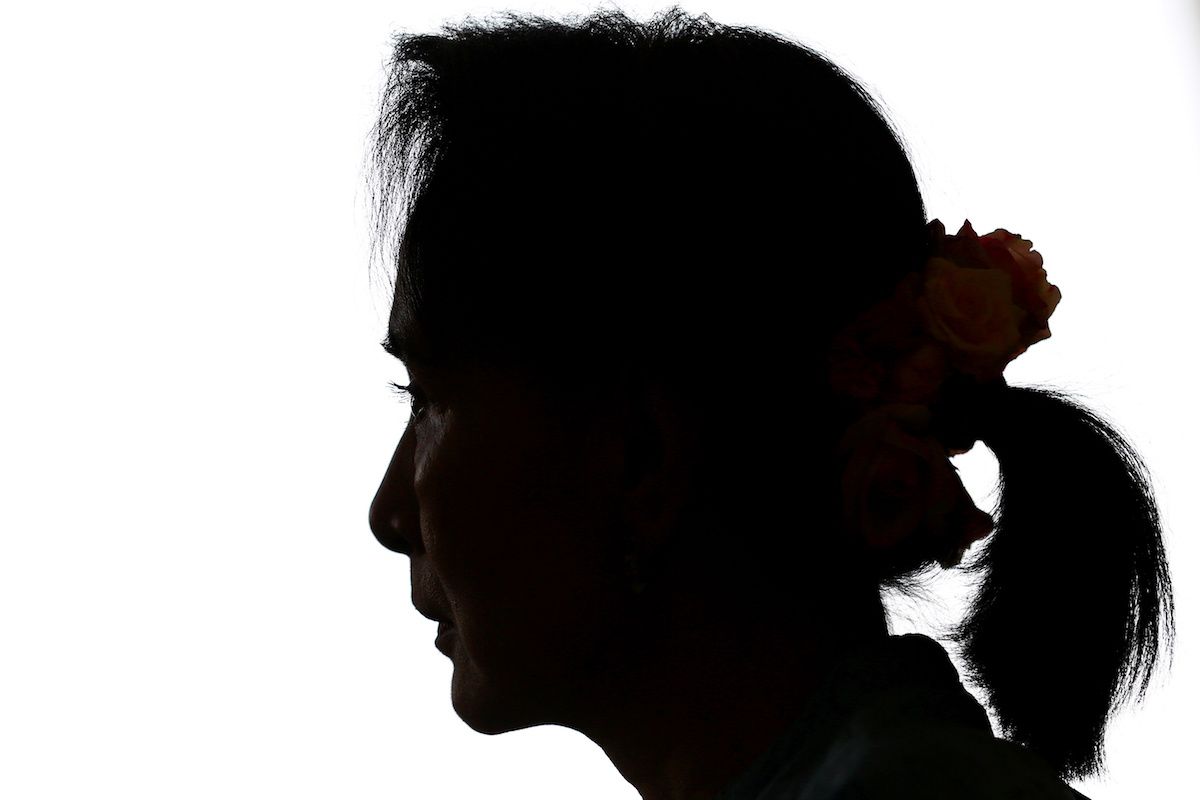 Myanmar's pro-democracy leader Aung San Suu Kyi is silhouetted as she speaks to Reuters reporters during an interview in her office at the parliament in Naypyidaw April 3, 2015. (Photo by Soe Zeya Tun/Reuters)
Myanmar's pro-democracy leader Aung San Suu Kyi is silhouetted as she speaks to Reuters reporters during an interview in her office at the parliament in Naypyidaw April 3, 2015. (Photo by Soe Zeya Tun/Reuters)
Speaking from a Rohingya refugee camp in Bangladesh, where up to a million refugees live, Yassin Abdumonab told LiCAS.news that he thinks the coup has led to a better understanding of how the Muslim minority has suffered under the Tatmadaw.
"Now the public knows how badly the military has treated the Rohingya. On social media many civilians have said that their eyes were blinded by the military when they were killing Rohingya Muslims," he said.
Yassin dares to hope that this first step leads to a better future for his people. It's a hope shared by Kang Myant, the member of the Karen community.
"I think the younger generation understands the struggle of the ethnic groups," Kang Myant said. "They're not conservative like the old generation, but more open-minded. Because of that I like to believe that the future is bright."
Beauty and culture of different ethnic groups in Myanmar. Our ability to reach unity in diversity is our strength. When history books are written on non-violent resistance in the 21st century, the world will not forget the people of Myanmar with their ethnic diversity&solidarity. pic.twitter.com/uB9TGFkPcK

— Pan Myat Mon (@PanMyatMon2) March 24, 2021
But to make that bright future reality much needs to be done.
There're deep-rooted trust issues between the ethnic communities and the Bamar that need to be overcome. A new constitution, in which the rights of the ethnic minority groups are guaranteed, is necessary. "And of course, we can only do that if the Tatmadaw is taken down completely," Kang Myant said.
This photo taken and received from an anonymous source via Facebook on March 25, 2021 shows security forces holding weapons on a street in #Taunggyi in #Myanmar's Shan state, during a crackdown on protests against the military coup. Photo: AFP pic.twitter.com/cgKTEyRi7o

— Mizzima News (@MizzimaNews) March 25, 2021
At the moment many people in Myanmar continue to live in fear. The deadly crackdowns of the military are terrorizing them.
"I didn't believe violence like this would be possible, because we were supposed to live in a democracy," Thi Mon told LiCAS.news. "But it's getting worse day by day. We try to protest in a peaceful way, but the military can kill us, kidnap us and steal from us whenever they want. They are so cruel."
---
By Ate Hoekstra
---
Published March 26, 2021
© Copyright MMXXI LiCAS.news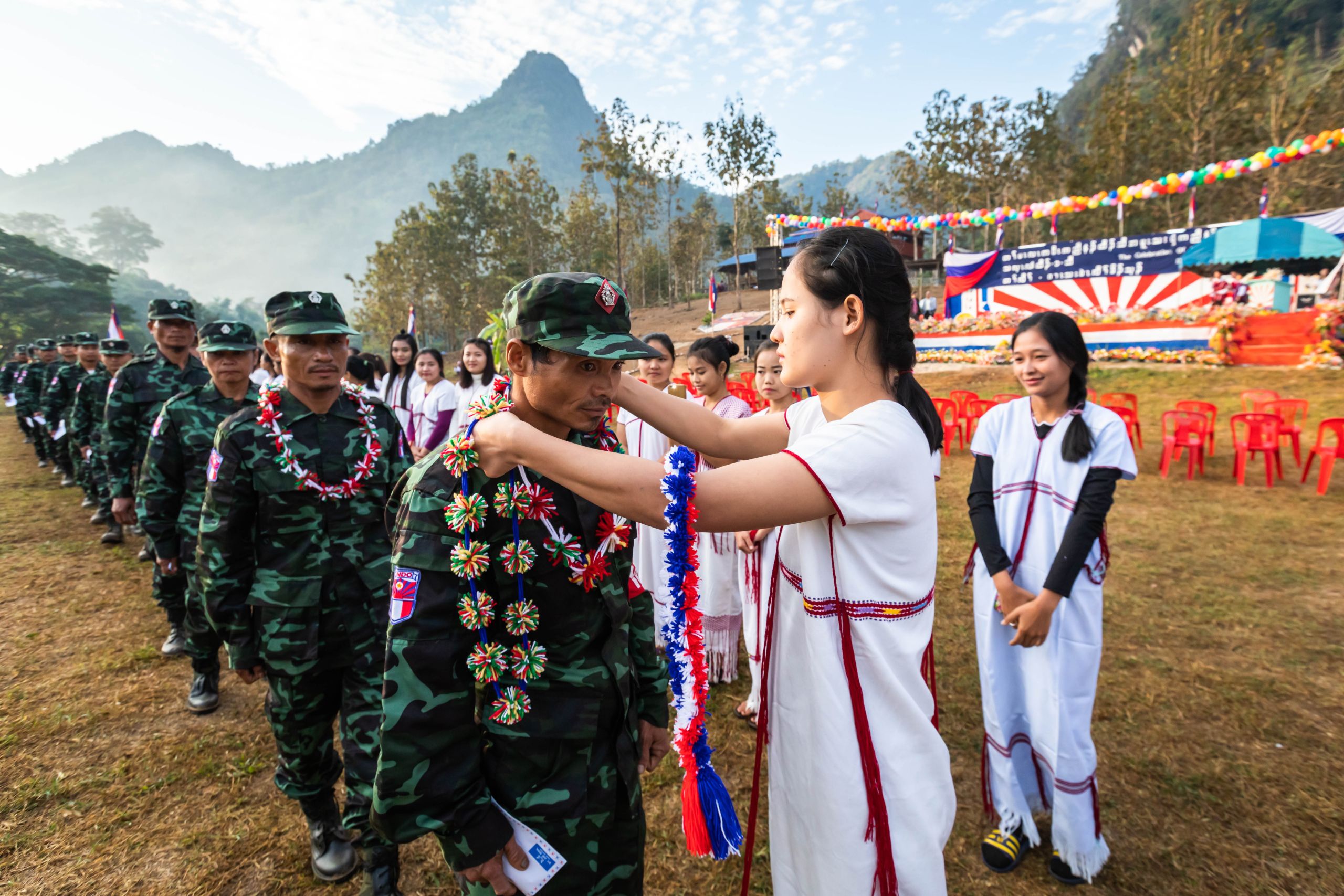 Karen woman dressed in tribal clothing giving wreath to soldiers during a new year celebration at a Karen National Defence Organization camp. (Photo by Somrerk Witthayanant/shutterstock.com)
Karen woman dressed in tribal clothing giving wreath to soldiers during a new year celebration at a Karen National Defence Organization camp. (Photo by Somrerk Witthayanant/shutterstock.com)