Asia's oldest cardinal turns 94, speaks of rice, TikTok, (and how to be Church)
"I have to thank my teacher. He did not convince me to be a priest, but he told me to study well."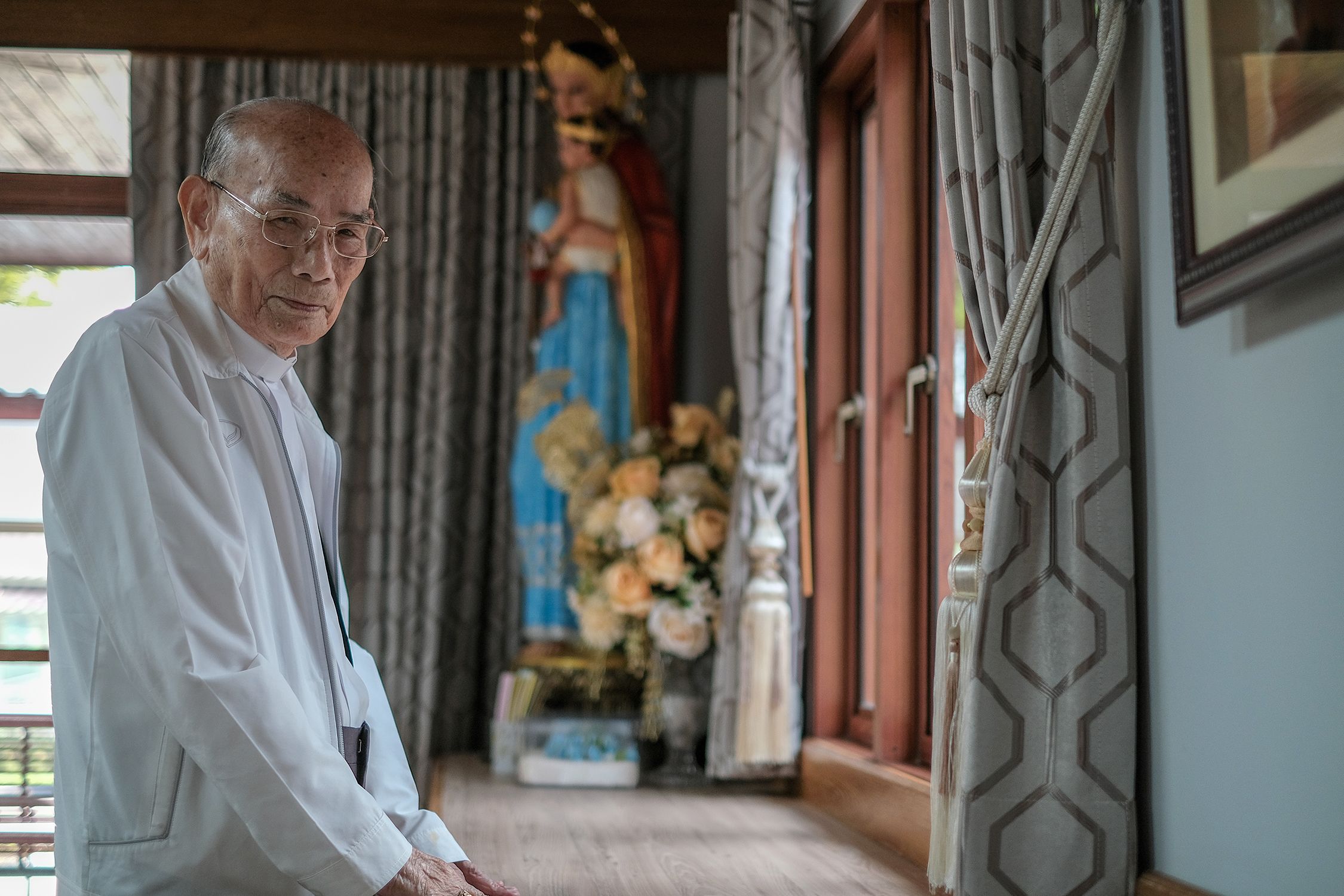 HE turns 94 years old on January 25, but he says he is not aware of it. He is dubbed a "legend" among Catholic Church leaders, but he does not want to broadcast the things he did.
He watches television, "a lot," but he does not use a computer or a mobile phone.
"
Do you use a cellphone?
What?
A cellphone. Do you use one?
Only the telephone, the old one. They answer it for me.
Do you watch television?
Of course.
Internet?
No, but the television, about the news, about the people.
Do you have social media?
I have something. (Smiles)
I will have a TikTok with you.
I know TikTok. (Laughs)
"
Early every morning, he wakes up and walks around the property he built to serve the needs of the Catholic faithful, not only for the clergy, of Thailand and Asia.
He speaks to the flowers, the trees, most of which he planted himself, and the fish in the man-made lake in the middle of the property which he developed since the mid-1990s in a province outside Thailand's capital.
He enjoys the early morning sun, and his early morning walk. And he talks of planting, of farming, of the soil, of life, like an expert.
"Now we have the lemon, we have banana, we have coconut," he says, pointing at the trees surrounding his small residence across a sprawling cemetery that has become one of his most recent "projects."
Mutiplying into ten
A few years back, he studied how to grow a good variety of rice to help poor farmers in the neighboring areas produce a better yield.
"Farmers are poor because the price of rice is low, very low. We have to teach them to cultivate the good quality. Now, I have some experience to produce a good quality rice," he says.
He talks of how three years ago — when he was already 90 years old — he cultivated "some big quantity of rice."
"First of all, I studied how to prepare the land … how deep to plot the soil," he says.
"You can't just dig, because, you see, the seed, when you put in the soil deep enough, the root can go deep down and grow tall … and one seed can multiply into ten," he says.
"Second, because rice is one grass that want much water … you give the rice the right amount of water, and you should know when to provide water," he adds.
He says a farmer must control even the rain through small canals to ensure that the plants will get the right water supply.
"If you have less water, it is not enough, if you have more, it is not good," says the cardinal.
One thinks that he's trying to draw one into a philosophical discussion, but he says he's just one good "storyteller."
"
So, even in planting rice, in farming, in being Church, it is important to be humble, to listen, to consult?
Yeah.
And you're learning it from everyone?
As much as possible.
"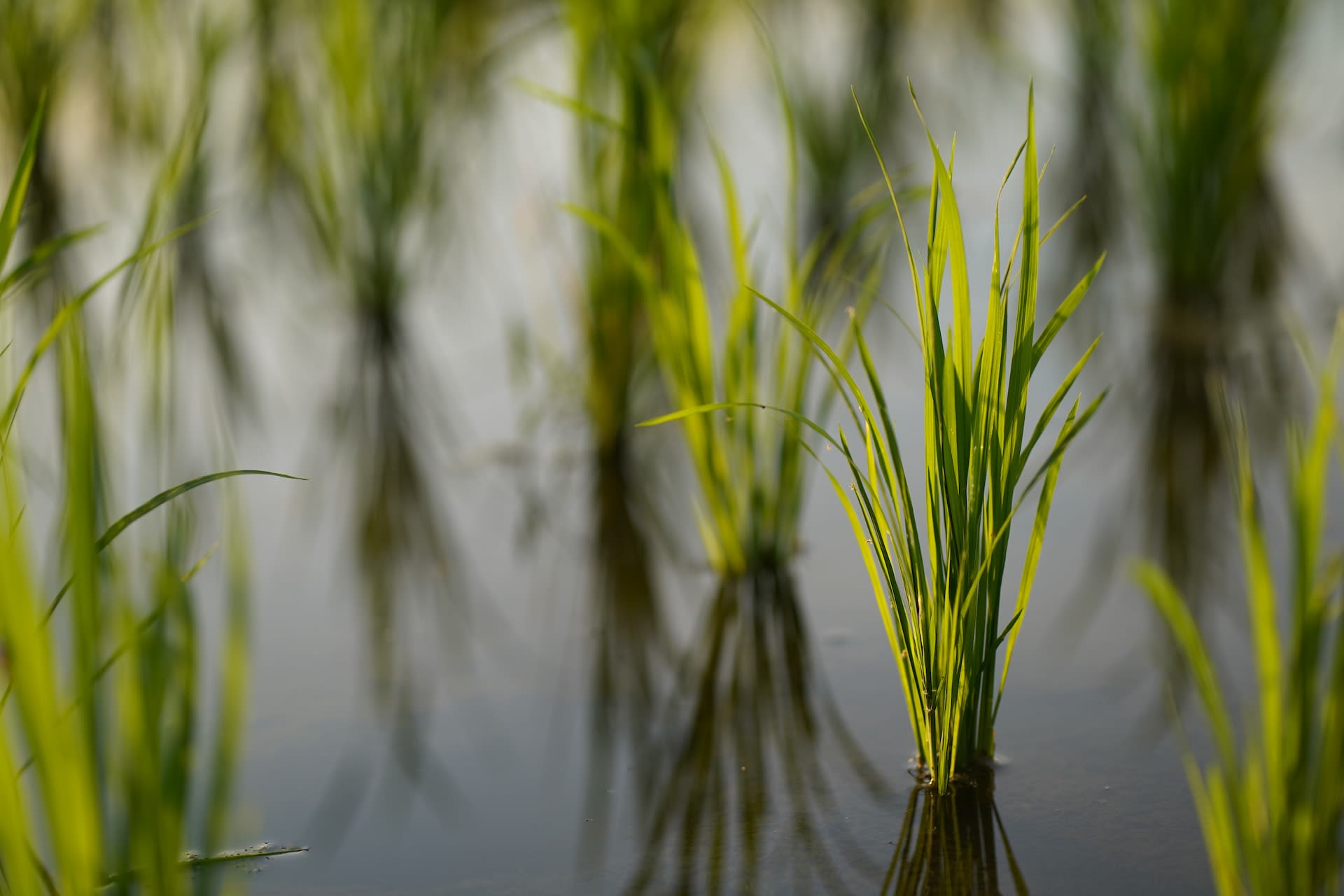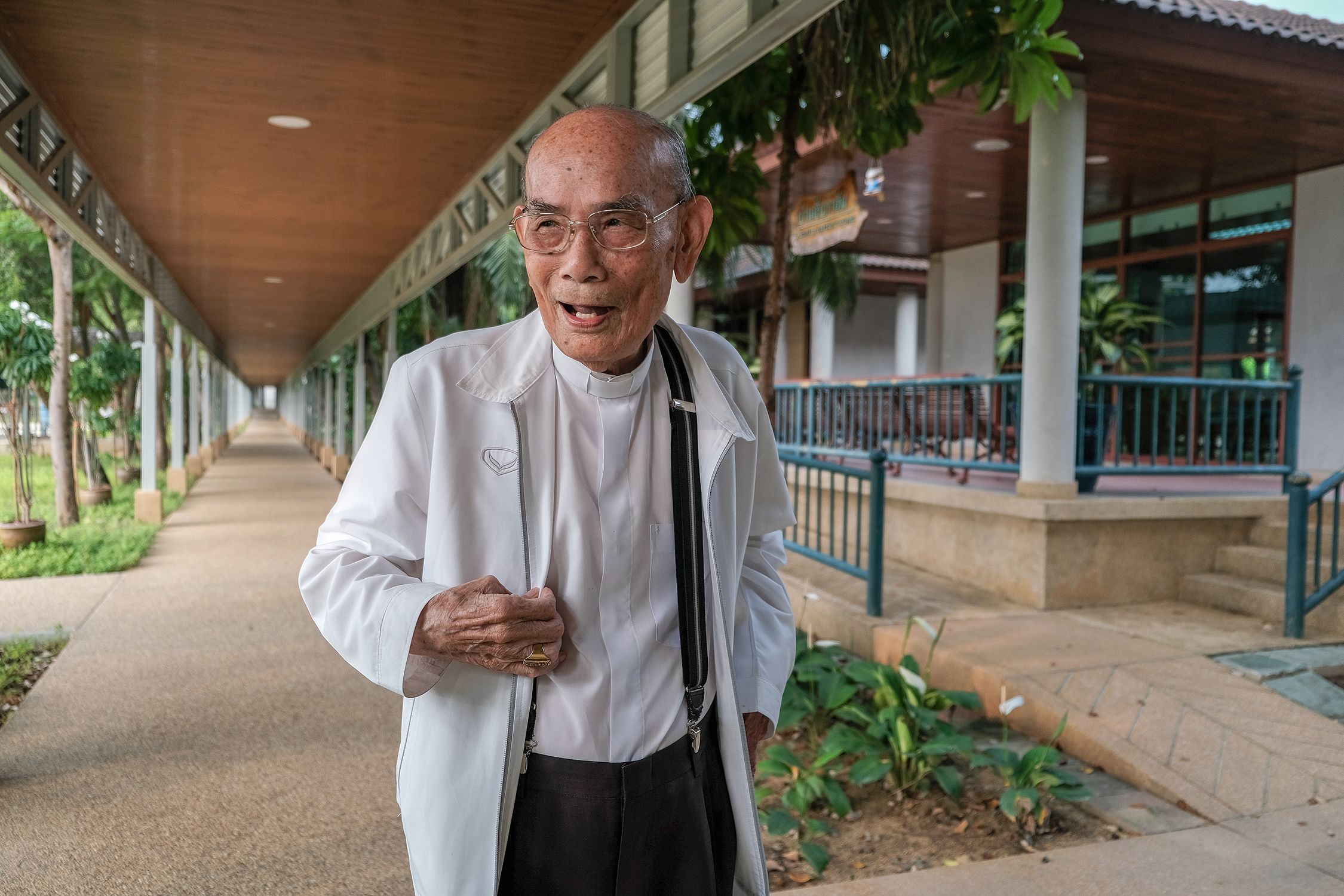 Cardinal Michael Michai Kitbunchu at Baan Phu Waan Pastoral Training Centre (Photo by Roy Lagarde)
Cardinal Michael Michai Kitbunchu at Baan Phu Waan Pastoral Training Centre (Photo by Roy Lagarde)
Growing up Catholic
Cardinal Michael Michai Kitbunchu, Cardinal Michai as he is popularly known, was born in Sam Phran, a district of Thailand's Nakhon Pathom province, to a family of Chinese descent on Jan. 25, 1929.
"I was born Catholic. My grandfather came from China and married a local. My mother became Catholic because of the marriage," he says.
He was brought up a Catholic in the middle of farmlands "but near a big church."
"There was nothing here when we were young, only farms … but I also traveled to see people," he says, adding that "even until now I travel and is invited by the people" to visit their homes.
He realized that he wanted to become a priest from an "uncle" who is a priest.
"My friend's father has three boys. One of them became a priest," he recalls. "Once a year we meet when he comes home for a visit."
He admits, however, that when he was in school, he did not know what a seminarian or a seminary is. "I don't know nothing," he says, adding that he was just an "ordinary student."
One day, a catechist in his school explained that to be a priest one must go to a seminary to study.
"I have to thank my teacher. He did not convince me to be a priest, but he told me to study well," he says.
"
So, you became interested?
(Laughs)
How old were you when you entered the seminary?
A small one.
High school?
No, medium.
"
"We have to go to primary school and then after we finish primary school, we have secondary school. I start from secondary school. It was during the Second World War," he says. "It was very difficult."
The future cardinal had to stop his studies for about a year. "The seminary in Pattaya was closed," he says. But he recalls learning Latin there although his English was "very bad."
He later went to Rome to continue his studies in 1953, and after seven years he was ordained priest. "Then another six months in Rome to finish Theology," recalls the cardinal.
Long way to Rome
"
Did you take a plane or boat to Rome?
It took me from Bangkok to Rome, in Ciampino at the time, three days. First stop was in Calcutta. And then from Calcutta to Karachi, Pakistan, and I spent overnight there. And from Karachi we went to Iran. And then I had to spend another night there, and from there to Rome.
"
After spending his early seminary formation in the minor seminary of Siracha, in Thailand, he went to Rome and studied at the Pontifical Urban College of "Propaganda Fide," earning a licentiate in philosophy and sacred theology.
He was ordained a priest on Dec. 20, 1959, by Cardinal Grégoire-Pierre Agagianian, then prefect of the dicastery Propaganda Fide.
He later returned to Thailand and served as assistant pastor and then pastor in Bang Kham. He later became pastor of Calvary Parish in Bangkok.
He served as archdiocesan consultor and served as rector of the metropolitan seminary of Bangkok from 1965 to 1972.
On Dec. 18, 1972, Pope Paul VI appointed him to become the second archbishop of Bangkok. He received his episcopal consecration on June 3, 1973, from Archbishop Joseph Khiamsun Nittayo, with Bishops Lawrence Thienchai Samanchit and Michel-Auguste-Marie Langer, MEP, serving as co-consecrators.
Pope John Paul II created him cardinal-priest of San Lorenzo in Panisperna in the consistory of Feb. 2, 1983. He was one of the cardinal electors who participated in the 2005 papal conclave that elected Pope Benedict XVI.
He became the first cardinal from Thailand and was president of the Thai Episcopal Conference from 1979 to 1982 and from 2000 to 2006.
He has been the "protopriest" of the College of Cardinals since Dec. 14, 2016.
A "protopriest" is the first cardinal-priest in the order of precedence, hence directly after the cardinal-bishops. This title is always attached to the most senior cardinal priest according to date of his creation.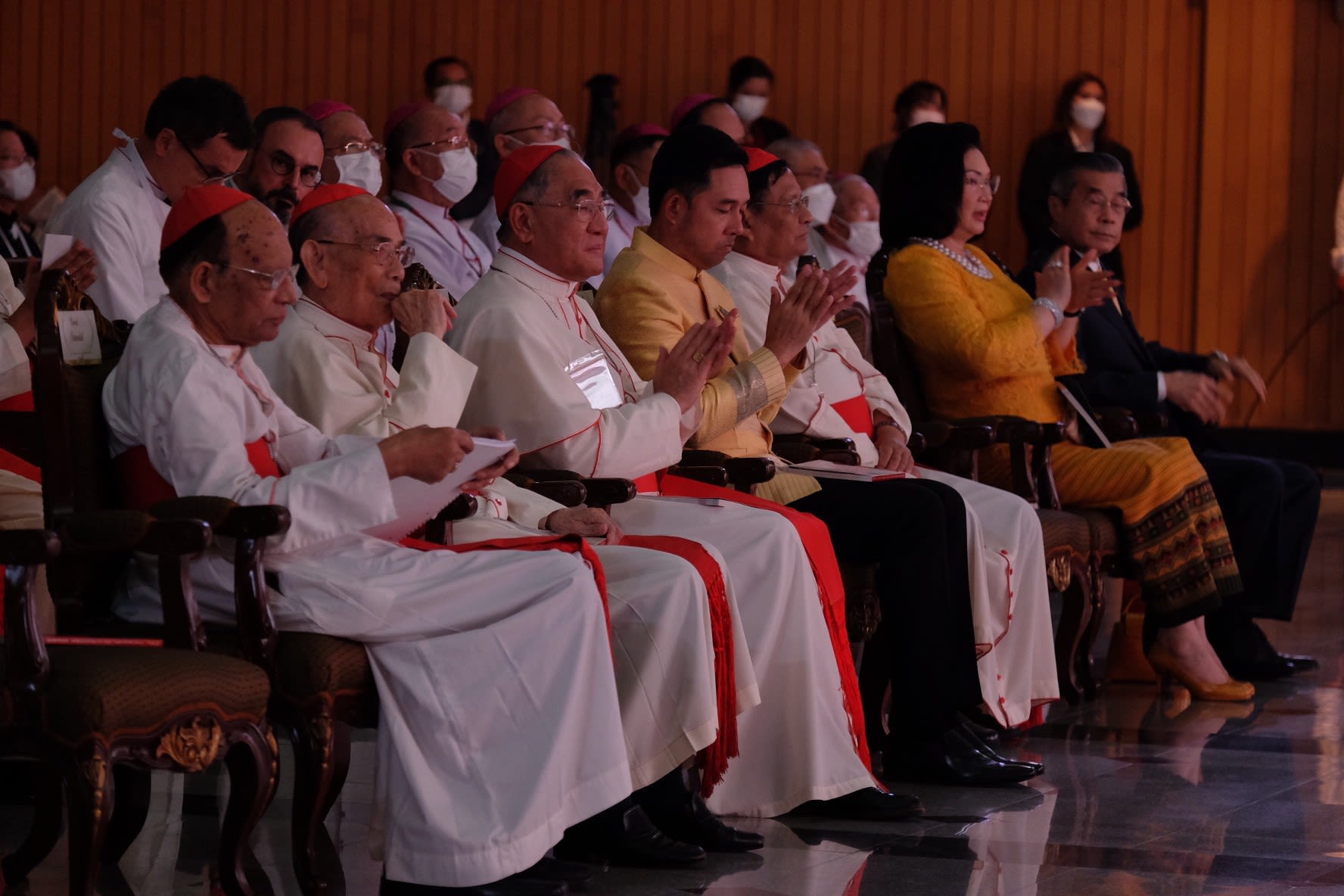 While in Rome
In Rome, the future cardinal tried to adapt to a new environment, a new culture, a new world that had just survived a war.
"It was interesting because after the war Europe was different," he recalls.
It was a time for rebuilding for everyone, including the Church.
"I tried my best to learn about the Church, about education, about religious congregations," Cardinal Michai recalls.
He says that in Thailand during that time "we don't have any religious congregation" except for the Paris Foreign Missions Society, the Montfort Brothers of St. Gabriel and the Ursuline Sisters, also known as the Order of Saint Ursula.
"I invited all of them to come to Thailand," he says.
Among those who later came were the Missionary Oblates of Mary Immaculate, the Italian Pontifical Institute for Foreign Missions, the Camillians or Clerics Regular, Ministers to the Sick, among others.
The cardinal recalls that he tried to know more about the Church while studying in Rome and "I create an opportunity for me, for my life." He was only 23 years old when he arrived in the Vatican.
He was ordained priest when he was 30.
"When I became a priest, I thought, what work will I do in Thailand? So, I had to learn many things from Rome," he says.
He describes the Church then as "different" because "it was conservative" and the faithful were taught to be "responsible for himself, not the other."
When he came back to Thailand, he wanted to change everything. "I tried to change the way in my diocese," he says.
And when he became archbishop of Bangkok and later president of the bishops' conference, "I tried to convince all the other bishops" to adapt to the teachings of the Second Vatican Council.
He says it was "not much a problem for me to adapt myself," but the other priests found it "very, very difficult."
"When I became a bishop, I tried, step by step, slowly," he recalls.
To ensure the formation of new members of the clergy, Cardinal Michai built a seminary, and invited St. Pope John Paul II, who supported the project, to come for a visit.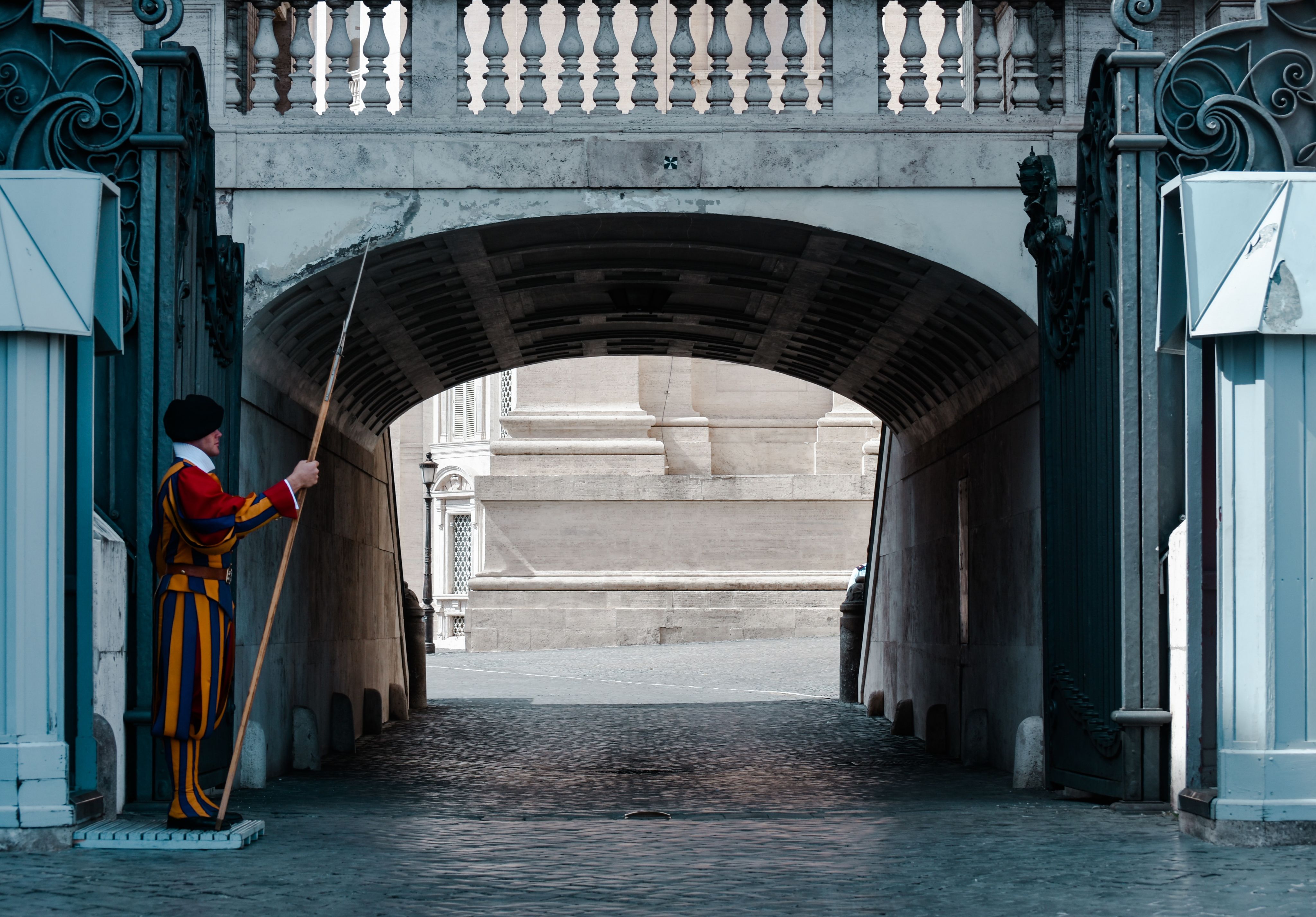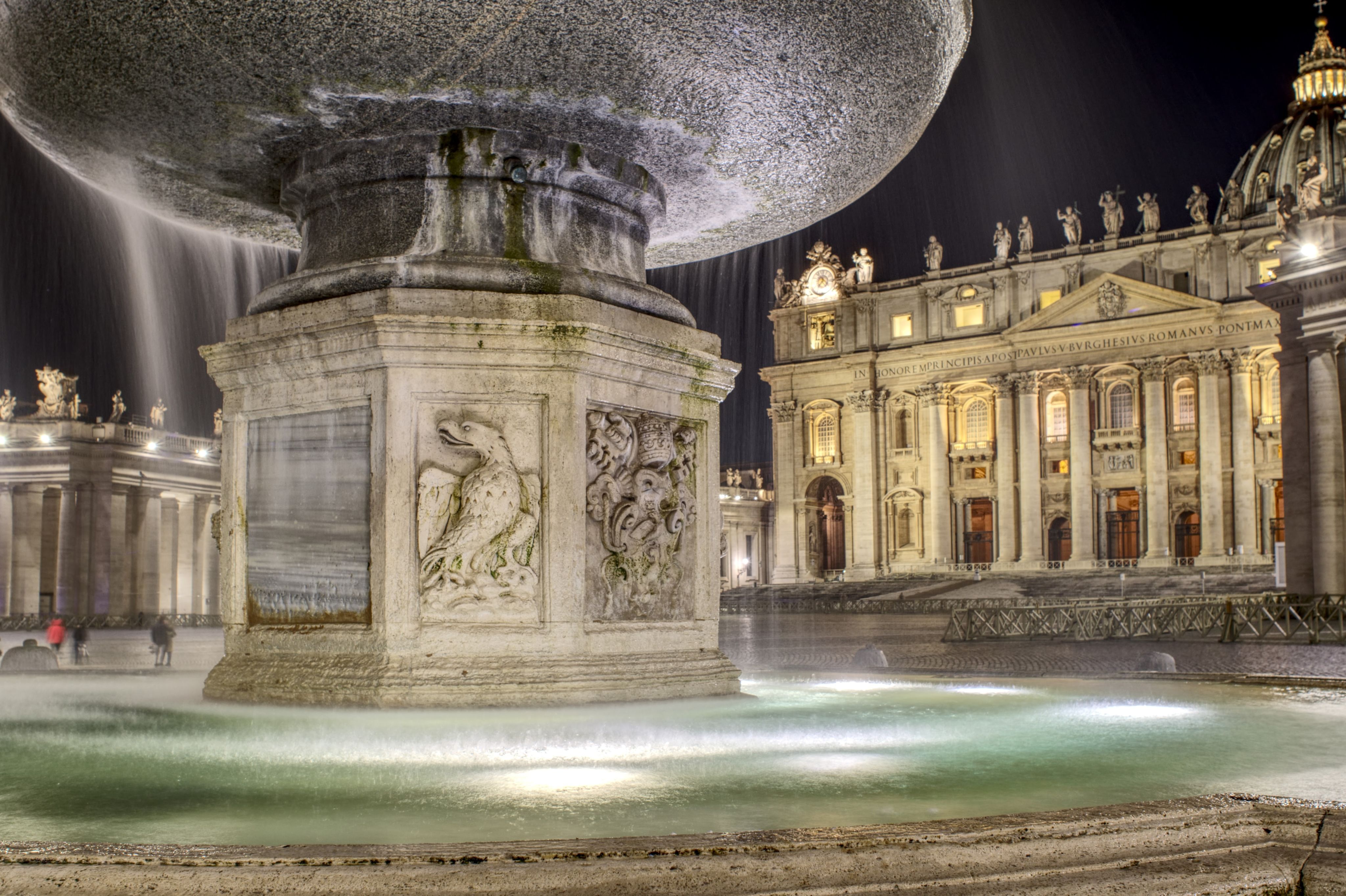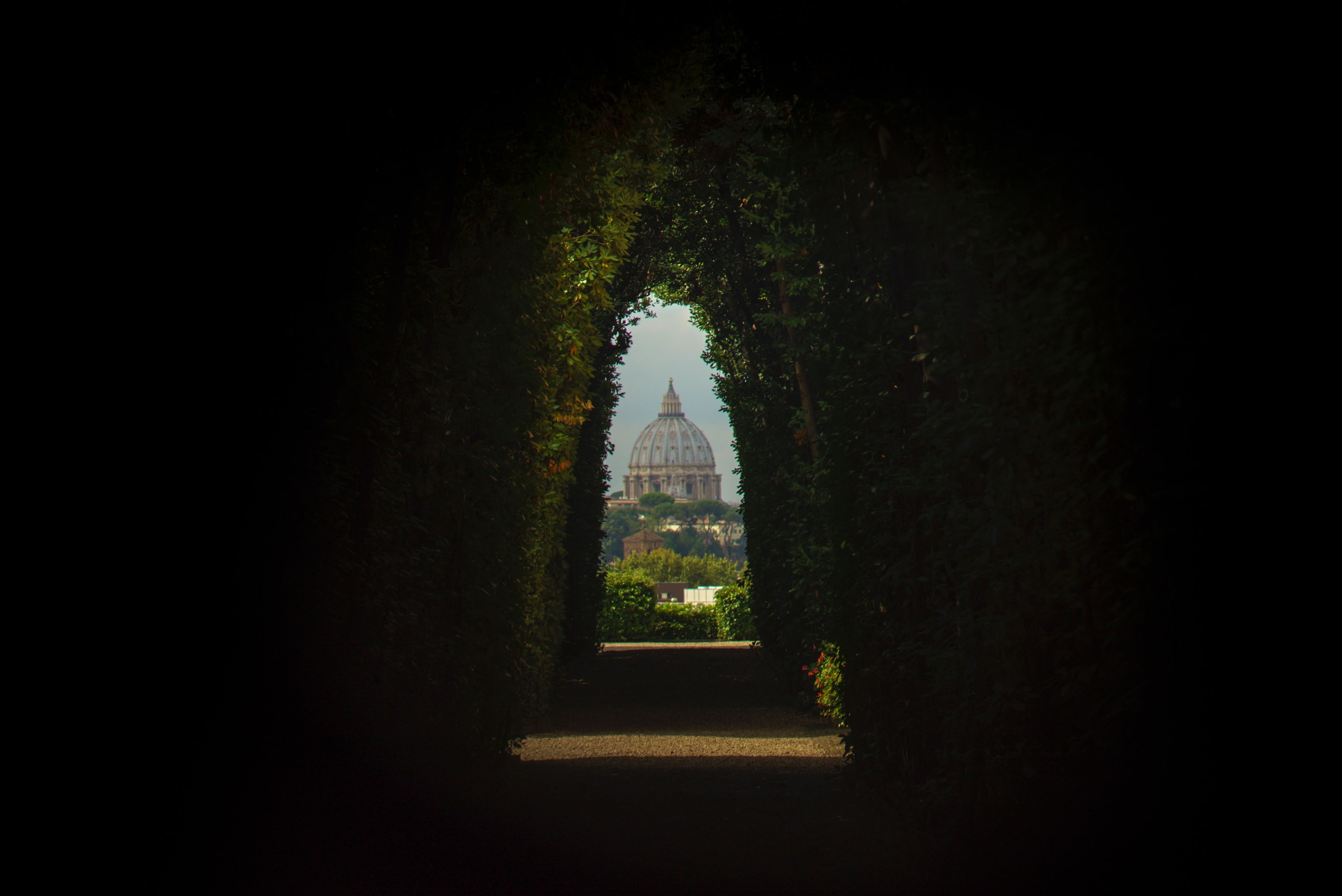 The view through the Aventine keyhole in Rome. (Photo by Galen Crout)
The view through the Aventine keyhole in Rome. (Photo by Galen Crout)
Church in Thailand
"
The Church in Thailand is rich.
No.
You have a big land.
Big land does not mean the Church is rich. No. But we have to thank God who gave the Church this part of land where we can do something for the work of God, of the Church.
"
Cardinal Michai says the Church in Thailand learned a lot from the Second Vatican Council.
"We were able to build many churches … but to do pastoral work, we have the need for more personnel, lay people working together for the Church in different aspects of life."
He says that the Second Vatican Council taught them "to work together" and to work together, "we need collaboration, need a place where we can meet each other."
"So, we have to build some places for this purpose. For pastoral purposes, we need to build a church … for the children, we need to build schools … not only for Catholics, but for everyone."
To realize all the projects, Cardinal Michai came up with a "strategy." He asked friends for help and convinced supporters to come up with funds.
Most of all, however, he involved the faithful and helped them realize that they are the Church.
"The parish church was old and made of wood. The people wanted to have a new one, a stronger one. I accepted the proposal, but I told them that the church does not belong to me, it belongs to everyone," he says.
The people, however, said they are poor.
"No, you are not poor, you can contribute according to your capacity," the cardinal recalls telling his parishioners. "'You can pay one baht, you can pay two baht, you can pay ten baht,' I said. They agreed."
He says that one bowl of Chinese noodles cost about 10 baht during that time. "I asked the noodles vendors how many bowls they can sell in one day. Fifty bowls?"
The cardinal says he was able to convince them to share one bowl for the construction of the church. "Everybody said it was very easy for them," he says.
"I told them, if all of them promise to give just one bowl of noodles, their church will be finished in two years," he says. "So, they had a lot of churches after," he adds with a smile.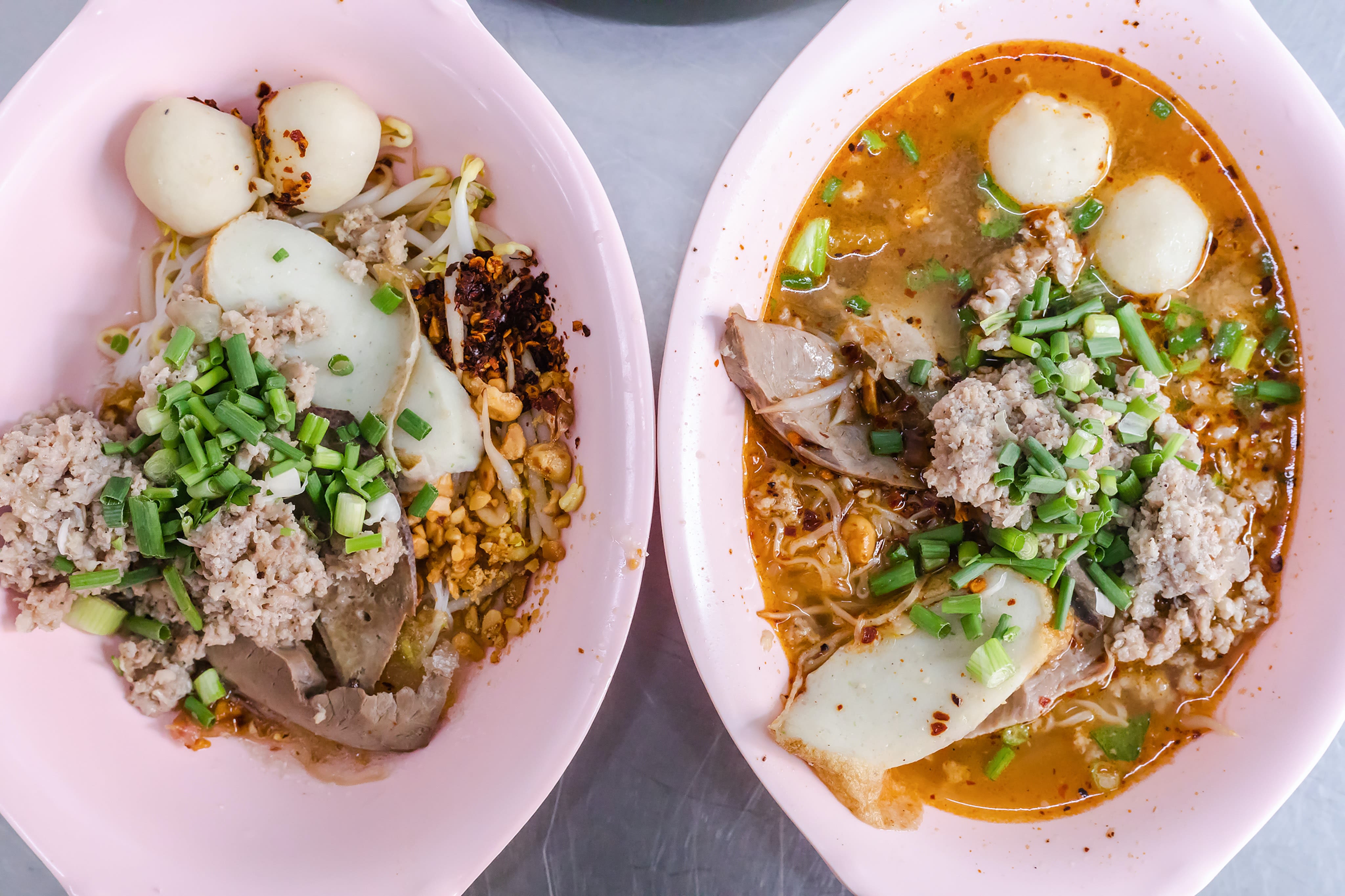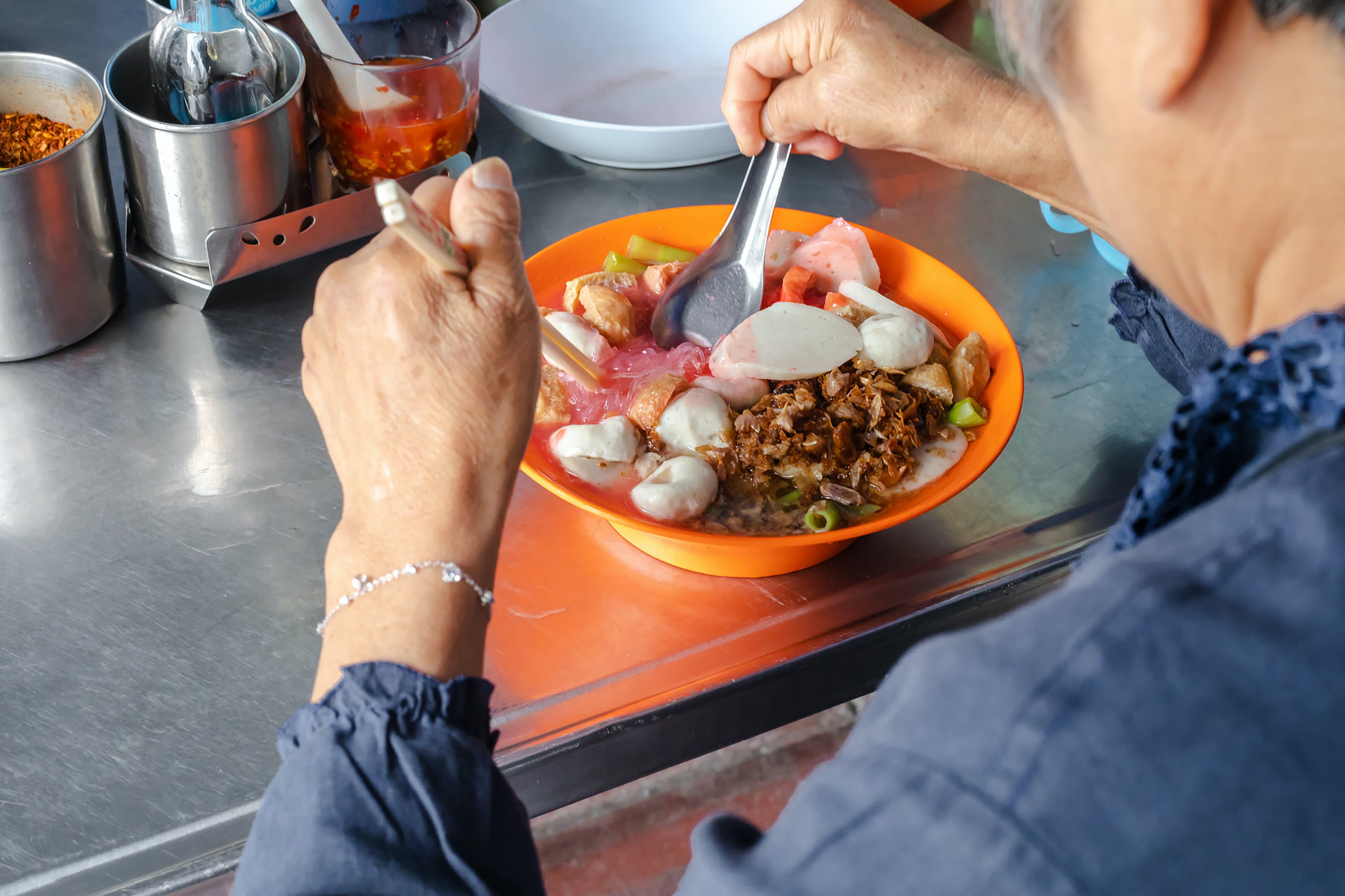 Learning from the people
The cardinal says he started as a priest in a very poor village.
"I was sent to a very poor village, very poor church," he says. There was no subsidy because everyone was also in need.
So, when he became bishop, "I tried to convince my priests and the lay people what to do." He asked everyone for their proposals.
"I go to visit them many times and talk with them. "Every Sunday, I went out for an outing with the people … and witnessed the history of Thailand, the development, the growth."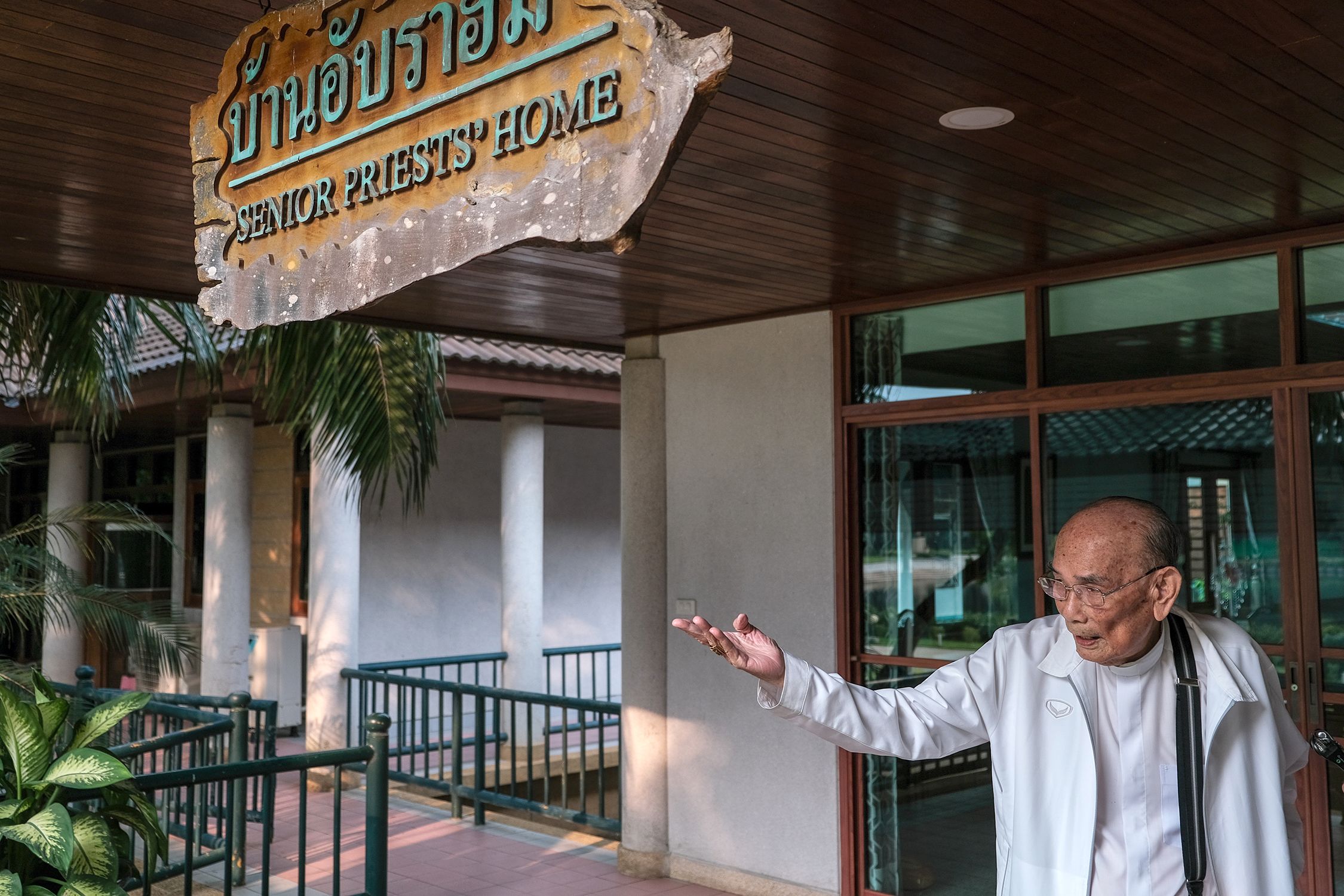 The number of Catholics in Thailand grew very slowly from small stations in villages, says the cardinal.
A station sometimes would only consist of one or two Catholic families in a village.
When he was a young priest, he took care of 20 small stations where he taught catechism, celebrated baptisms, heard confessions, and led Eucharistic celebrations.
"I stay with them for one day, two nights, three nights, and then I move to another, one village after another, for 14 years," he says.
He would also visit the families of other religions "so that they know me, I know them, and we have a friendly conversation."
"I listen to them, and they listen to me, and we work together, help each other for the good of the community."
"The Church should be like that," says Cardinal Michai, adding that it was what the early Christians did. "You have to have a dialogue," he says.
Secret of long life
"
What is the secret of a long life?
I try to be happy.
The Lord said you should.
Yes, it is important so that we will not be afraid. It's a fact, a reality that a human person has to face some difficulties, some options in life, in our life. It's not a big surprise. So, if we can admit them, accept them, and then try to understand them, and try to correct our mistake, we can be happy.
You never retired.
You work with intellect. You work with your mind. But you render service to the people with your heart, not with your position.
"
With generous support from
Aid to the Church in Need
Arnoma Hotel
Catholic Social Communications of Thailand
80th Serra International Convention, Chiang Mai, Thailand
The Saint Residences
Text by Jose Torres Jr.
Published January 24, 2023
© Copyright MMXXIII LiCAS.news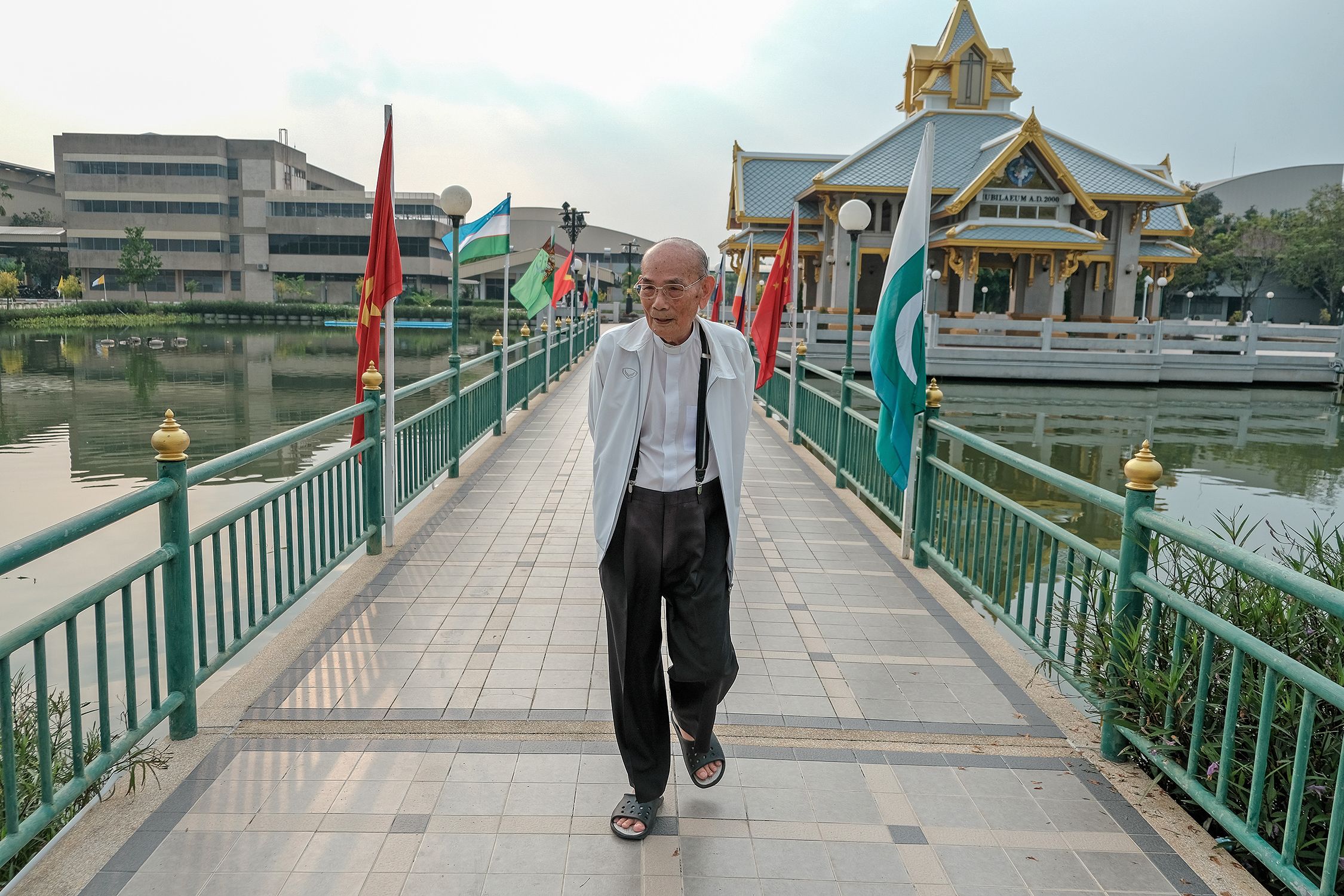 Cardinal Michael Michai Kitbunchu at Baan Phu Waan Pastoral Training Centre (Photo by Roy Lagarde)
Cardinal Michael Michai Kitbunchu at Baan Phu Waan Pastoral Training Centre (Photo by Roy Lagarde)