Cambodian migrant workers return home to find few opportunities
Since the pandemic began more than 150,000 migrants have returned to Cambodia
Mao Chhouen, 36, returned to Cambodia from Thailand on Jan. 9. Two weeks later he finished his stint in quarantine. Now he doesn't know what to do next.
Chhouen worked as a construction worker in Thailand's Chanthaburi province which is only one hour away from his border town in Cambodia. In January he felt as if he had no other option but to return.
"I don't have enough work, so I don't earn enough money. It made no sense for me to stay in Thailand," Chhouen told LiCAS.news. "But the COVID-19 outbreak made it very difficult for me to cross the border, I used to visit my mother in Cambodia every few months."
Thailand has long been a destination for Cambodians seeking work. According to Cambodia's Ministry of Labor there are 1,020,000 Cambodian migrant workers in Thailand. Labor rights NGO's however estimate that the real number is closer to two million.
But COVID-19 has had a devastating impact on Thailand's economy, putting millions of people out of work, among them migrant workers.
Since the outbreak began early last year over 150,000 migrants have returned to Cambodia. Around 30,000 of them have come back since the beginning of 2021. All of them are obligated to spend two weeks in quarantine in a government-run facility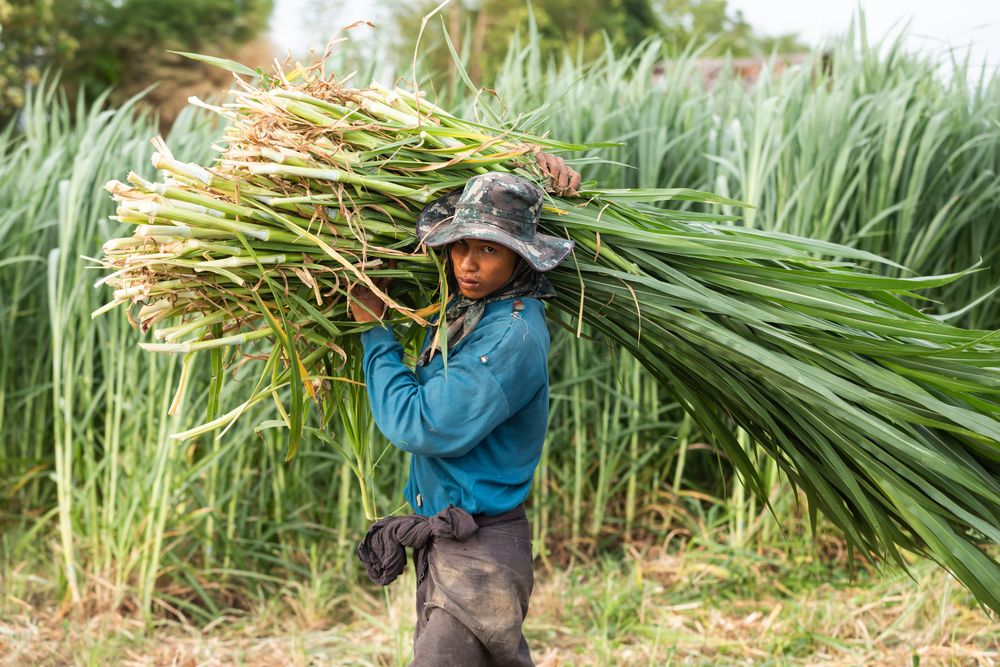 An unidentified migrant worker carrying Napier grass to feed livestock at Mae Sot, Tak, Thailand on May 26, 2020. (Photo by Somrerk Witthayanant/shutterstock.com)
An unidentified migrant worker carrying Napier grass to feed livestock at Mae Sot, Tak, Thailand on May 26, 2020. (Photo by Somrerk Witthayanant/shutterstock.com)
Chhuoen said he had to pay a broker a large amount of money to cross the border back into Cambodia. "I paid 2,000 baht to get a taxi back to the border of Cambodia from Chanthaburi province," he said. "The taxi followed a small road into the forest to avoid a check point."
"It normally cost me 200 baht," he said. "And now the difference is so big and I may not earn anything for a very long time too as it might be a while before I can return to work in Thailand."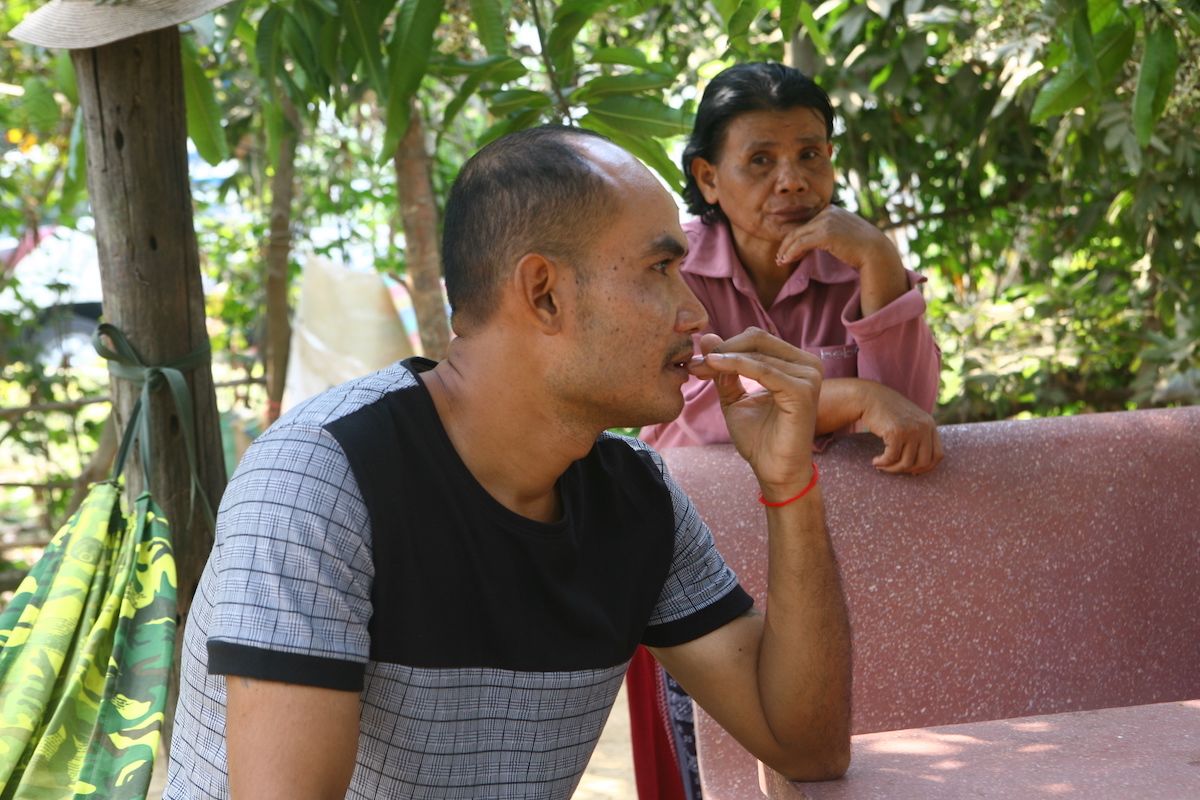 Chhouen, who normally earns between 400 and 500 baht per day, was quarantined at a primary school in Battambang's Kamrieng district. He stayed in a classroom with 11 other migrants who crossed the border at the same location. He was given a sleeping mat, a mosquito net and a blanket.
"I was a little bit concerned when I had to share the room with so many people. If one of us had COVID-19 the others would have easily been infected because we all slept on the floor next to each other," he said.
Cambodia's Prime Minister Hun Sen said on Feb. 15 that the government will put more restrictions at border crossings with Thailand, Vietnam and Laos. He also said that anyone who tries to escape from quarantine will be punished with an up to US$ 250 fine. However, on Feb. 18, that amount was raised to $1,250.
Action will also be taken against any broker who helps undocumented workers cross the borders, stated the prime minister who also said the head of immigration police in Battambang was to be removed from his position after he freed an illegal broker.
Cambodians who do follow the quarantine schedule at the border are promised to receive a US$ 5 allowance per day.
"But I got nothing during the 16 days that I was quarantined," Chhouen said. "Some of us wanted to ask the police about that allowance, but I didn't want to wait for it. I wanted to go see my 65-year-old mother who was waiting for me home alone."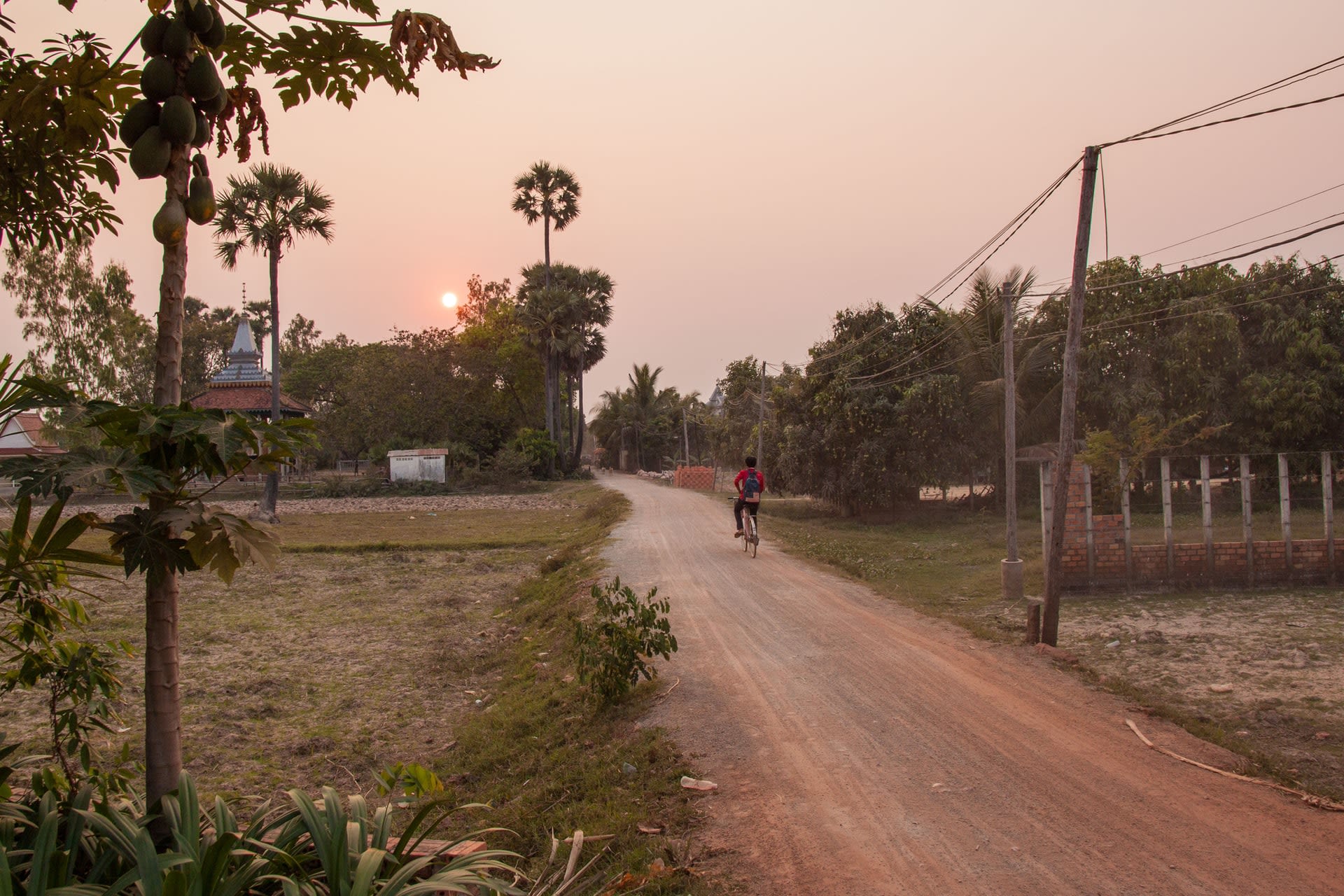 However not all migrants are following the strict quarantine schedule. LiCAS.news reporters interviewed 38-year-old Chourn Samley, who returned from Thailand and initially managed to avoid border police.
"When I came back, I didn't bring anything with me. My home is not far from the border and the police thought I was just crossing the border to do some quick shopping for kitchen supplies in Cambodia," Samley said.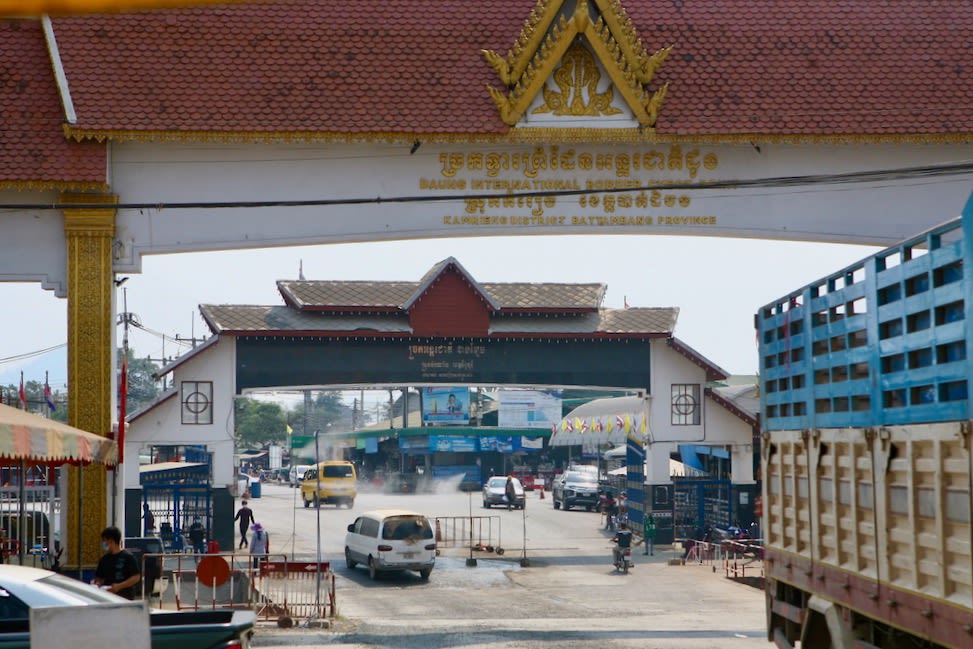 But after several days of being home police visited Samley and after learning she had been working in Thailand they sent her into quarantine for 14 days.
Recently the media covered how another Cambodian tried to avoid quarantine by walking through a dense forest on the Thai-Cambodian border. He stepped on a landmine and lost his leg.
According to the Cambodian Ministry of Health the country has 533 positive cases of COVID-19 as of Feb. 21. Of those cases 89 are migrant workers who returned from abroad.
Background photo: A Cambodian village in Siem Reap province on Oct. 15, 2020. (Photo by Tang Chhin Sothy/AFP)
Near the border many migrant workers told LiCAS.news that they not only fear COVID-19, but also being jobless. There are no jobs for them in Thailand or Cambodia, and many of them are in financial trouble.
Nhem Vichea, 28, said he returned to Cambodia in early January after his salary was cut by half. Now his financial problems are growing, and he's expected to pay for the education of his three younger siblings.
"I have paid for their school fees and I support my parents. I also borrowed a lot of money to buy an apartment in my home town. Every month I need to pay nearly $350," he said.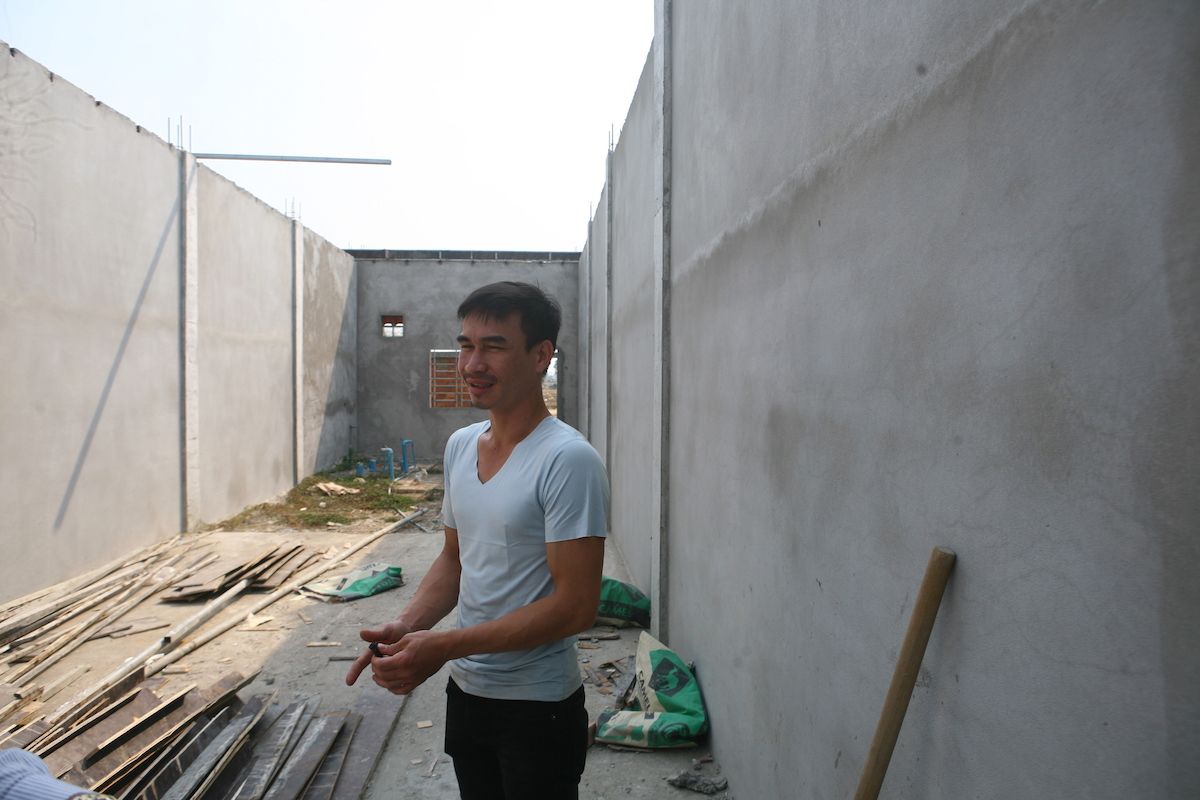 Paying that loan is a massive challenge for Vichea. "There's no way that I can find a job here that earns me US$ 400 per month. And after they cut my salary in half, I ran out of savings. I really don't know what to do next."
So far, the Cambodian government hasn't announced any policy supporting returning migrant workers.
Dy Thehoya, program coordinator of Center for Alliance of Labor and Human Rights (CENTRAL), said the government should prioritize support for migrant workers who come back from Thailand.
"Those workers need more social protection and service, to provide them the basic needs now [they] don't have any job to do. Rather than provide them vocational and training skills," Dy Thehoya said.
---
Published February 22, 2021
© Copyright MMXXI LiCAS.news
---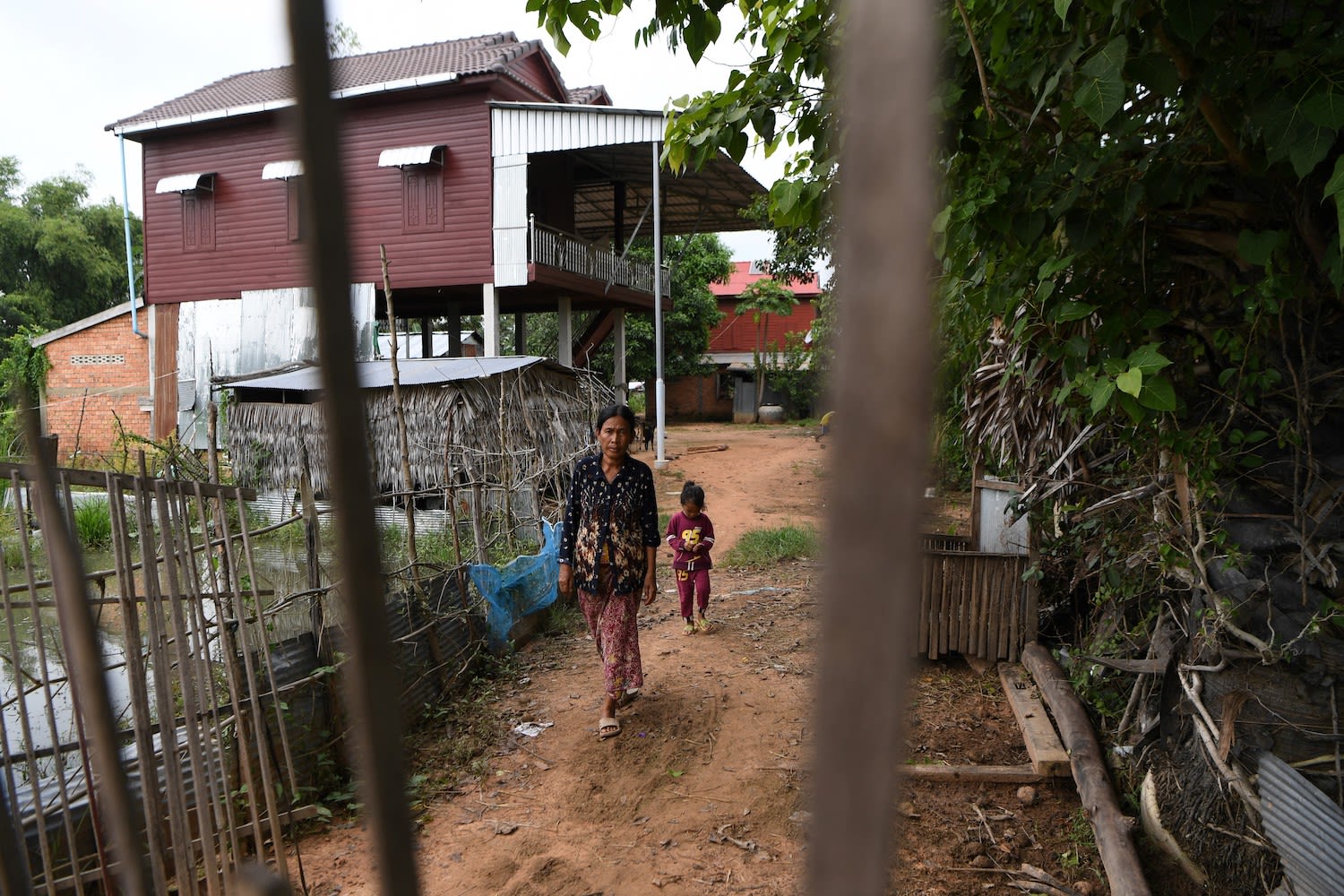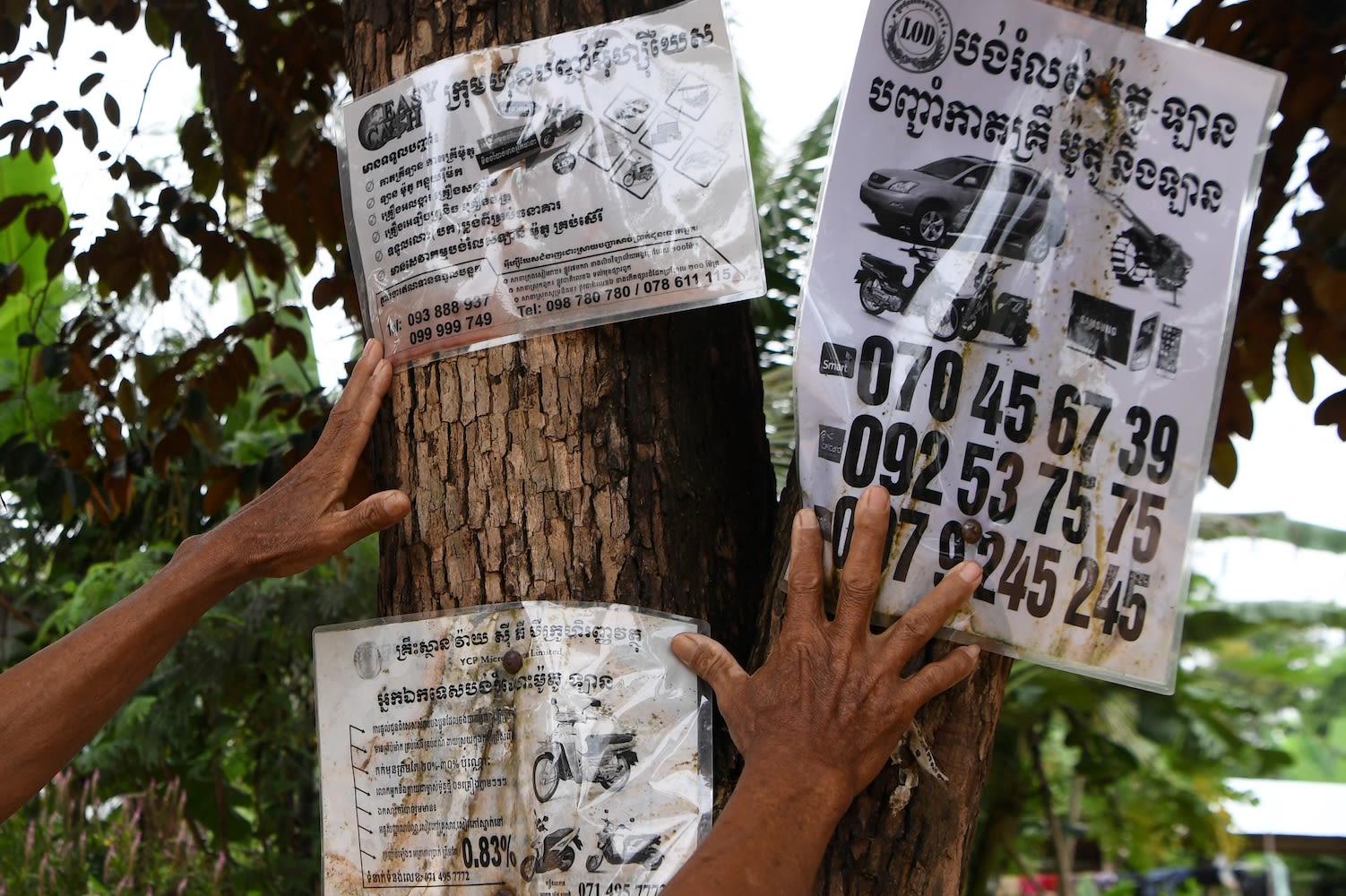 This photo taken on Oct. 15, 2020 shows a resident looking at flyers of microfinance services posted on a tree trunk at a village in Siem Reap province. (Photo by Tang Chhin Sothy/AFP)
This photo taken on Oct. 15, 2020 shows a resident looking at flyers of microfinance services posted on a tree trunk at a village in Siem Reap province. (Photo by Tang Chhin Sothy/AFP)