Church facility in Manila teaches homeless to bake, break bread
Training offers opportunity to break free from street-life mentality of hopelessness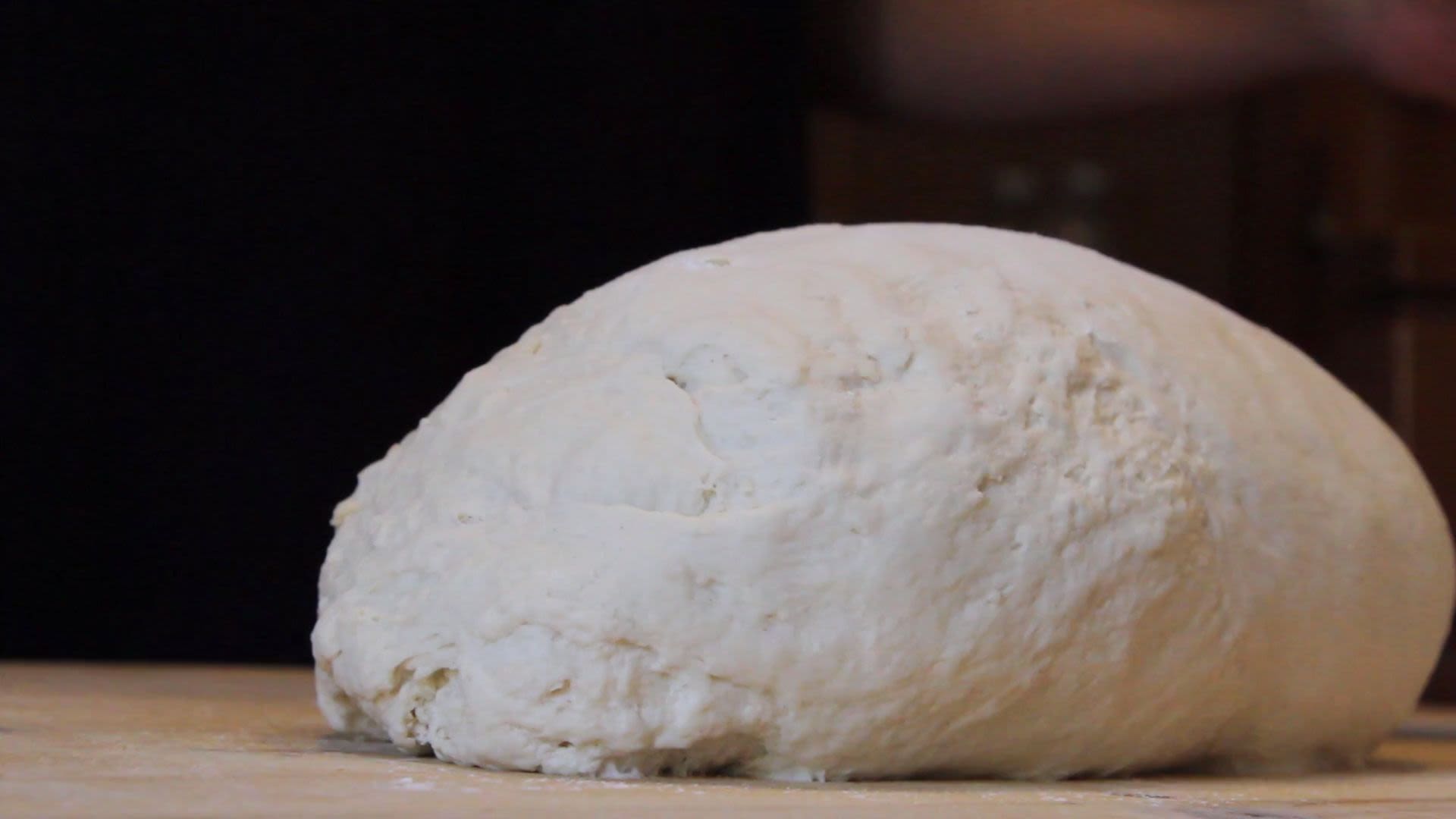 She picked a piece of bread, which somebody had just thrown, and brought it to her children.
She broke the bread and gave it to them, and said, "I won't let this happen again."
Early this year, Yolanda Gutierrez and her three children were forced to live in the streets of Manila after her husband abandoned them.
The incident led to a series of unfortunate events that made them homeless and penniless. Their situation had been aggravated by the impacts of the pandemic.
In March, Gutierrez visited the Arnold Janssen Kalinga Center, a facility run by the Society of the Divine Word congregation for the homeless in Manila's Tayuman district.
It was not Gutierrez's first encounter with the center. In 2016, she volunteered as a cook for the church-run facility that offers free meals and free baths to street dwellers.
She said she needed to make sure that her family has something to eat every day, and by offering her services to the center for free, she could secure food for her children.
Divine Word priest Flaviano Villanueva, who founded the Arnold Janssen Kalinga Foundation in July 2015, took Gutierrez in and gave her one of the most important roles at the center during the pandemic.
Gutierrez is one of two volunteers who cook food for at least 850 homeless people every day since the government-imposed lockdown in March.
The priest said he admires the dedication and sacrifices of the volunteers "who are homeless themselves but decided to help their fellow homeless people."
"Cooking for nearly one thousand people daily is not easy," he said. "They wake up early in the morning, they work all day, and do the same thing the next day."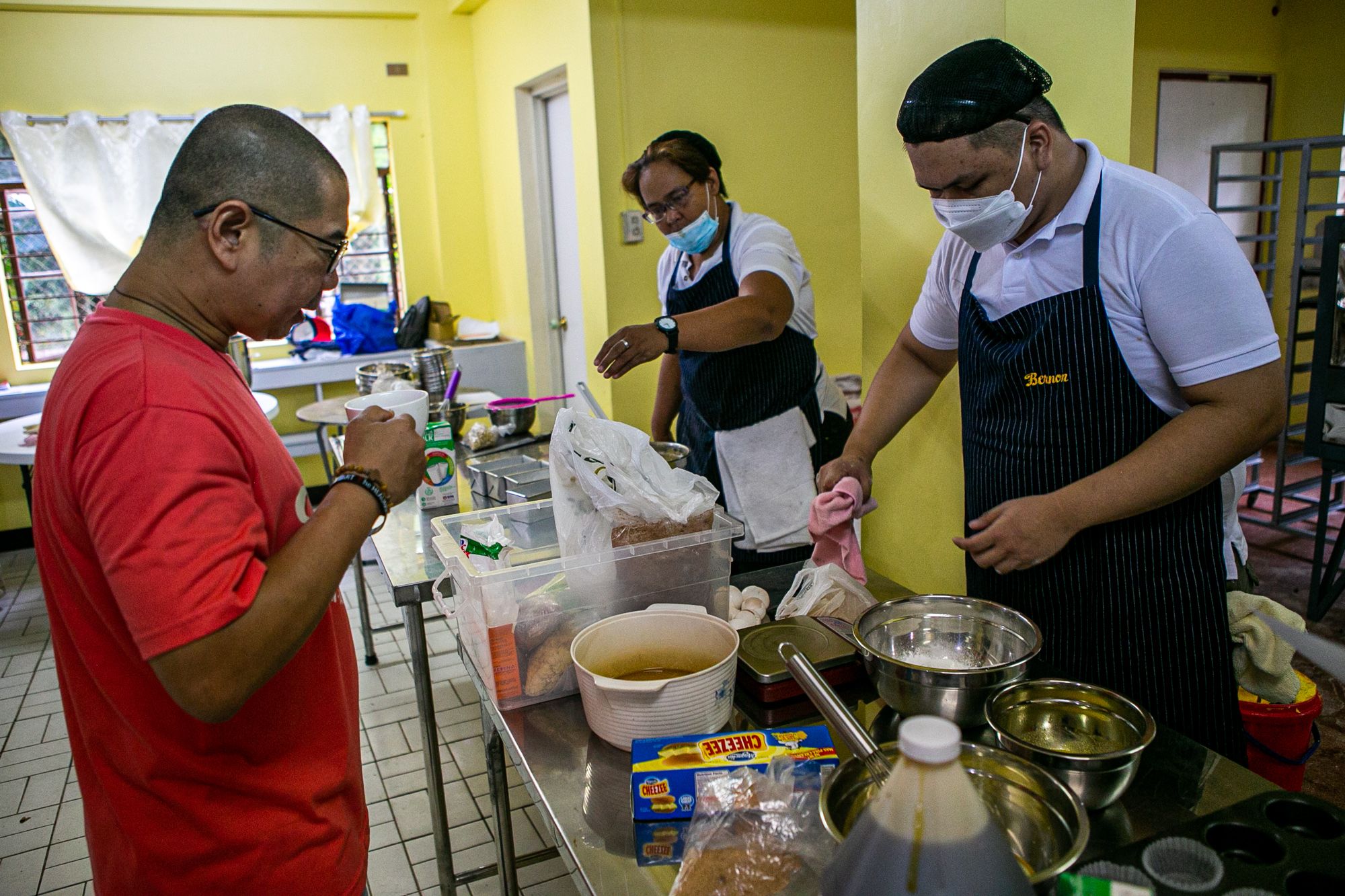 Father Villanueva also knows that the center could not keep Gutierrez and the other volunteers forever. "They have to move on with their lives, sooner or later," he said.
The priest, however, said that if the time comes when they have to let go of their volunteers, "they must be ready to stand on their own feet again, and ready to also extend aid to others."
Last week, Gutierrez and eight other homeless people under the care of the Arnold Janssen Kalinga Center were enrolled in a five-day baking skills training course.
The training course was one of the center's developmental programs for homeless people "to give them an opportunity to break free from the street-life mentality of hopelessness."
"Here, we give them the skills and technical know-how. Later, we will find a perfect place where they can use the skills, get employed, or start their own business," the priest said.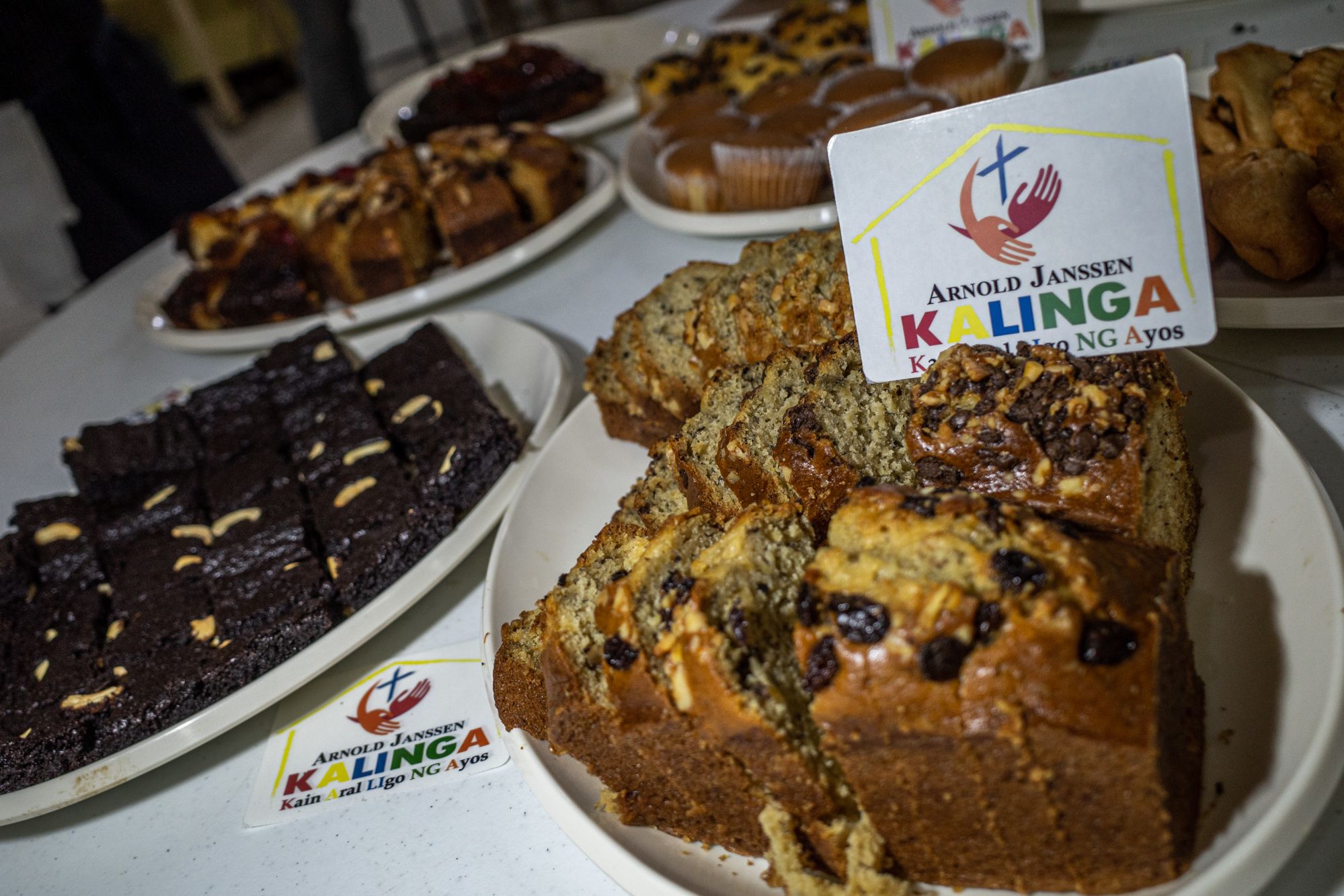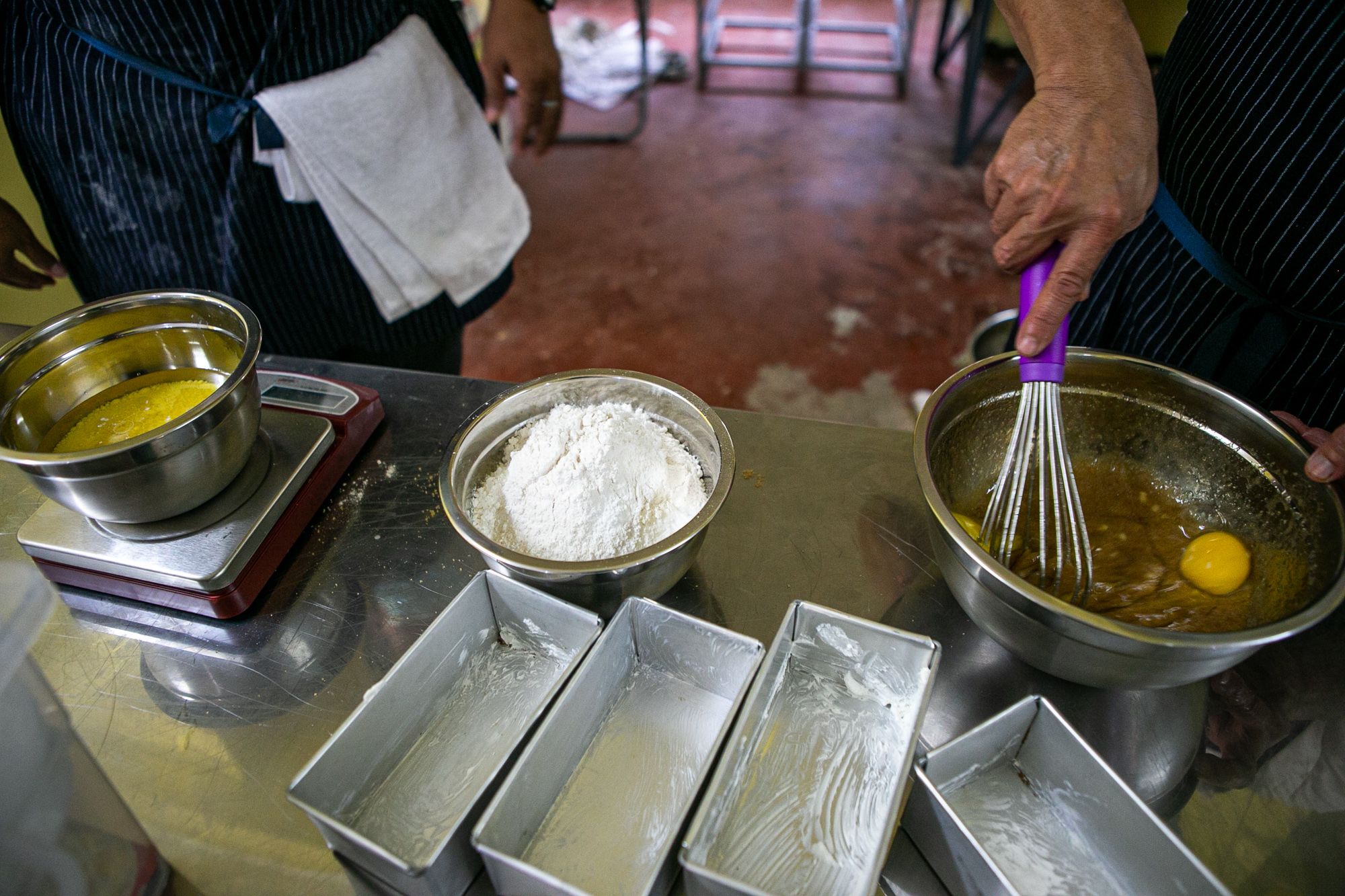 'Hope and opportunities' 
Baking equipment were set up in the mess hall of the newly established "Bahay Kalinga" in Bagong Silang village in Caloocan City.
A whiteboard with a formula for mixing ingredients written on it stood in front of the participants who were busy listening to their instructor.
Gutierrez and her "classmates" have undergone several days of lectures and "brainstorming," not only on how to bake but also on how to create their own recipes.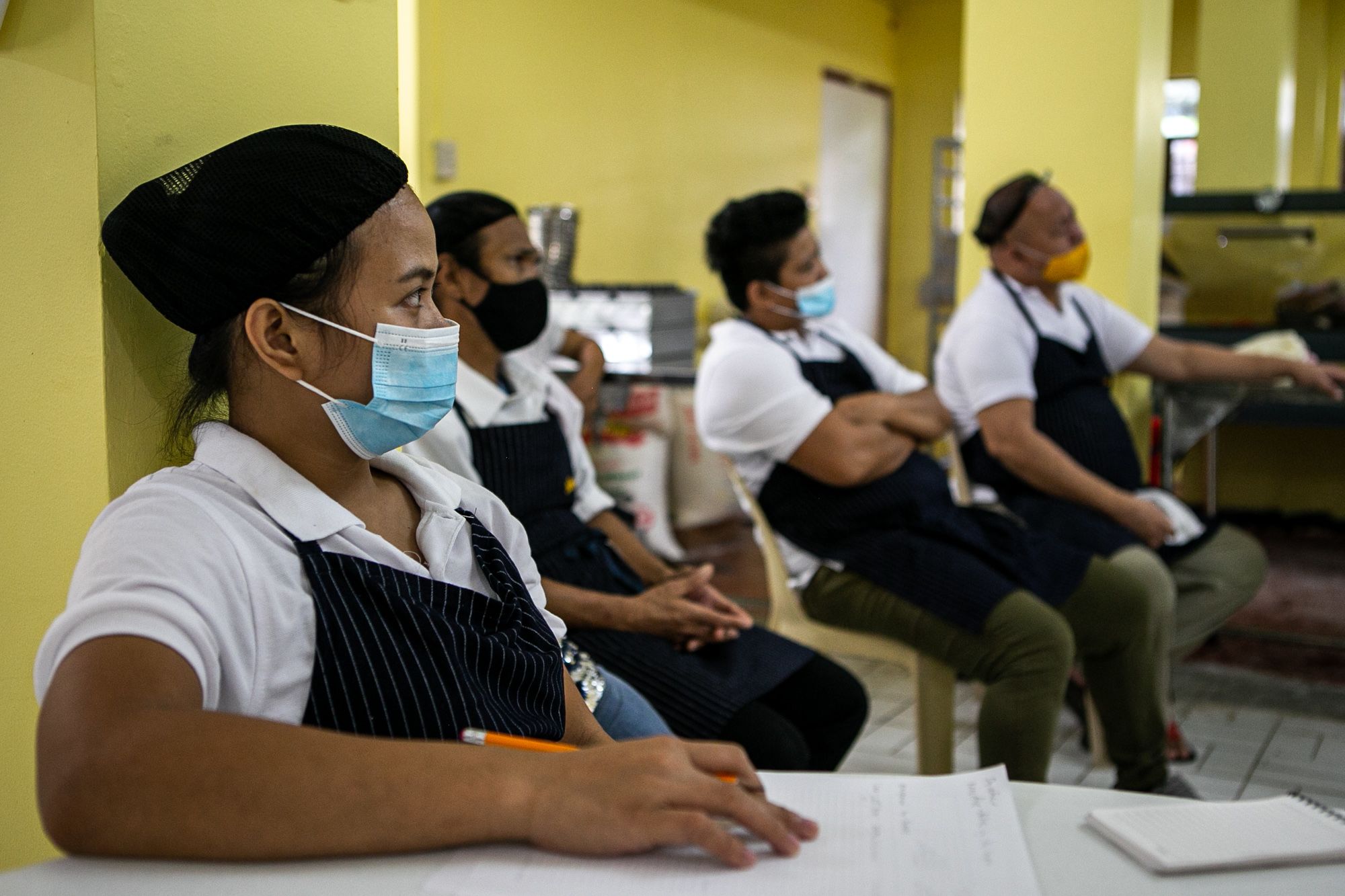 They were also taught how to formulate marketing plans and analyze business transactions.
"They were so eager to learn the techniques and all the secrets behind a delicious bread," said Santi Macutay, a hotel operator and a chef who facilitated the training.
"They have different levels of apprehension and sometimes become unruly, but what's good about them was they help and teach each other," he said.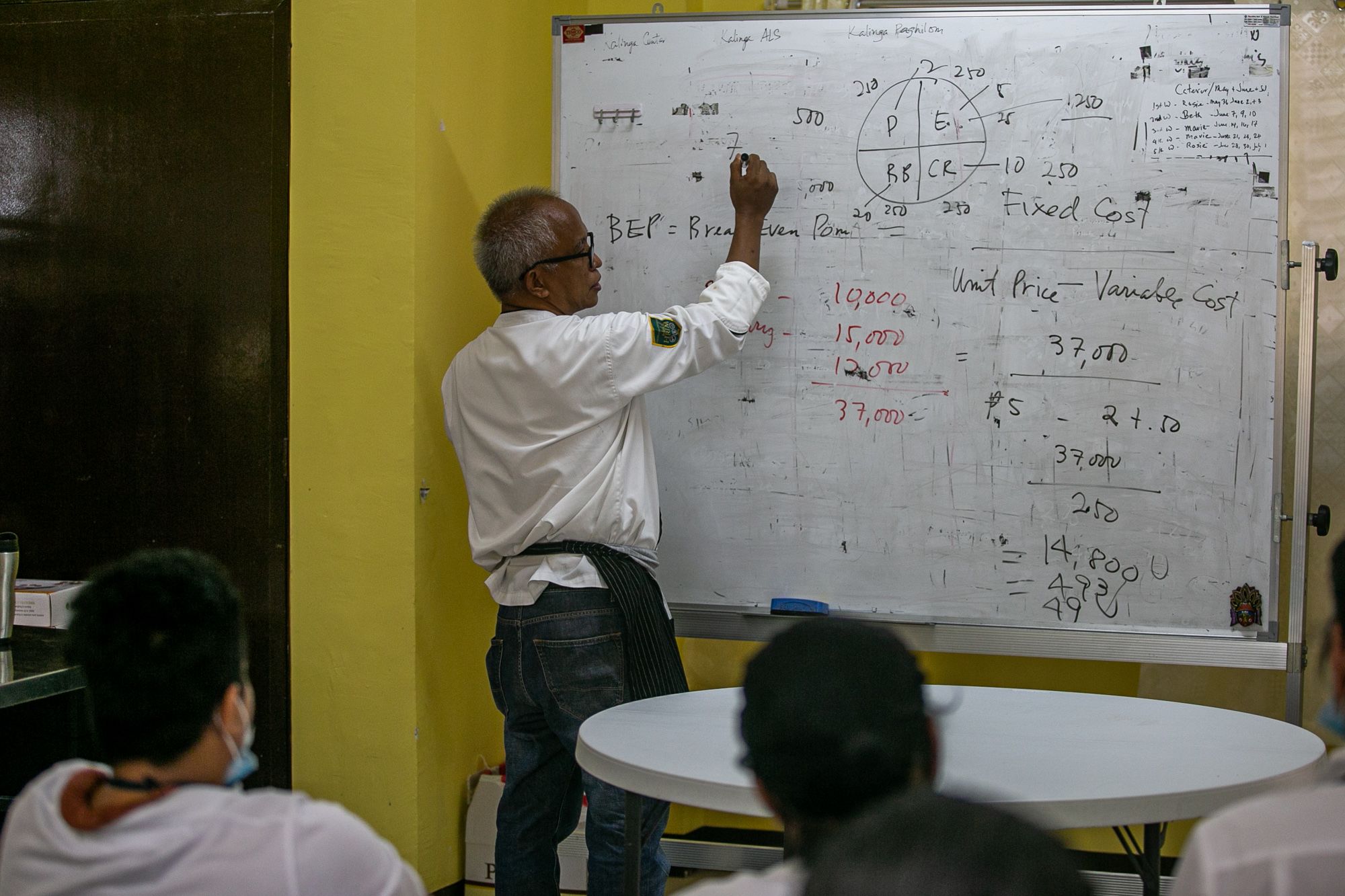 On the last day of the training course, the participant baked the last batch of bread that they will serve to the staff and beneficiaries of Bahay Kalinga.
They then received certificates of completion and a "ticket to a better future" during simple ceremonies followed by "the breaking of bread."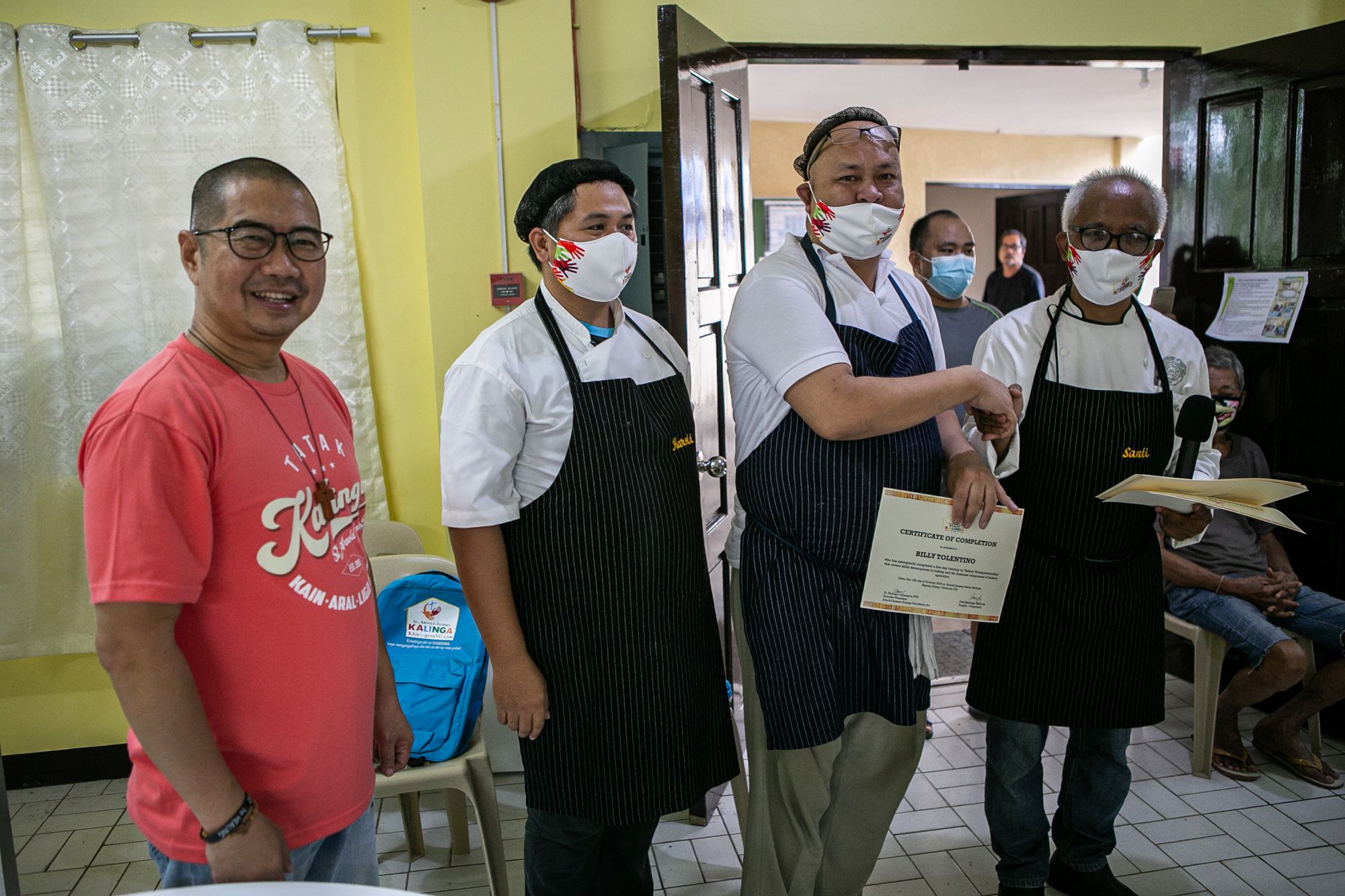 "Of all the training and lectures that I handled, this class was life-changing, not just for them, but also for us who sometimes forget that everybody needs an opportunity," said Macutay.
He said the participants "were not ignorant, but we often see them as unschooled."
"They are not lazy, but we often perceive them as impassive and good-for-nothing. They actually have the drive to learn more and to discover things," he said.
He said what is lacking "is the opportunity that will help them find a way out of poverty and homelessness."
"Today, we did not see homeless people. They came out here as future entrepreneurs, future bakers, or future humanitarian aid workers. They only need the opportunity," he said.
'Becoming bread to others'
"Opportunity for the homeless people" is something that the Arnold Janssen Kalinga Foundation is trying to bring in when it formally opened "Bahay Kalinga" or "caring house" on July 16.
Father Villanueva said Bahay Kalinga is a transformation house that aims to empower the homeless and give them a chance for a better future.
"Part of its core mission is to provide dignified, systematic, and holistic care to homeless beneficiaries committed to seeking a way out from their depressing life in the streets," said the priest.
Bahay Kalinga offers not only free baths and free meals but accommodations for up to 75 homeless people who are willing to undergo a "transformation process."
The facility has programs for skills development and an alternative learning system, which Father Villanueva called "tools to help them stand on their own feet again."
The "transformation" has three stages, which would take a homeless person at least one year and a half to finish before he or she would be allowed to go back to the outside world.
The first stage is "recreating and building their self-image," which means allowing people to clean their bodies and eat the right food every day.
The second stage "requires focus and dedication" as they undergo an alternative learning system program for at least a year.
The third and last stage "is their ticket to the outside world," said Father Villanueva. "Of course, we don't want them to leave incomplete and unprepared."
Stage three is a three-month skills development training program that will give technical and practical knowledge of different sets of skills that the beneficiaries can use in looking for a job.
The last phase also includes livelihood development and small business management training for those who have the potential to run their own businesses.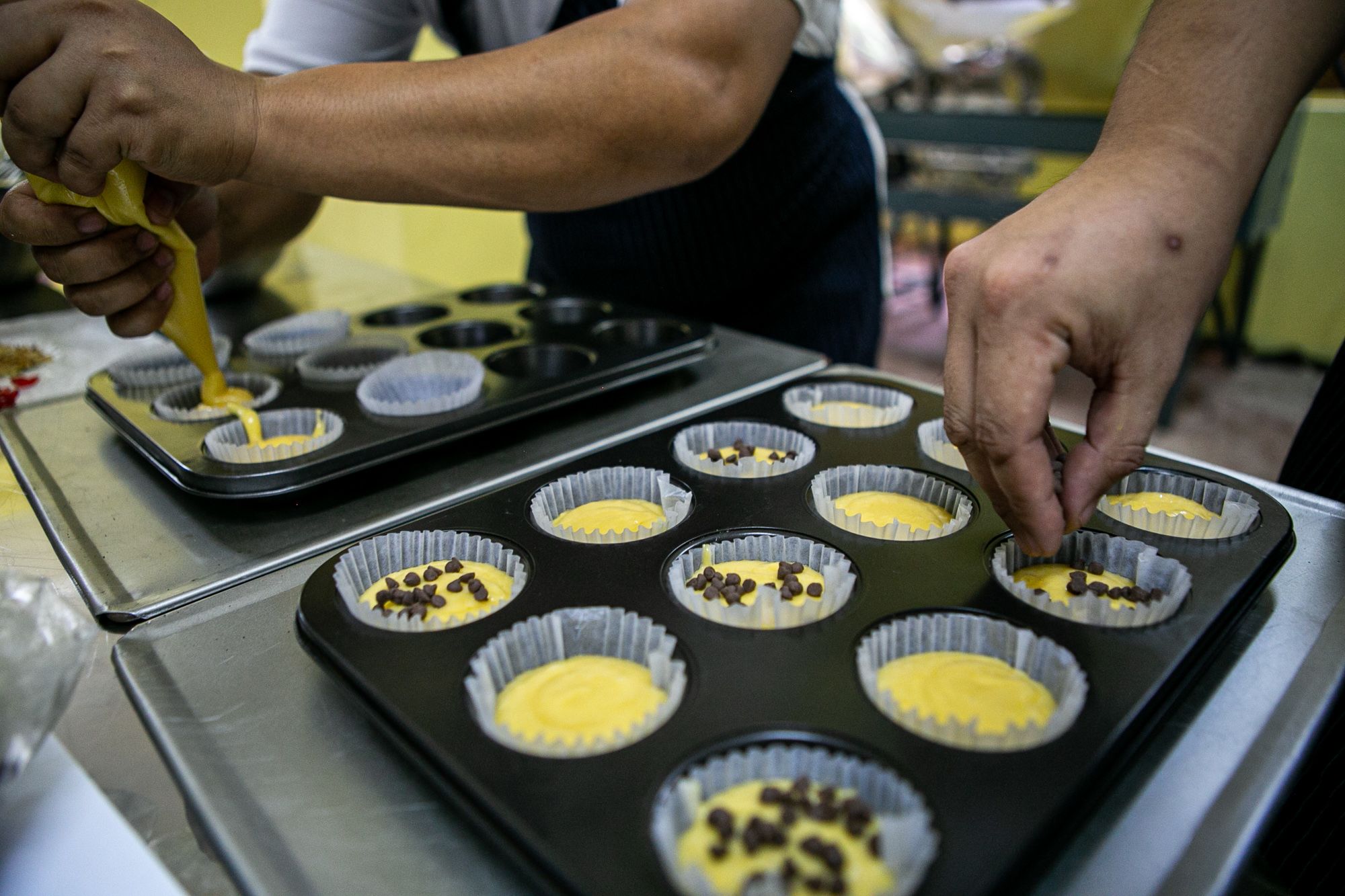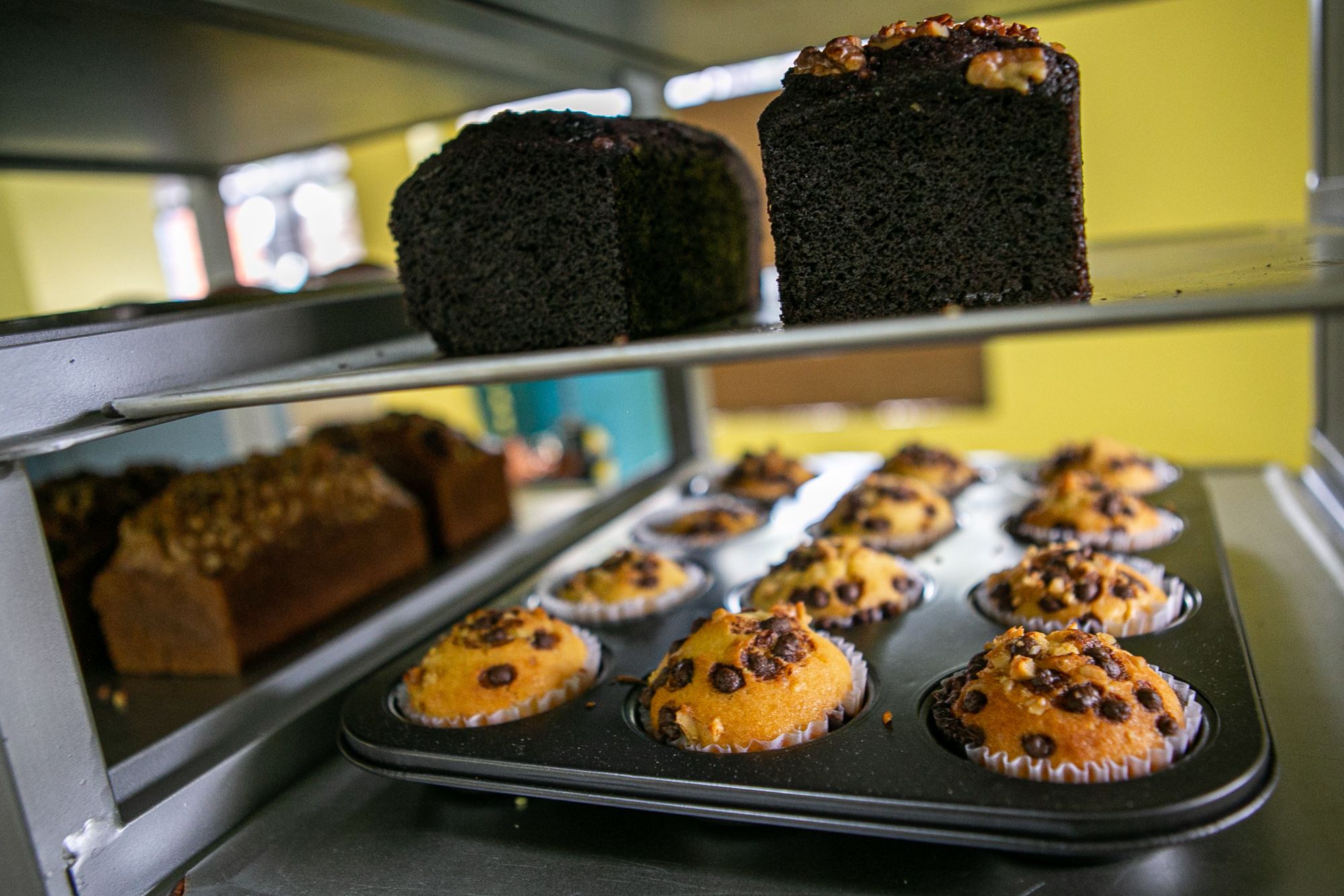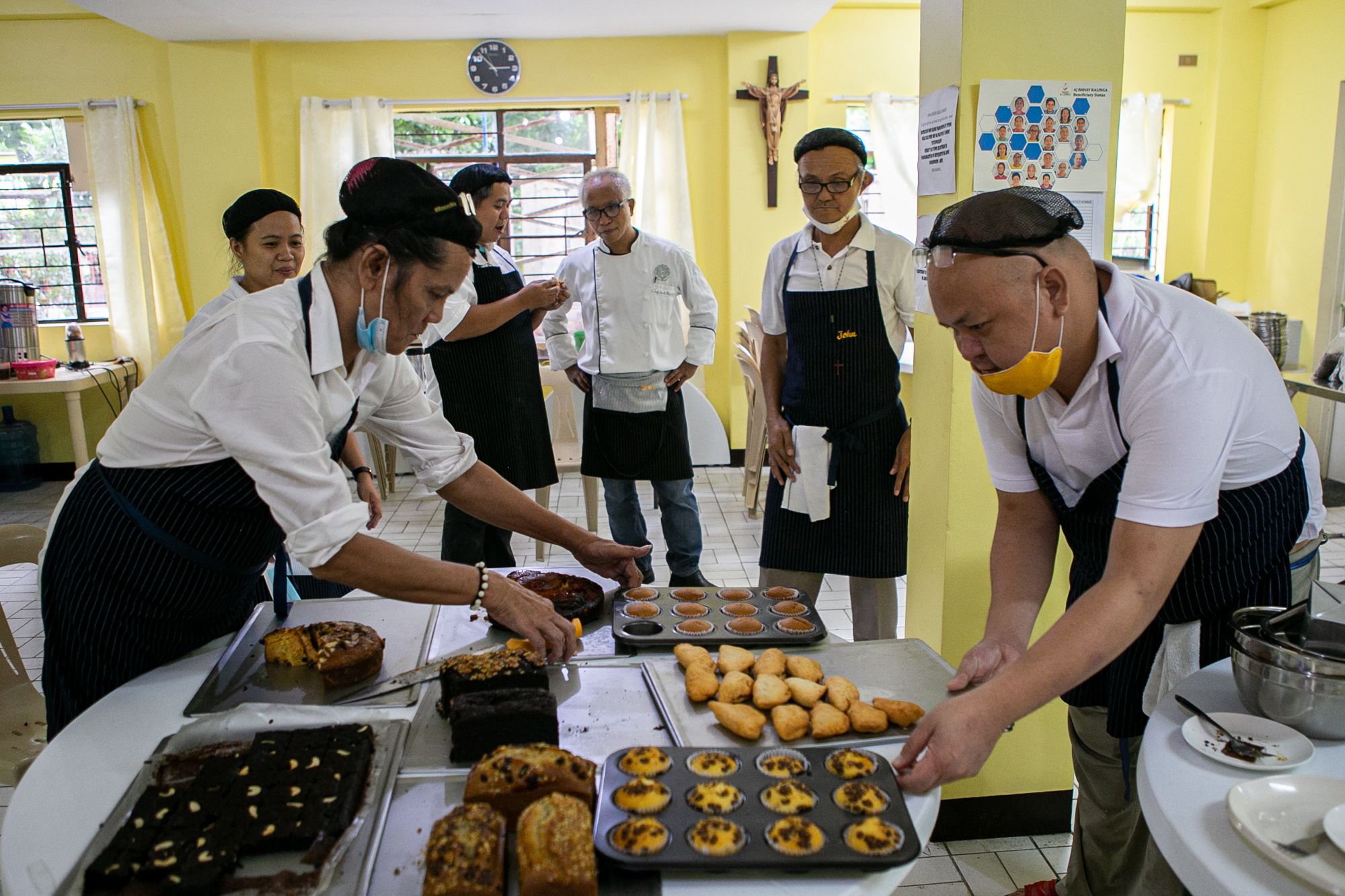 Participants of the five-day baking skills training course conducted by the Arnold Janssen Kalinga Foundation put newly-baked bread on the table during a ceremony to mark the end of the training.
Participants of the five-day baking skills training course conducted by the Arnold Janssen Kalinga Foundation put newly-baked bread on the table during a ceremony to mark the end of the training.
After finishing the whole transformation program, the foundation will help beneficiaries find an employer or even start up a business, "if the situation permits," said the priest.
Father Villanueva, however, said that the most important thing that the foundation wants the beneficiaries to learn "is to become bread to others."
"We want caring and sharing to be viral and contagious. We take care of them here, so that when they finally go out, they would take care of others," he said.
Father Villanueva said the entire Bahay Kalinga program aims to teach every homeless person "how to bake bread from their broken lives."
---
Text and photos by Mark Saludes
Published October 23, 2020
© Copyright MMXX LiCAS.news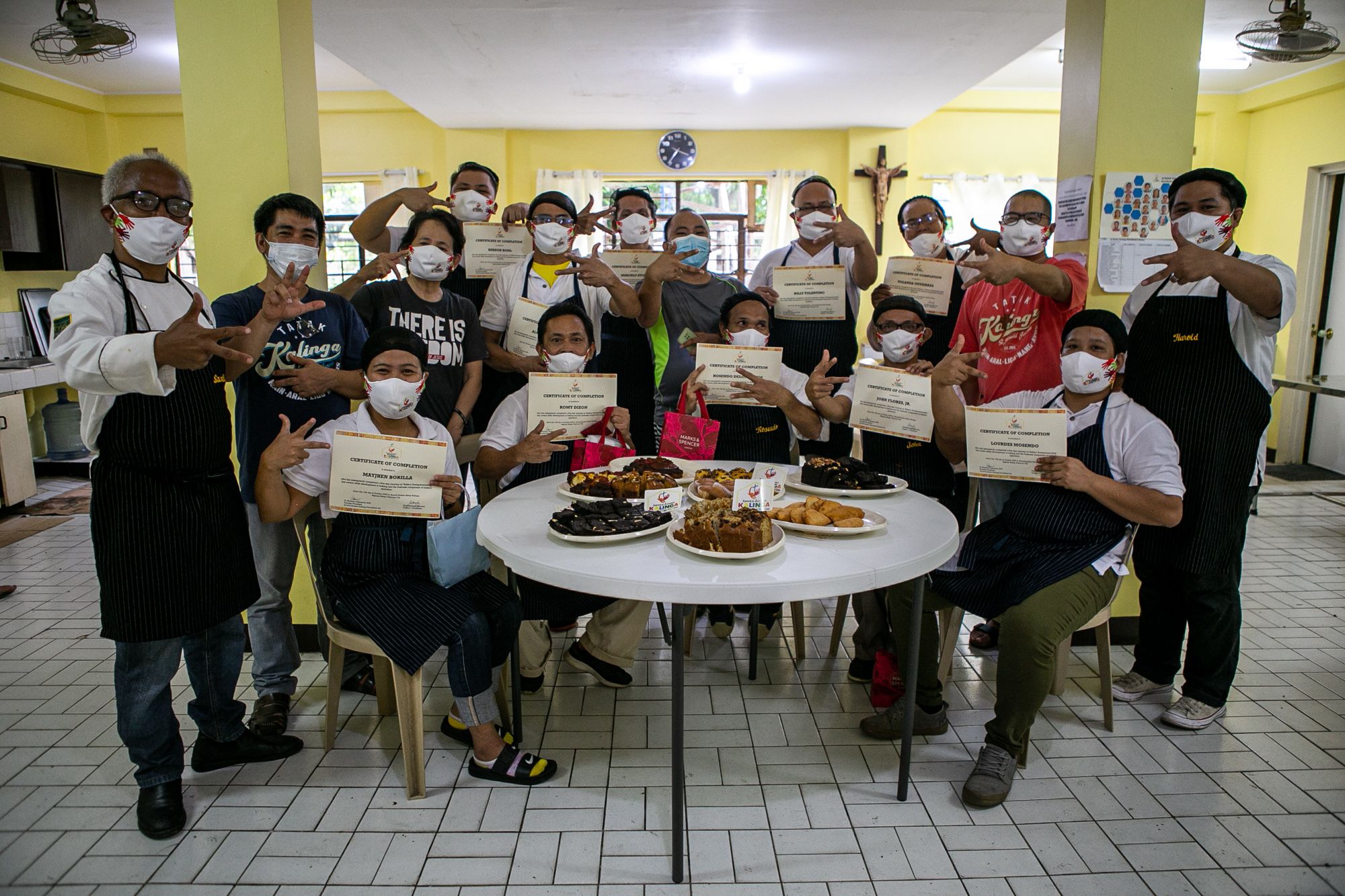 The Arnold Janssen Kalinga Foundation holds a five-day baking skills training course for nine homeless people.
The Arnold Janssen Kalinga Foundation holds a five-day baking skills training course for nine homeless people.