COVID-19 lockdown leads to despair in Cambodia
In the red zones people are banned from leaving their homes for two weeks, even going out to buy food is officially not allowed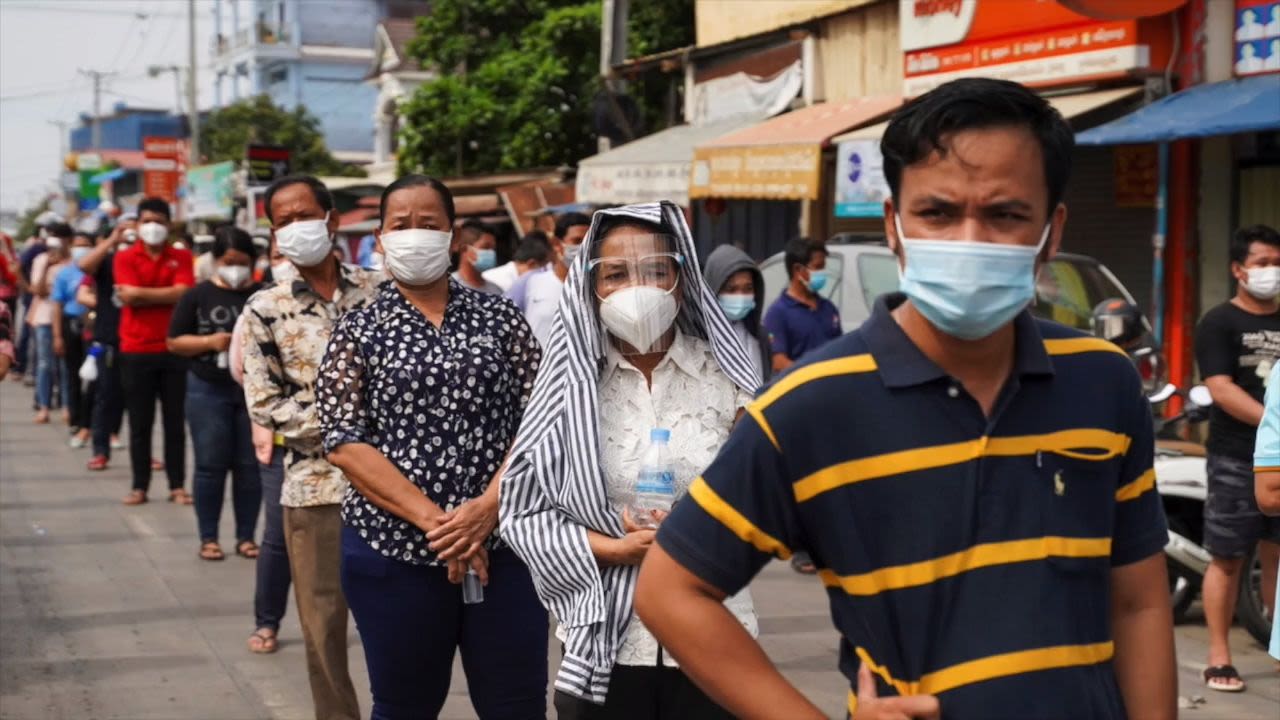 People wait in line before being vaccinated against COVID-19 in Phnom Penh, Cambodia, April 22. (Photo by Cindy Liu/Reuters)
People wait in line before being vaccinated against COVID-19 in Phnom Penh, Cambodia, April 22. (Photo by Cindy Liu/Reuters)
Ean Sotheavy is desperate. The garment worker is not allowed to leave her house. She has no money and the only food she has left to feed herself and her two children is rice.
"My youngest son is eating nothing else than rice with sugar, and on top of that our rice box is nearly empty," Sotheavy said over the phone.
Sotheavy is one of thousands of people in Phnom Penh who are officially not allowed to leave their home for 14 days. Many of them live in what the Cambodian authorities call a 'red zone', an area where there's been a spike of coronavirus infections over the past weeks.
Cambodia is struggling with its biggest coronavirus wave so far. In the past seven days the country recorded more than 3,000 new infections, over 30 percent of all the infections the country recorded since the beginning of the pandemic last year. Since early March, Cambodia also recorded at least 74 deaths due to COVID-19, while there were no deaths in the long period prior to the current wave of infections.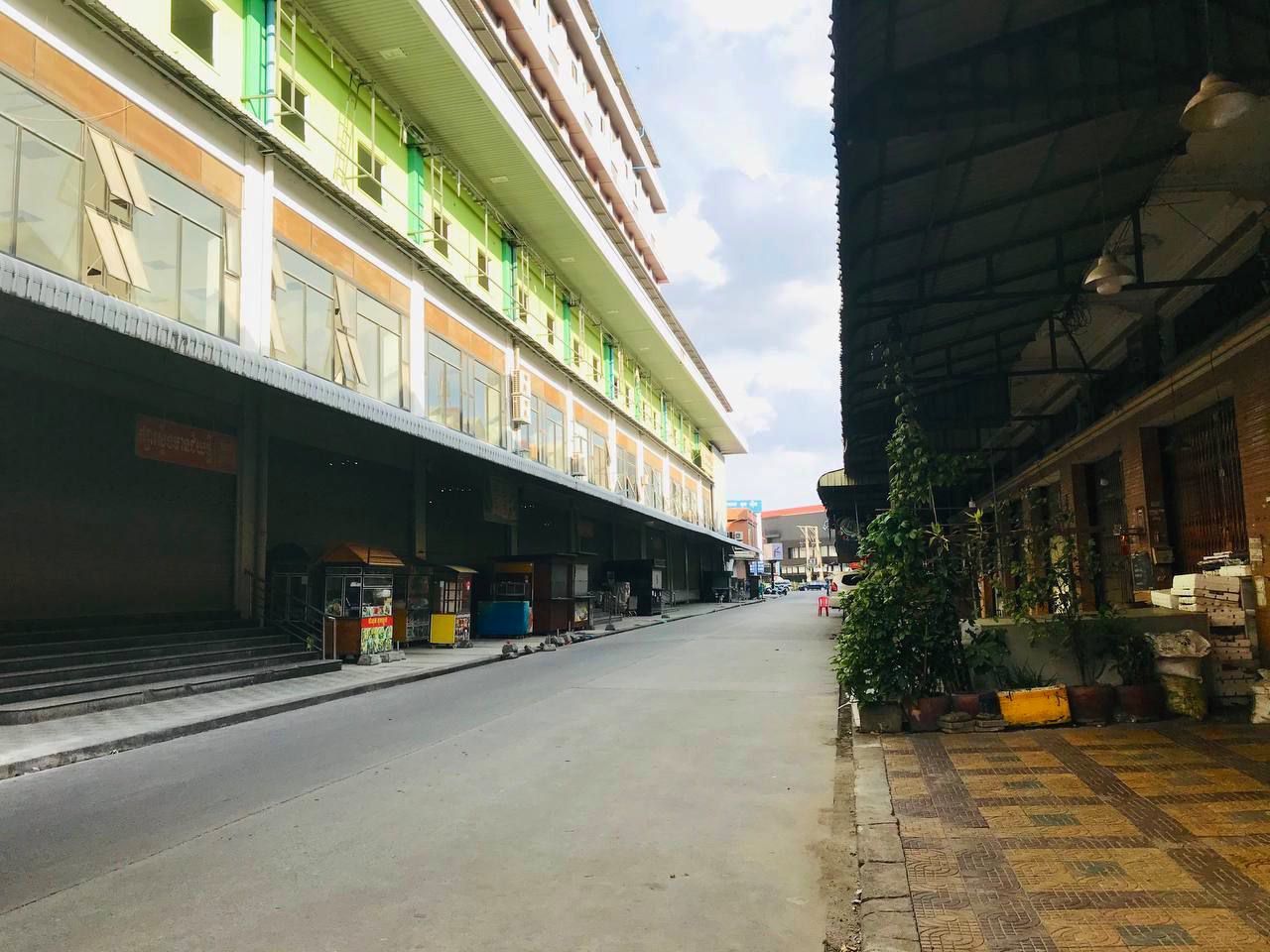 An empty street near the deserted Steung Meanchey Mall in Phnom Penh. (Photo by Say Somaly)
An empty street near the deserted Steung Meanchey Mall in Phnom Penh. (Photo by Say Somaly)
To fight the virus, the authorities in Phnom Penh — the epicenter of the infections — have taken drastic measures. That includes a 14-day closure of all markets, a temporary ban on selling alcohol and movement restrictions that need to ensure that people won't leave their home more than absolutely necessarily. In the red zones people are banned from leaving their homes for two weeks. Even going out to buy food is officially not allowed.
It's causing a huge amount of stress for 37-year-old Sotheavy. She hasn't been to work since April 13 and in her case no work means no income.
"In my factory about 100 people tested positive for COVID," she said. "I went to get tested as well. Although the result was negative I've been in lockdown since and I'm not sure when I can go back to work. I don't have money anymore. At the moment no one my family still earns an income."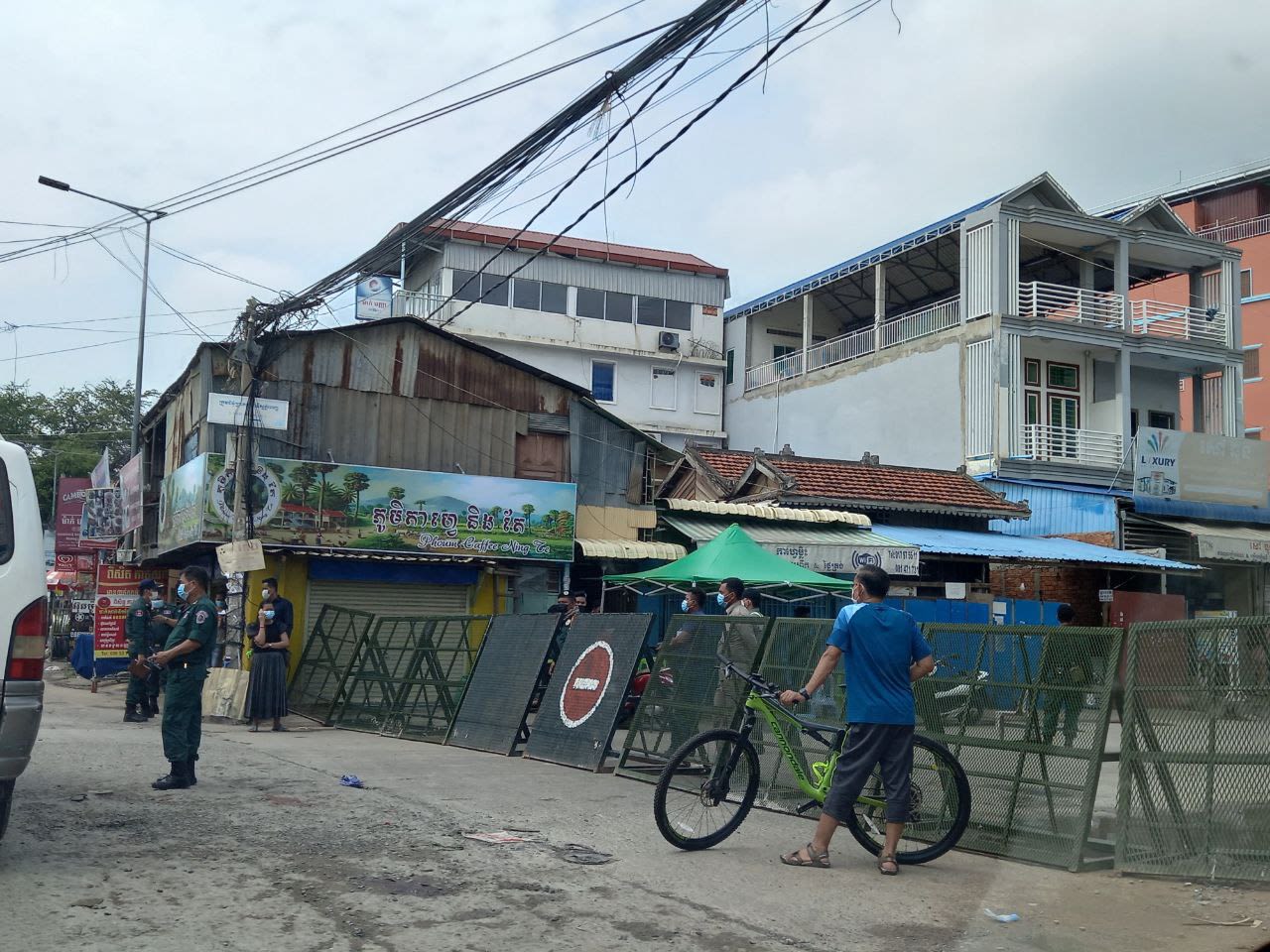 The Cambodian government has promised to bring food to the red zones, but so far distribution has been limited. With no income, and most markets closed, people are getting desperate. Last week thousands of Phnom Penh residents messaged City Hall in a Telegram group that they are running out of food, online news outlet Voice of Democracy reported.
Sotheavy and her neighbors also haven't received anything yet from the authorities. There is however a glimpse of hope. "On Friday afternoon they came to make a list of how many families live in my building. So, let's just hope they will soon bring us food," she told LiCAS.news.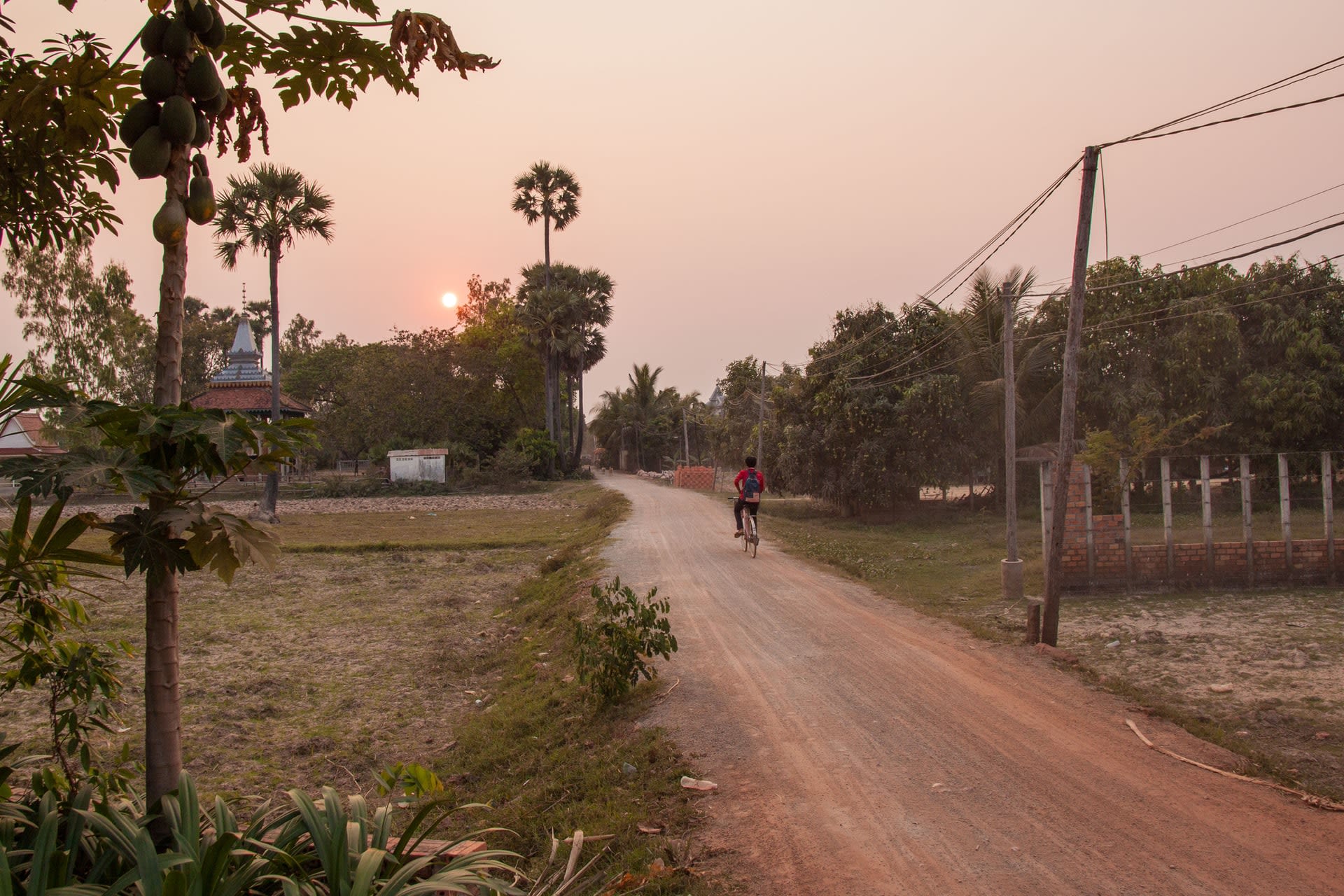 NGO's and human right defenders have criticized the lack of support for Phnom Penh's most vulnerable; those who live from hand to mouth and who can't sustain themselves and their families without income for too long. Some civil society groups and private individuals have set up their own food donation program.
Chak Sopheap, executive director of the Cambodian Center for Human Rights, said that it's crucial that the authorities ensure all citizens have full access to basic necessities, even when they are under the strictest lockdown.
The government "must also provide humanitarian support to those unable to earn a living during the lockdown period and, more broadly, to those severely impacted by the economic ramifications of the COVID-19 pandemic, in order to make the lockdown survivable for the most vulnerable," Sopheap told LiCAS.news.
Running out of food
On Veng Sreng Boulevard, an industrial area in Phnom Penh known for its big number of garment factories, Thou Chanseng has also had a hard time surviving the lockdown. Together with her husband she normally sells dry and fresh fish at a local market, but the market has been closed to stop the spread of the coronavirus, making it nearly impossible for her to continue her business.
"For a while I stopped selling because the number of infections was increasing so quickly. I and many other vendors were stuck in a rental building that's on the top floor of the market," she said.
Background photo: A quiet street inside one of the 'red zones' in Phnom Penh. (Photo by Ate Hoekstra)
Chanseng told LiCAS.news that ambulances and medical teams come to her area every day to test residents for COVID-19. She also said that most people in her area are running out of food. Since about a week she's been able to do some of her business, but she's not allowed to sell inside the market and needs to stay behind one side of a gate while her customers are on the other side. It's difficult.
"We're not allowed to have a big number of people gathering. If there's several people on both sides of the gate, the police will yell at us. And if we don't listen, they will use sticks to beat the people," Chanseng said.
Such enforcement is far from unique. Over the past week pictures and videos flocked over social media in which policemen armed with sticks chase pedestrians who are outside their house. Armed police have also been seen driving around red zones to warn people that they are banned from leaving their homes.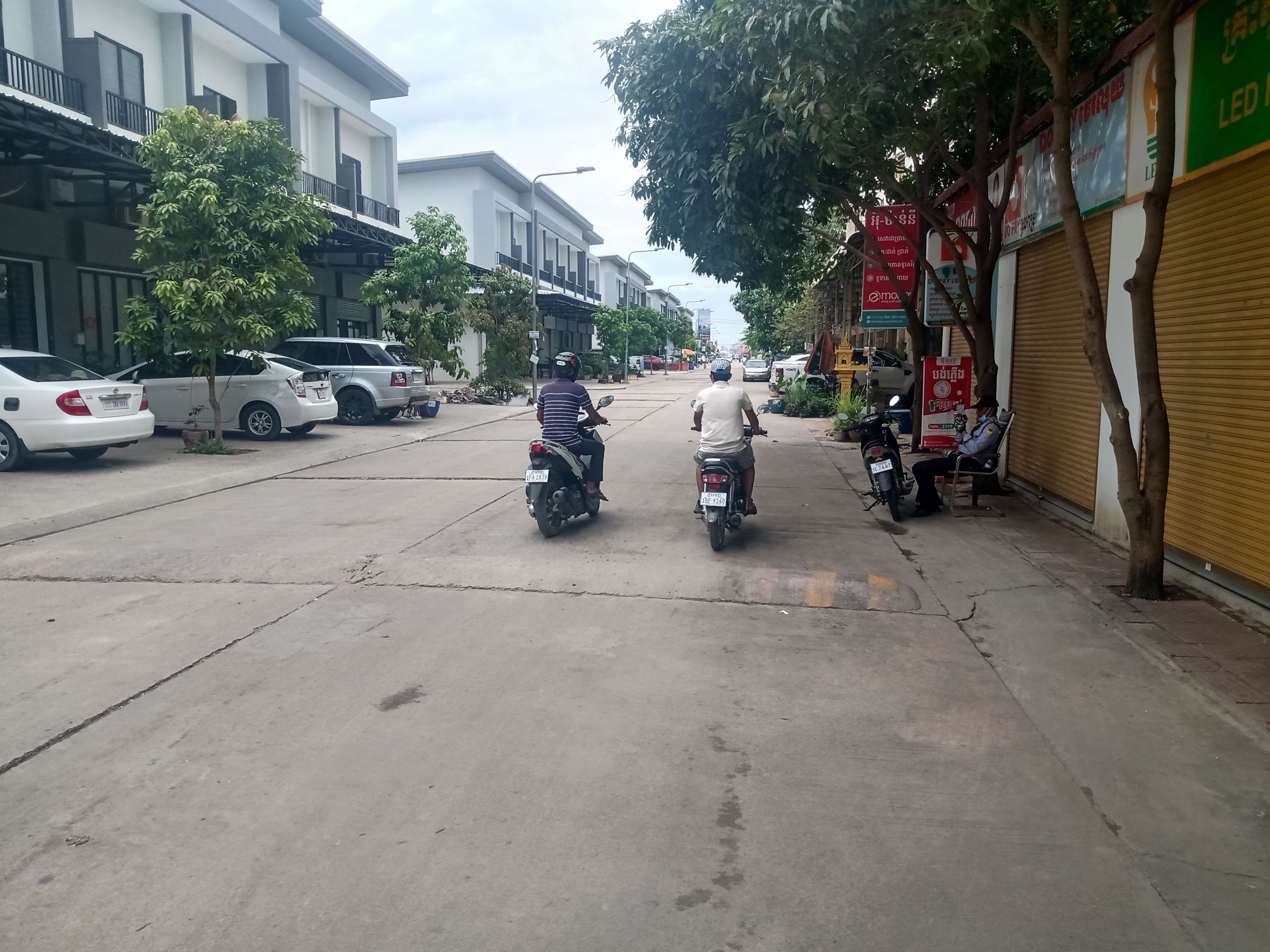 Extreme punishment for COVID infractions
Last month Cambodia passed a law that makes it possible to sentence someone to prison for up to 20 years for breaking COVID-19 rules and to fine the offender for a maximum of 20 million riel (US$ 5,000). Last week several people received prison terms because they were gathering to drink alcohol. Others were detained for not wearing masks or for crossing closed checkpoints. Three people were fined when the police saw them drinking coffee and tea at a coffee shop.
Human rights defender Chak Sopheap said that the new law lacks transparency and oversight, while relevant stakeholders were not consulted.
"As a result, it contains several problematic provisions, which fail to meet international legal standards. A particular concern is the vague and broad terminology used in the law," Sopheap said.
According to the CCHR director the law is a threat for critical voices in Cambodia, which are also threatened by other legal measures, and "opens the door to subjective interpretation and arbitrary enforcement."
The government however defended the law and said it's necessary to quickly control the pandemic. "The country that applies the strictest measures can most effectively control the spread of the disease," Cambodia's minister of Justice, Koeut Rith, said according to the Phnom Penh Post.
But it does not prevent people from suffering during the lockdown. For many in Phnom Penh it's not a health crisis, but an economic one. That certainly goes for a family in the red zone who have a restaurant in one of the city's biggest shopping malls.
"It's been over a month since we were able to run our restaurant," one of the family members said, asking to stay anonymous. "We still pay the rent to keep it, but if it continues like this, how can we survive?"
---
Published February 22, 2021
© Copyright MMXXI LiCAS.news
---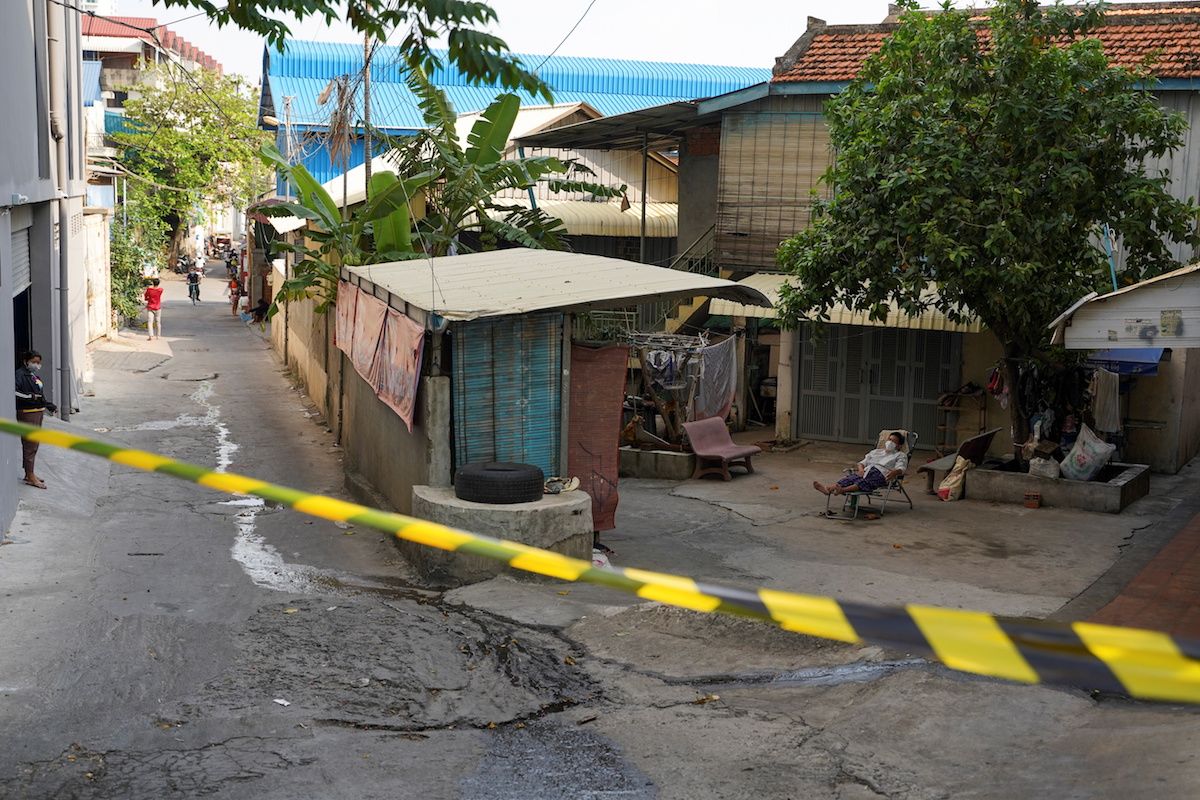 A view of an empty street during a 14-day citywide lockdown implemented amid a rising number of COVID-19 cases, in Phnom Penh, Cambodia, April 15. (Photo by Cindy Liu/Reuters)
A view of an empty street during a 14-day citywide lockdown implemented amid a rising number of COVID-19 cases, in Phnom Penh, Cambodia, April 15. (Photo by Cindy Liu/Reuters)