Domestic work, joblessness keep women from reporting violence
When pandemic lockdown began, women's rights advocates were quick to notice the missing gender dimension in govt response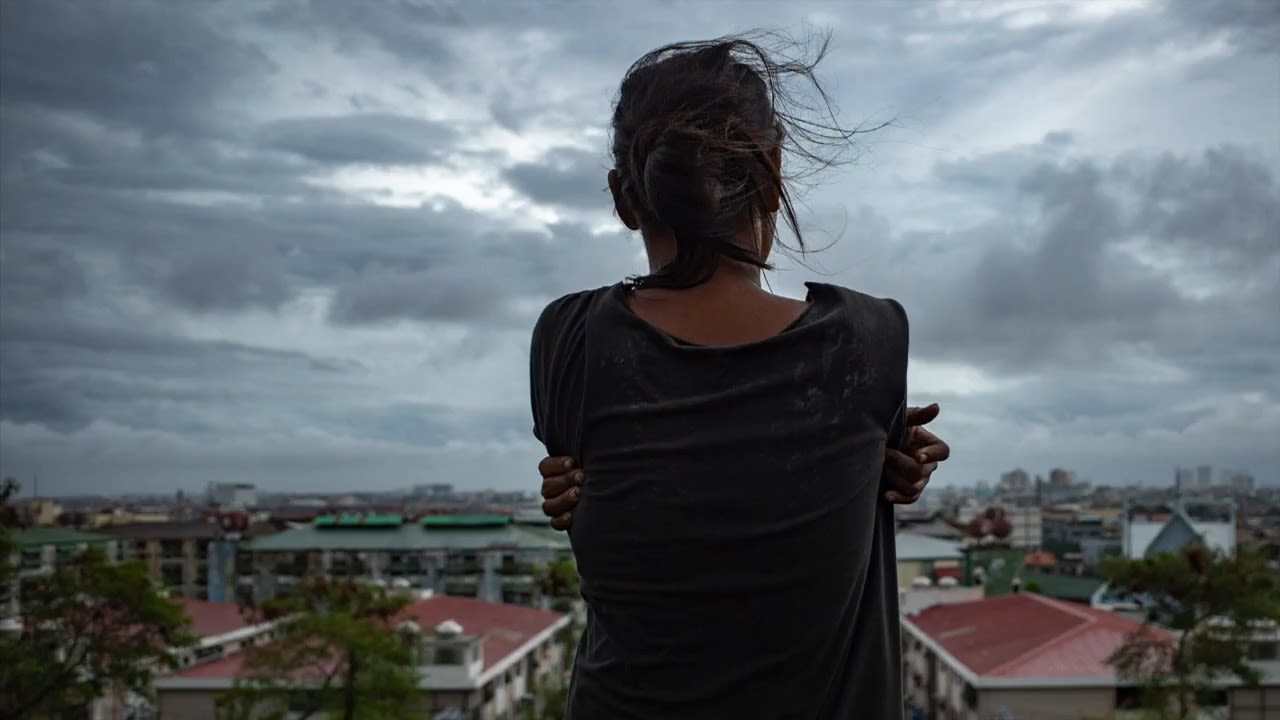 Amy is photographed in Smokey Mountain, a former dump in Manila's Tondo district.
Amy is photographed in Smokey Mountain, a former dump in Manila's Tondo district.
Amy (not her real name) downed a bottle of energy drink to keep herself awake as she washed dishes in a food stall at a fishing port in Manila.
Her shift began early in the evening and ended just before dawn. When she returned to her makeshift shelter in the hamlet of Smokey Mountain, she barely got time to rest. 
By seven o'clock in the morning, Amy has to wake up to prepare breakfast for her sons and her husband, Dan.
Once they were done eating, she would wash the dishes, clean the house, bathe the children, and cook dinner. She would arrive at work already exhausted. 
Facing the tall pile of greasy plates and cutleries, Amy sipped from her bottle of energy drink and began work.
Although life is tough for her, Amy thought that things would have been easier if Dan would not pick a fight and beat her up whenever he is drunk.
Apart from housekeeping, women in the Philippine traditionally look after the children and the elderly.
Lawyer Twyla Rubin, who works at the Commission Human Rights' Center for Gender Equality and Women's Human Rights, said that unpaid care work keeps women from pursuing career and education opportunities.
In Amy's case, juggling her responsibilities at home and work make it difficult for her to break up with Dan.
She had always dreamed of becoming a masseuse. She already earned her massage therapy certificate, but after giving birth to her youngest son, she was forced to take a job that was immediately available even if it only paid her about US$3 a day.
"Where will I go?" Amy would ask friends who warn her against Dan's harmful behavior. "Who will take care of my children when I have to go to work?"
On March 15, when the Philippine capital was placed under lockdown due to the coronavirus pandemic, Dan stabbed Amy with a dagger after seeing her speaking to a male friend.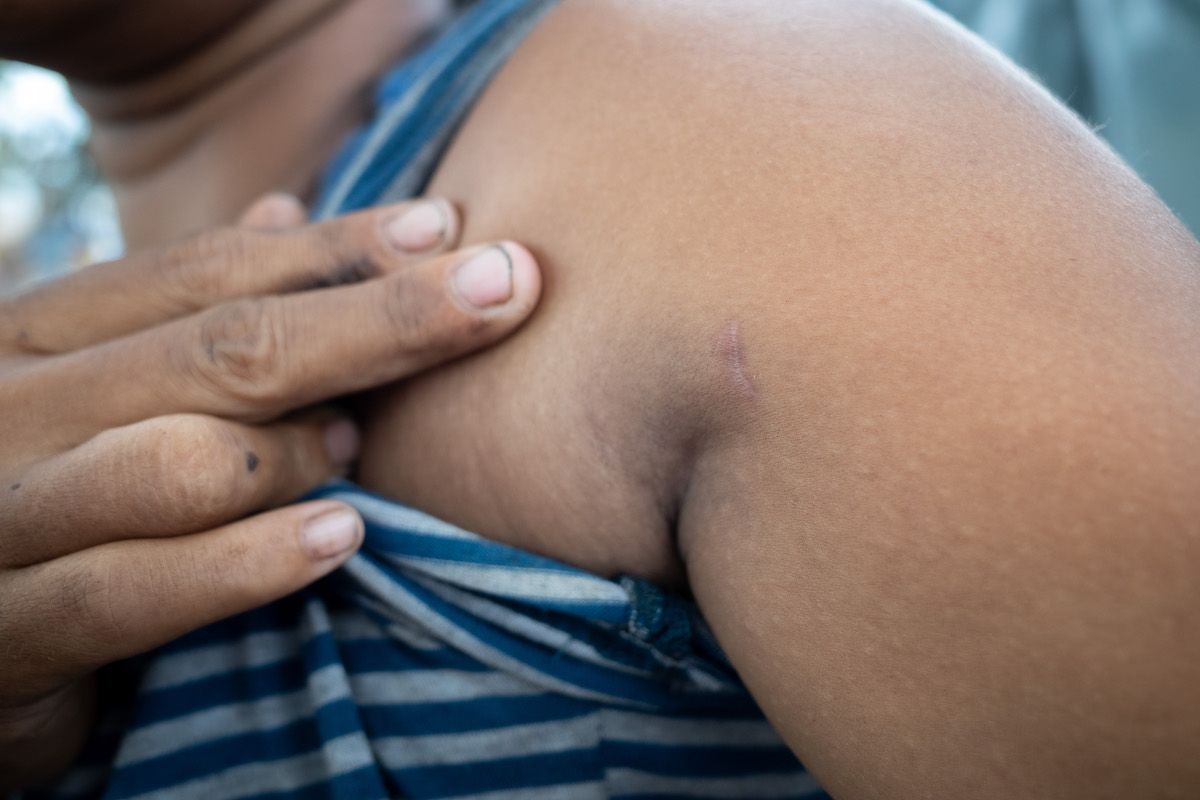 After her husband was sent to jail for stabbing her, Amy built a new shelter using the money she received from the government's aid package for those affected by the pandemic.
Amy's eldest son takes care of the family's pets.
Behind closed doors
When they first met through a common friend, Amy was barely in her twenties. She thought Dan was quiet, although it was no secret that he was an alcoholic.
Binge drinking was a "minor problem" until the couple had children.
There was a time that Dan hit the eldest child with a steel pipe on the head for being too noisy and "to teach him a lesson."
When he would see his wife wearing makeup, he would accuse her of seeing another man and would beat her up.
He always found a reason to pick a fight.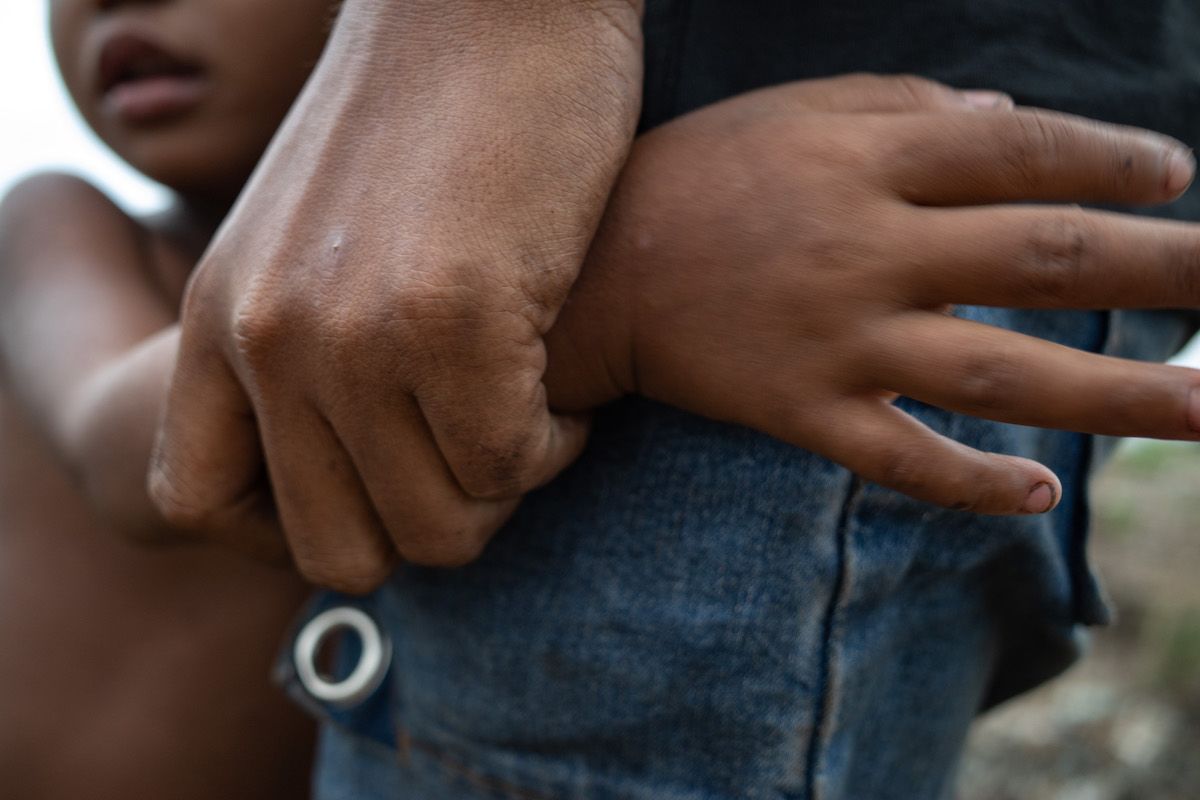 When she finally found the courage to complain before the village council, Amy was told to fix her relationship with Dan.
After she was beaten up again, she returned to the council to ask for help but was told that "she and her husband would get back together anyway."
Denial of services is a form of violence according to Rubin.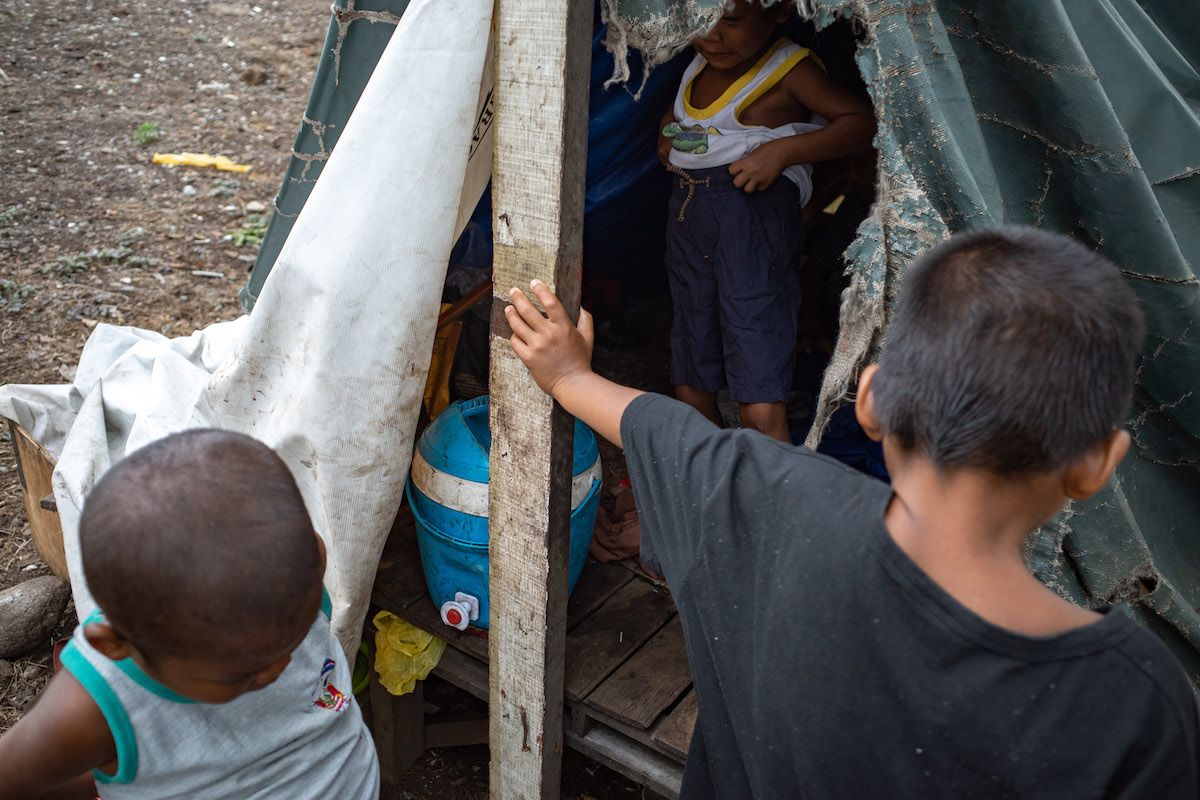 The Philippines has a plethora of laws that protect women, but the insensitivity of duty-bearers toward the victims and the lack of access to referral mechanisms and services have discouraged many victims of gender-based violence from reporting. 
The country's 2017 National Health and Demographic Survey shows that one in four "ever-married" women have experienced violence, yet only one-third of the victim-survivors have sought help.
"Those who seek help don't necessarily go to the authorities. They go to friends or family," said Rubin.
In his weekly report to Congress during the pandemic, Philippine President Rodrigo Duterte said that as of June 4, police recorded 1,954 cases of violence against women and 1,754 cases of violence against children since the start of the pandemic.
Citing the 2013 Super Typhoon Haiyan as an example, women's groups said it is only after a disaster when women are able to report incidents of violence.
"During a crisis, women are burdened with more pressing issues like their families' survival," said Rubin, adding that reports usually come out only after a crisis.
As for Amy, she felt trapped even before the lockdown.
Tired of being the subject of gossip in her community, she kept her problems to herself.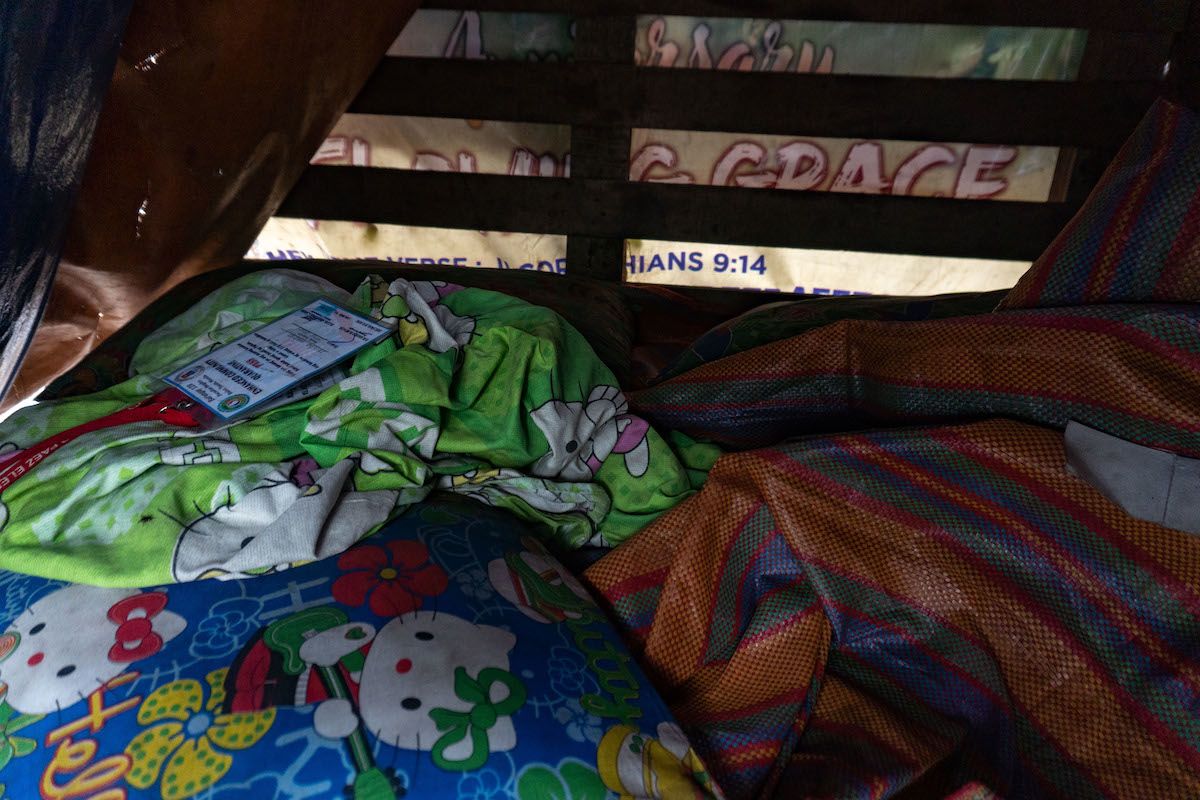 Gender-based violence during COVID19 lockdown
Gender-based violence during COVID19 lockdown
The 'widening' gender gap
The World Economic Forum's Global Gender Gap Report shows that the Philippines has always ranked higher than its neighboring countries when it comes to gender equality.
However, this achievement is not felt by women in low-income communities even before the COVID-19 outbreak.
Women groups believe that gender-based violence remains rampant because the Philippines is still predominantly "feudal-patriarchal."
"Women are objectified and seen as inferior in a feudal patriarchal society," said Edz dela Cruz of the Center for Women's Resources.
"Feudal refers to the unequal relationship where women are considered 'properties' of men. In a 'patriarchal' society, women are the 'less empowered' beings while men are more superior," said Dela Cruz.
Senator Risa Hontiveros argues that patriarchy has predisposed policy formulation and implementation in the country.
When the pandemic lockdown began, women's rights advocates were quick to notice the missing "gender dimension" in the government response.
The Philippines is far from flattening the curve despite a nationwide lockdown for more than 100 days.
With the government focused on addressing the public health crisis, tackling gender-based violence is left in the hands of a few. 
"[Gender-based violence] can happen to anyone regardless of their age, religion, race, and socio-economic status," said Dela Cruz.
"But it's usually the women who are financially insecure that are stuck in abusive relationships because they have no means to protect themselves and provide for their children."
"Whatever gains we had in closing the gender gap, we are at risk of losing them," added Rubin of the Commission on Human Rights.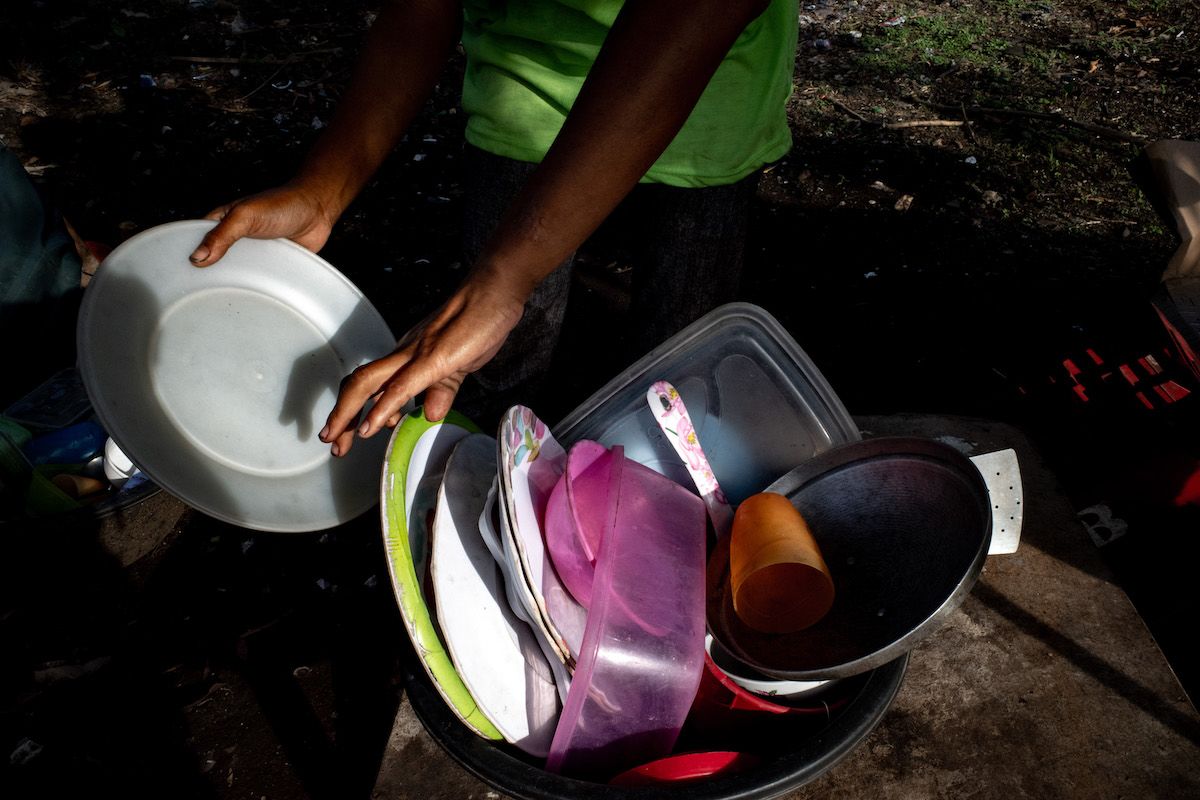 No easy way out
The government and several NGOs have come up with ways to address the challenges that women face during the pandemic.
Through social media campaigns, the police's Women and Children Protection Center urged victims of violence against women and children to report cases through a hotline.
The human rights commission also set up the "e-Report sa Gender Ombud," a website that serves as a monitoring and referral tool for gender-based violence.
Sabrina Gacad, a professor from the University of the Philippines, launched a "volunteer-powered" chat support on Facebook called Lunas Collective that offers sexual and reproductive health advice and psychological first aid for victim-survivors of gender-based violence.
"We let people talk about their problems and help them plot the steps forward," said Gacad.
The women are then referred to the non-government Likhaan Center that remains open to provide sexual and reproductive health supplies and services during the lockdown.
Despite all the initiatives, victim-survivors still face many hurdles.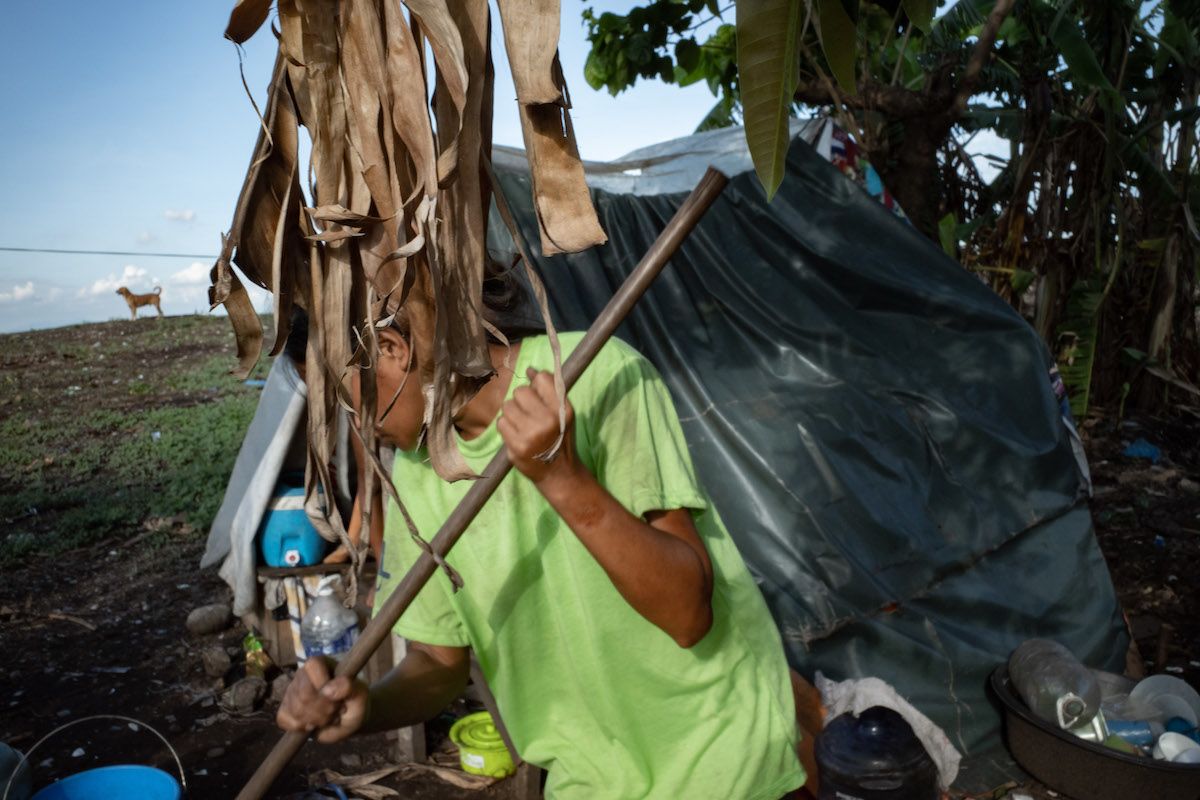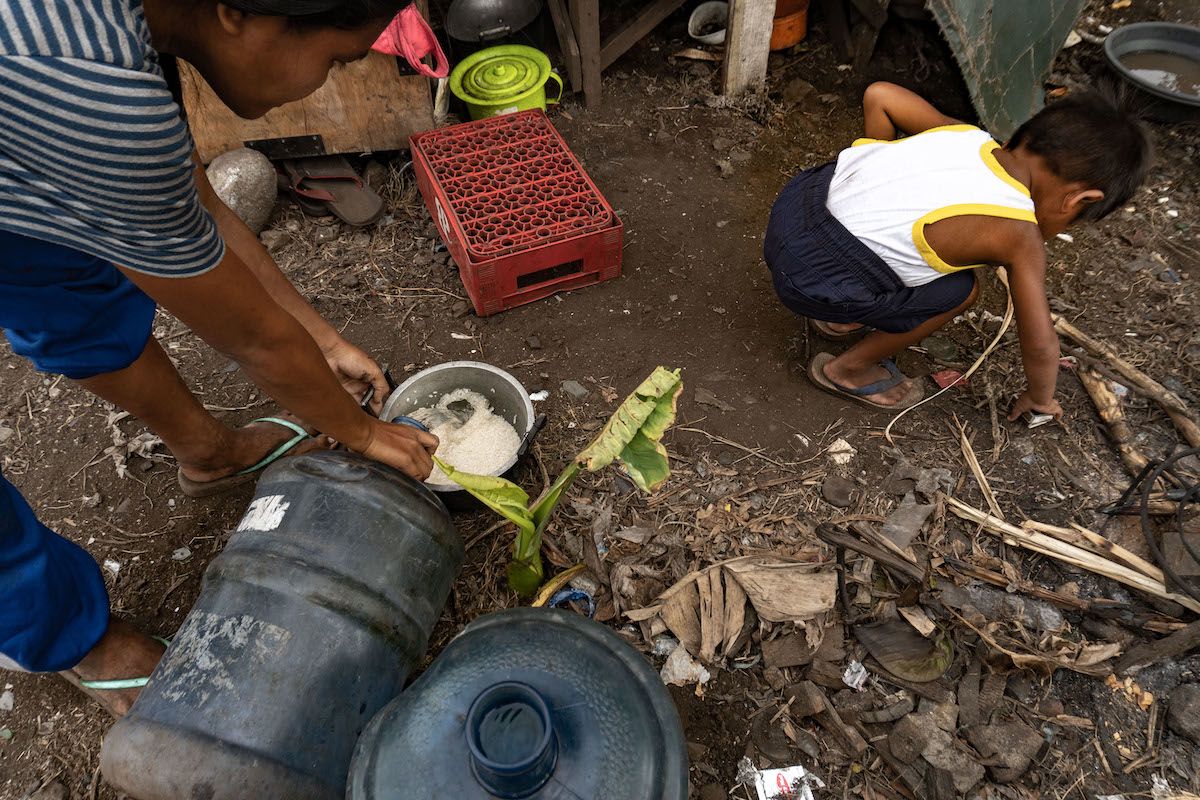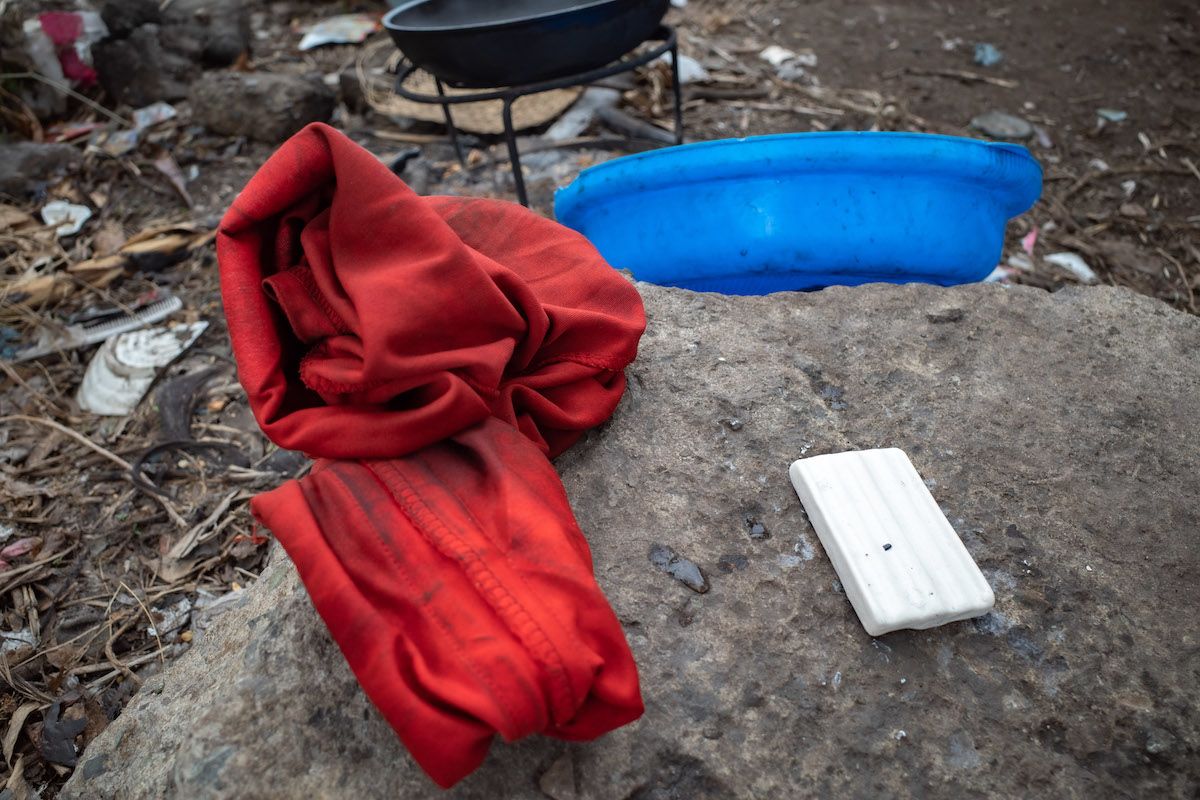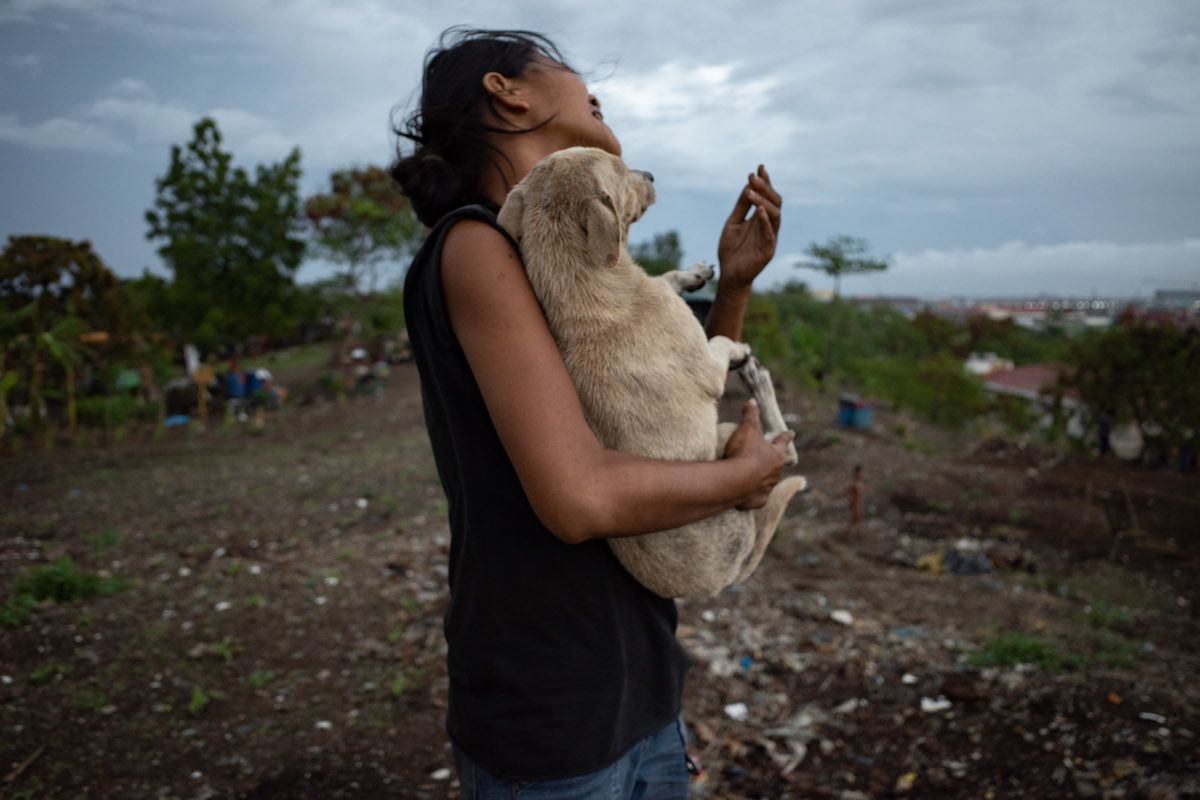 During the pandemic lockdown, Amy spent most of the time resting and playing with her sons and dogs.
During the pandemic lockdown, Amy spent most of the time resting and playing with her sons and dogs.
The 'new normal'
The first thing that Amy did after she woke up when Dan stabbed her on March 15 was to look for her children.
"They are with your mother," the doctor told her.
"That was the only time my mother found out about Dan's abusive behavior," Amy confessed.
"I did not tell her because I was tired of being talked about by my neighbors. I was tired of being judged. I did not realize that I was already neglecting myself," she said.
"How do you get out of this situation, anyway?"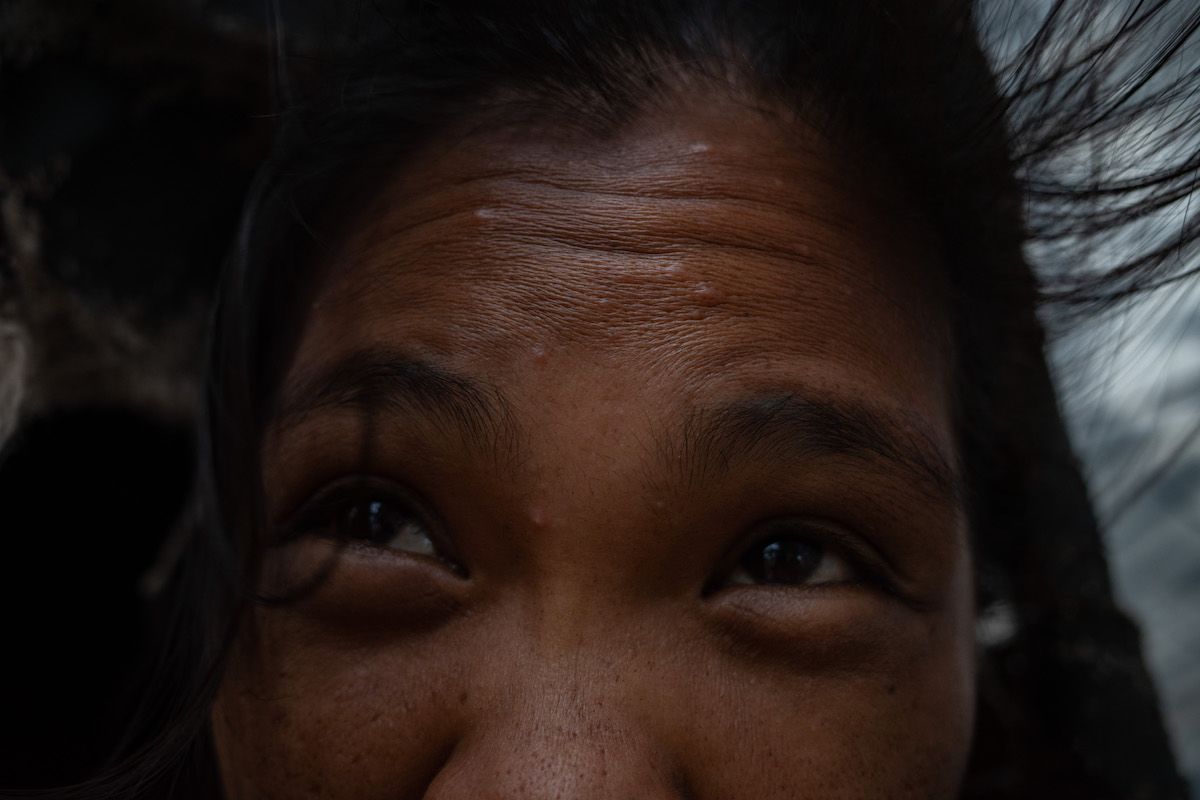 Amy's scars still sting, especially when exposed to cold air. But it is the least of her problems, especially now that she has to raise her children on her own.
Although the government has already started to ease quarantine measures in Manila, Amy still feels she is stuck in limbo.
She and her three sons rely on cash assistance and food donations to survive. She could not wait for the food stall to reopen to start work again and start a new life.
"This time," she said, "I will save up for a massage therapy refresher's course and become a masseuse."
---
This work has been supported by the National Geographic Society's Emergency Fund for Journalists.
Text and photos by Bernice Beltran, Philippines
Published July 4, 2020
© Copyright MMXX LiCAS.news