From absolute zero to national inspiration
Thai street vendor perseveres through childhood polio and extreme poverty to find love and respect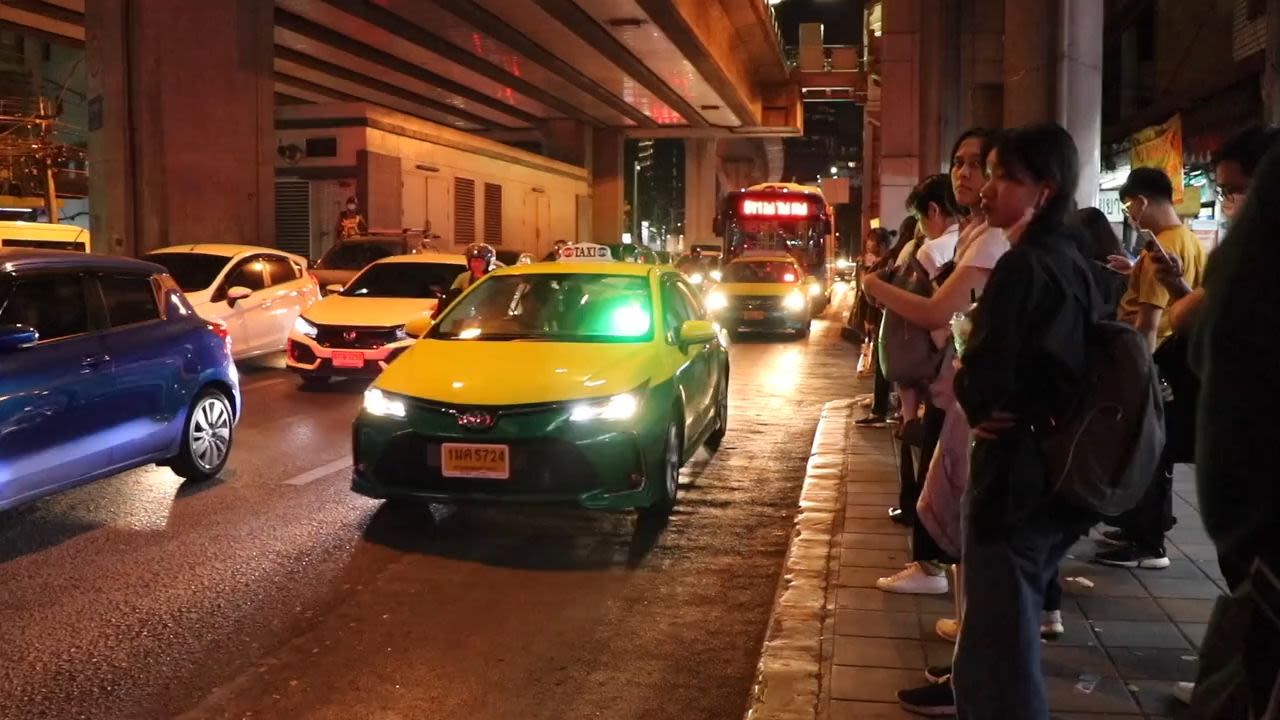 This story is part 4 of the series "Listening with the heart through generations" in which 11-13 year-olds tell the stories of those living on the fringe of society in Asia and how they found strength and inspirations to endure through decades of hardship and heartbreaks.
In partnership with D-PREP International School and Dreikönigsaktion Austria
Ton, a sandwich vendor, was born under a bridge in Bangkok, and at a young age he was exposed to polio which affected both his arms and legs. Although, one day a miracle happened, his arms and right leg were cured, but unfortunately, his left leg did not recover. His symptoms from polio began when he was 3 years old, and sadly his mom could not afford to pay for a vaccine during that time.
Life has not been easy for Ton since he was young. Apart from having polio, he had to become a beggar to survive, between the ages of three to twenty-four.
One fateful day, while Ton was begging, he met Jeab.
Jeab was a kind woman who just happened to drive by when he was begging on the streets. She gave Ton 100 baht, which during that time was a lot of money for Ton.
To Ton, Jeab was a lifesaver because everyday Jeab would come back to the same spot where Ton was begging on the street and would give him the same amount of money.
That daily donation of 100 baht was enough for Ton and his family to eat and survive. He did not have to sit on the streets and beg for money anymore. Jeab was the answer to Ton's struggles, and he was grateful for her.
Then another obstacle entered Ton's life.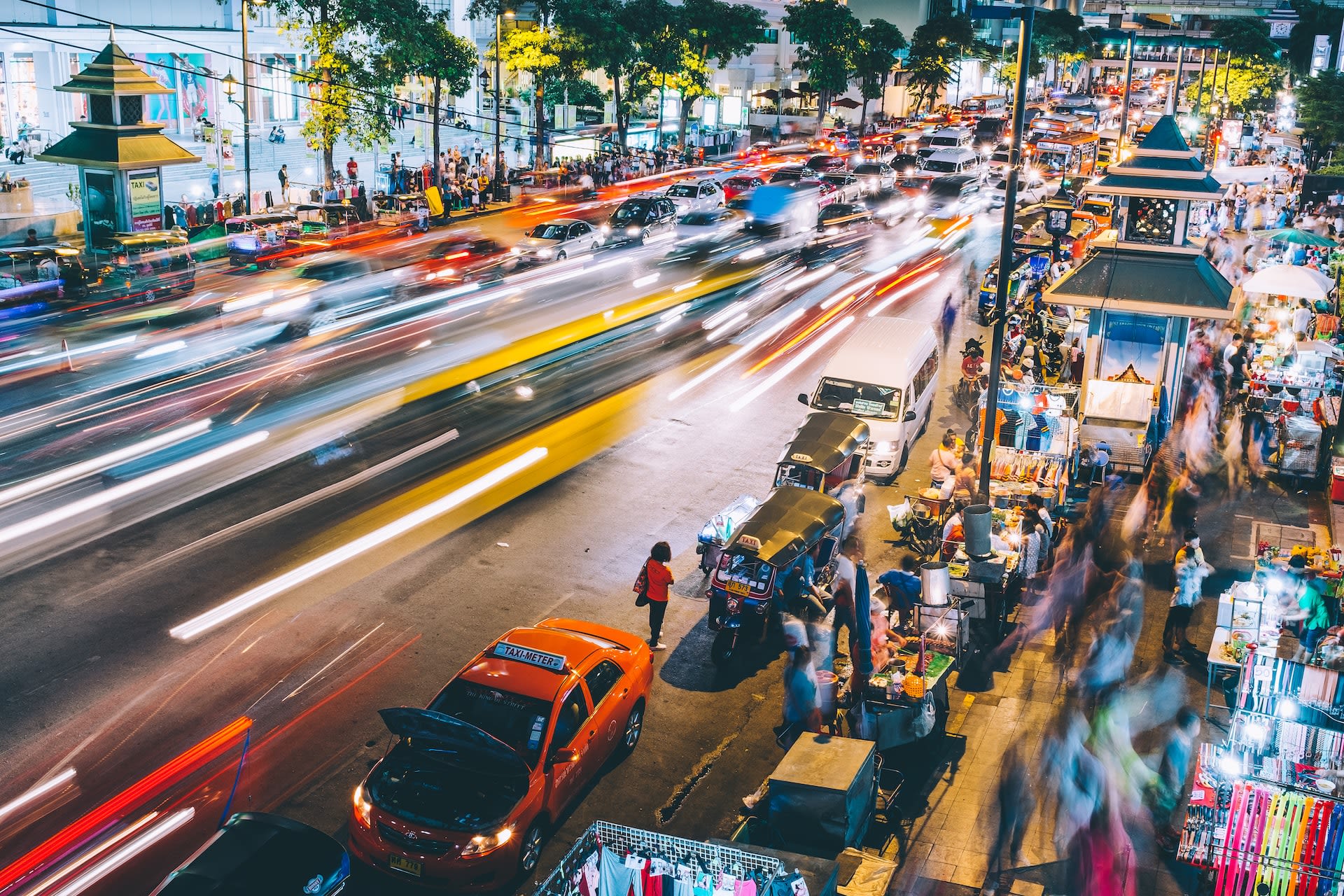 A typical Bangkok street where many street vendors earn their living. (Photo by Dan Freeman)
A typical Bangkok street where many street vendors earn their living. (Photo by Dan Freeman)
Background photo by XVIIIZZ
Endless begging
Ton once lived in a small apartment he was renting. He needed to pay 1500 baht in two days for the rent, or else he would be kicked out of the apartment and would be homeless.
It was impossible for Ton to find that amount of money in time, since he did not have a stable job or a family to help him.
He did not want to become homeless, so he had to go back to begging on the streets. Finding 1500 baht in two days was almost impossible.
Unfortunately, Jaeb, the only person who was helping him, passed away after helping him for years. But luckily, Jeab's family helped him with the money he needed, and he did not have to sleep on the streets.
Ton stated, "It was like an endless cycle, I always had to come back to the beginning, where I had to beg for money."
He tried many times to get out of this endless cycle, but every time he tried, he failed.
Apart from having to sit on the streets and ask other people for money, most of the people looked at him like they were disgusted by him. Not only were people looking at him weirdly, but there were people who disrespected him.
Some people stepped on his hands, talked badly about him and some even spit on him. He was ashamed of himself.
While sitting on the streets begging, he would sometimes cry, thinking why can't he get out of this cycle and why must he always come back to the beginning – his biggest problem, begging.
Background photo by LiCAS.news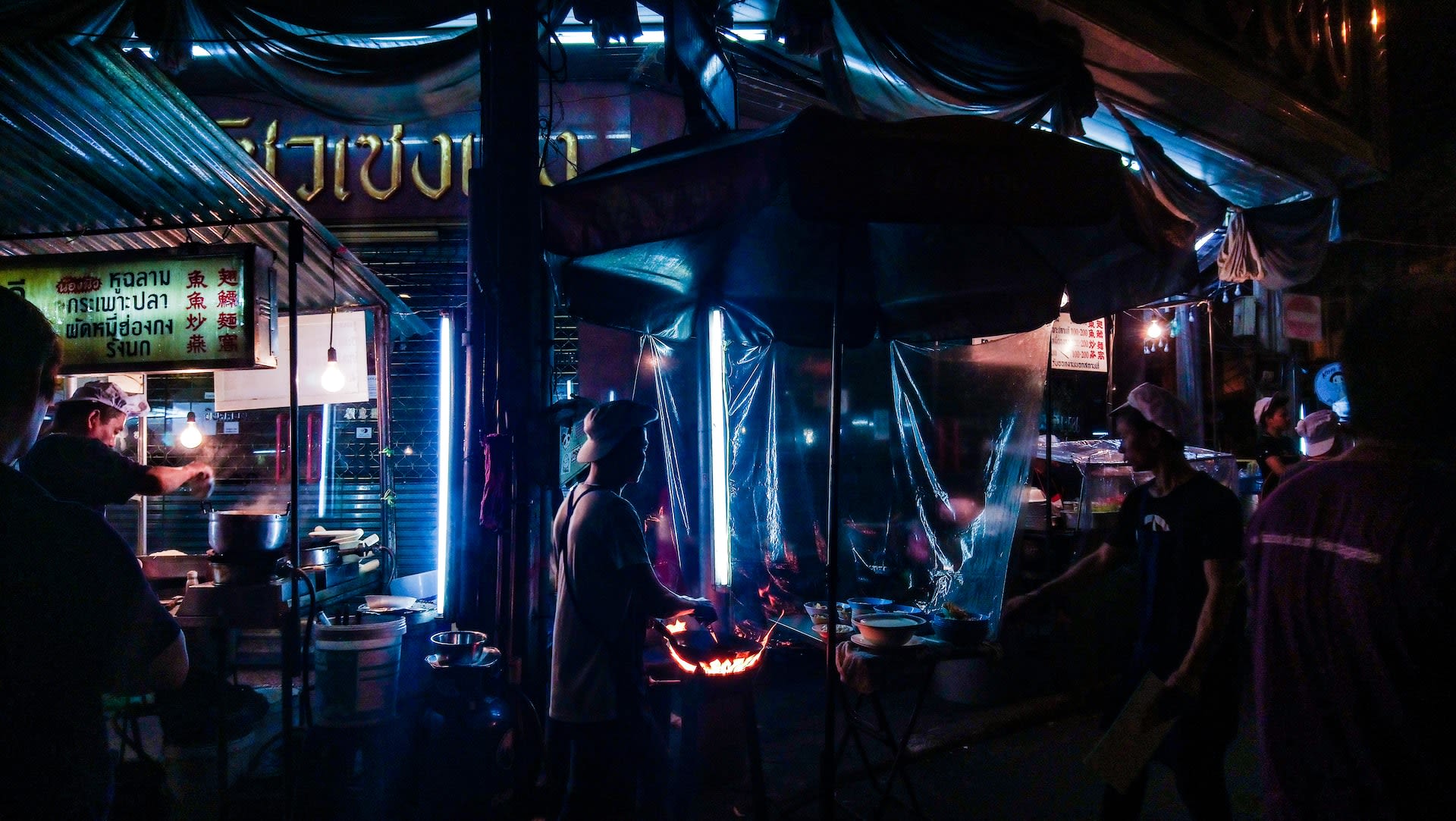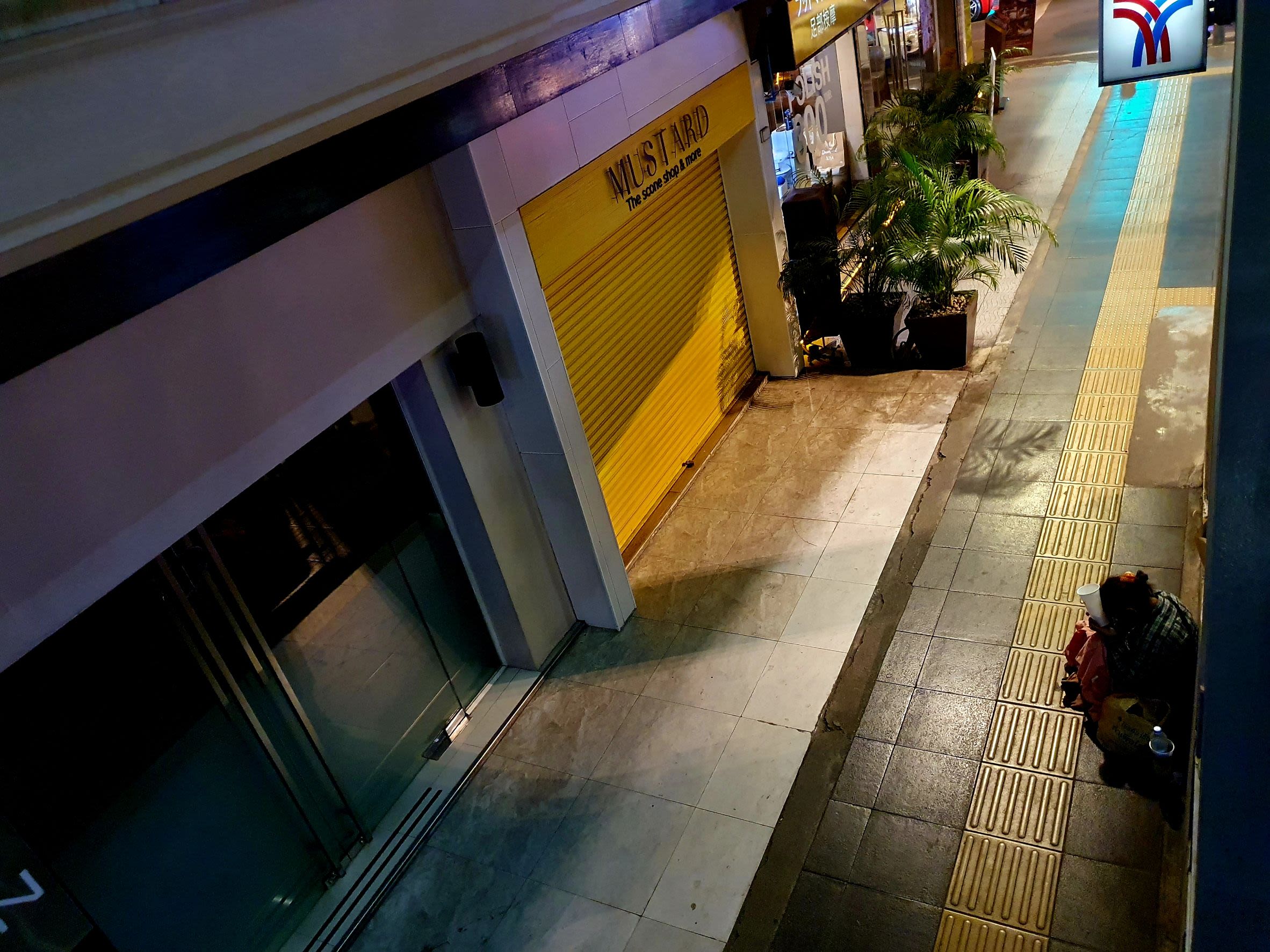 Dare not dream
While he was begging on the streets, he met his true love.
It started when she gave him food, since her family owned a local restaurant. Her name is Bee, and she is a kind woman who accepts Ton for who he is.
Ton began to like her and would regularly visit Bee's family restaurant to eat the amazing food that she would cook for him.
One day Ton decided to propose to Bee, but it was not that easy.
There were many obstacles. He needed a dowry to propose, but he was not rich enough to have enough money to propose. In fact, Bee's family is wealthier than Ton.
Fortunately, Bee's family did not care how much money Ton had, so they were able to get married.
Currently, Ton is selling sandwiches on the street. He makes 54 sandwiches a day and a box of sandwiches is 25 baht or around 70 US cents.
He did not imagine himself being a sandwich seller when he was young. Instead, he imagined himself to be jobless, because he was not educated at all and his family was not able to afford school.
He did not dream big. He thought that if he did not achieve his goal, he couldn't be disappointed in himself.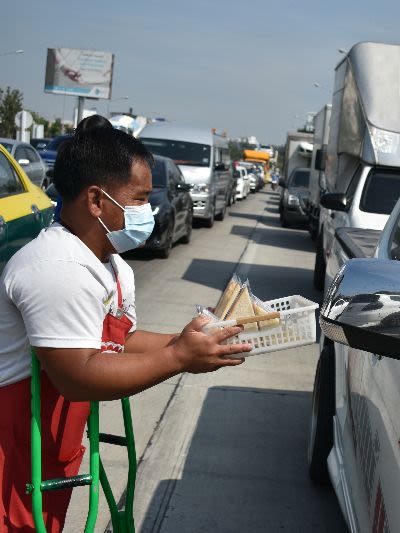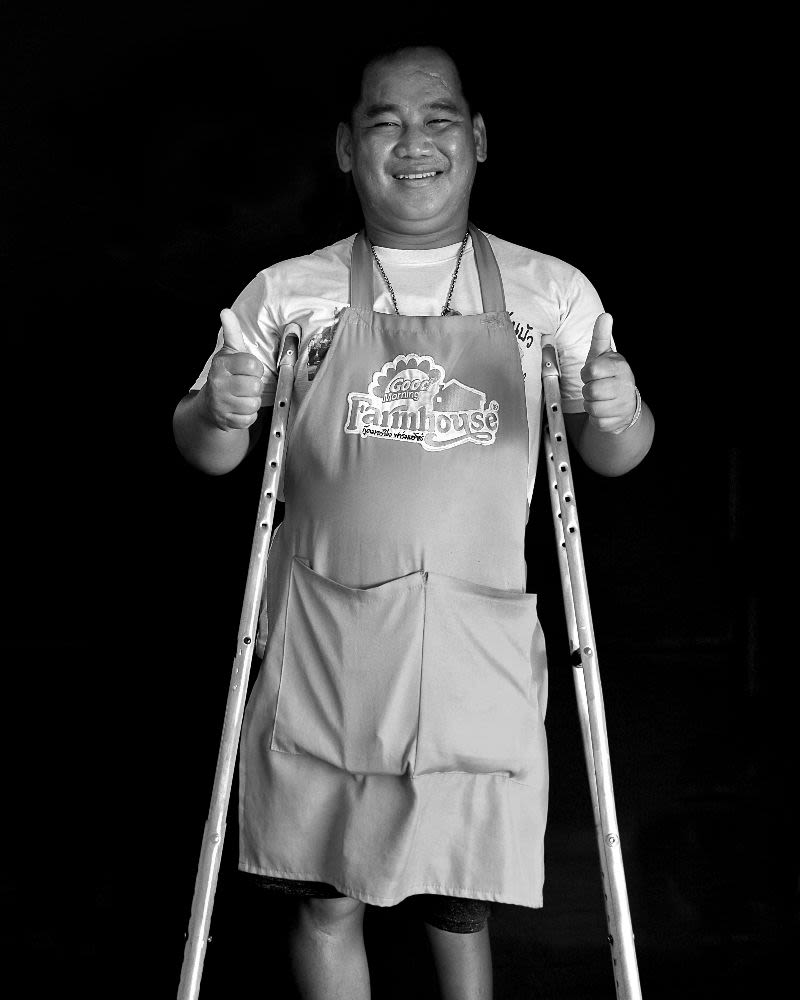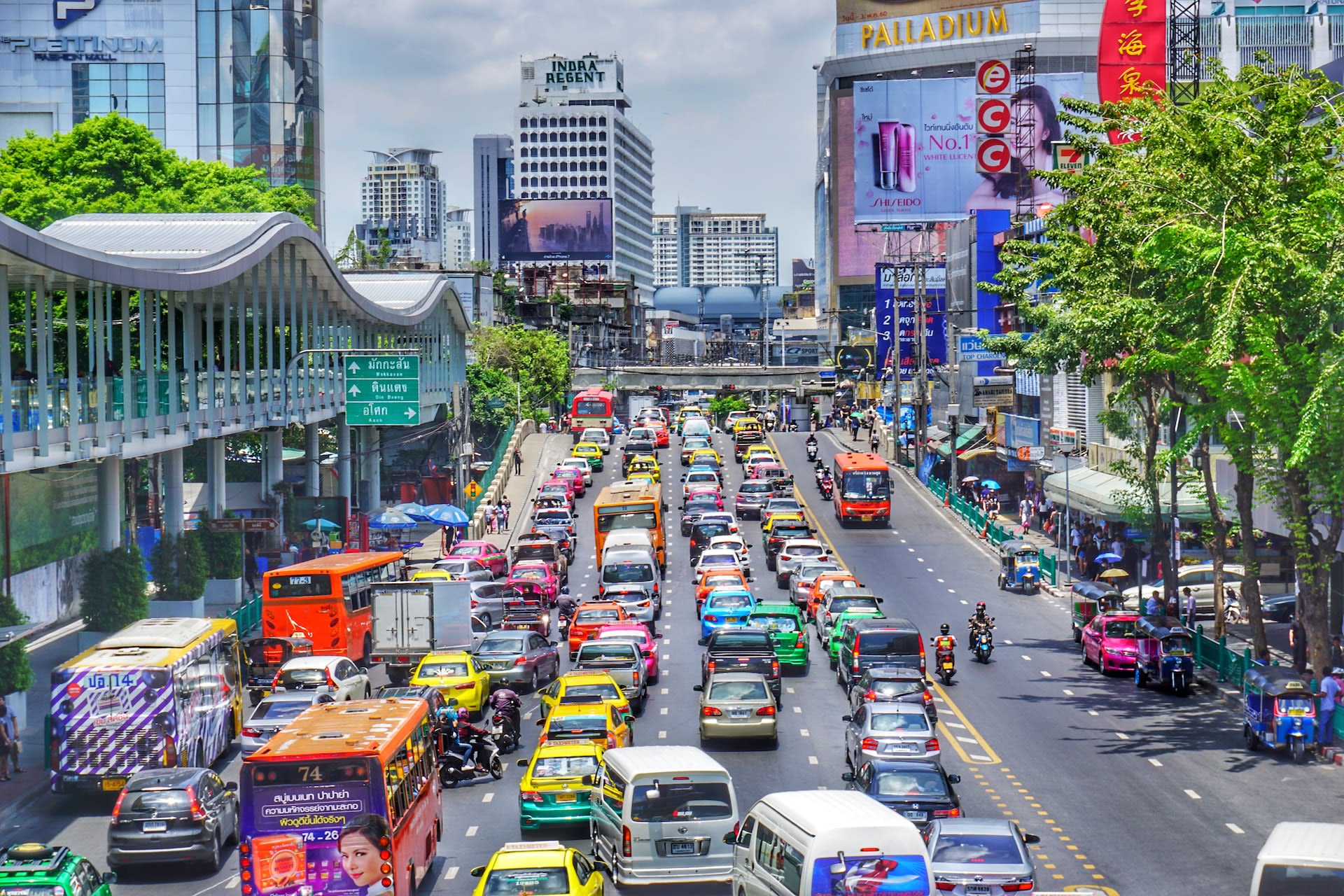 Bangkok's heavy traffic provides opportunities for street vendors. (Photo by Robert Eklund)
Bangkok's heavy traffic provides opportunities for street vendors. (Photo by Robert Eklund)
You can't walk ten steps at the same time. You can only walk one step at a time.
Ton is really desperate to learn, especially maths.
He can only count from 1 to 10. However, he uses maths a lot in real life since he sells sandwiches.
If someone comes and buys his sandwiches he can not calculate how much it costs. He struggles to add, subtract, multiply and divide. This makes it difficult for him to know how much he sells, how much money he makes or how much the change is.
But Ton solves that problem by asking his customers to calculate for him. In that way, Ton does not have to calculate but his customers will.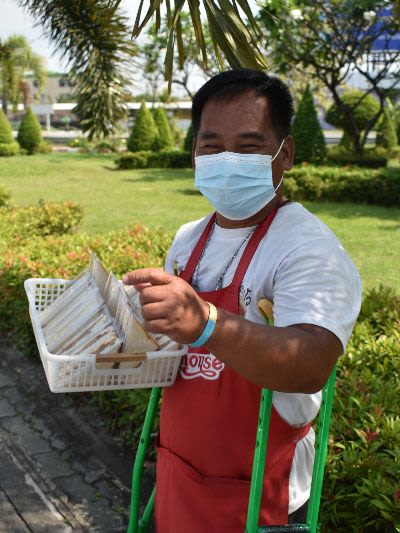 National fame
This obstacle did not stop Ton from persevering in life. He continued to sell sandwiches despite having difficulty with numbers. In fact, he is now gaining a lot of fame and glory from selling sandwiches on the streets. He has often appeared on the news and is featured in many TV programs.
Ton is getting more famous every day, so companies have started to promote Ton. One of his top sponsors is "Farmhouse". Farmhouse is a leading manufacturer and distributor of bread in Thailand. The company sponsors him, so he can make his amazing sandwiches.
Even though Ton had many obstacles in life, such as polio, lack of education and begging on the streets for years, he still managed to persevere in life even though his life was difficult.
No amount of hardship has stopped him from living his life to the fullest.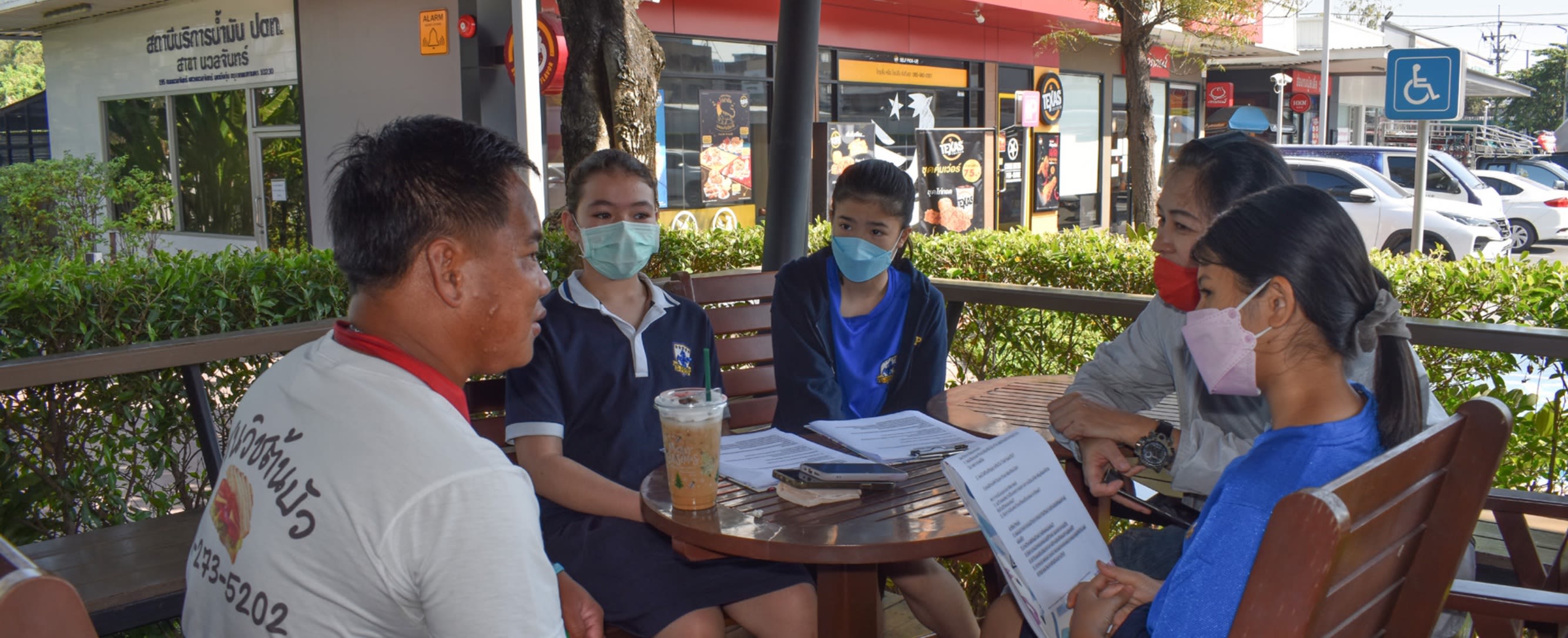 Pran's Reflection
I have learned countless new things from this experience. I have gone out with my group to the real world, experiencing things that I never knew. I thought that it would be a very new experience for me, since I have never gone through something like this before. I knew that along with the happiness and adventurous experience, I would also go through many obstacles.
As I was interviewing Khun Ton, I got to use my social skills to communicate more effectively to him. Talking to someone I just met for the first time is challenging for me and my team. It was weird at first to talk to him and to start the conversation, but with the help of my team we supported each other throughout the interview.
After the memorable interview, I started to understand more about other people, especially beggars and homeless people. Before the interview I didn't give them money to help them because I never really knew that they were going through so much. But now, after the interview, I have started to have sympathy for them and started giving money to them so they can survive.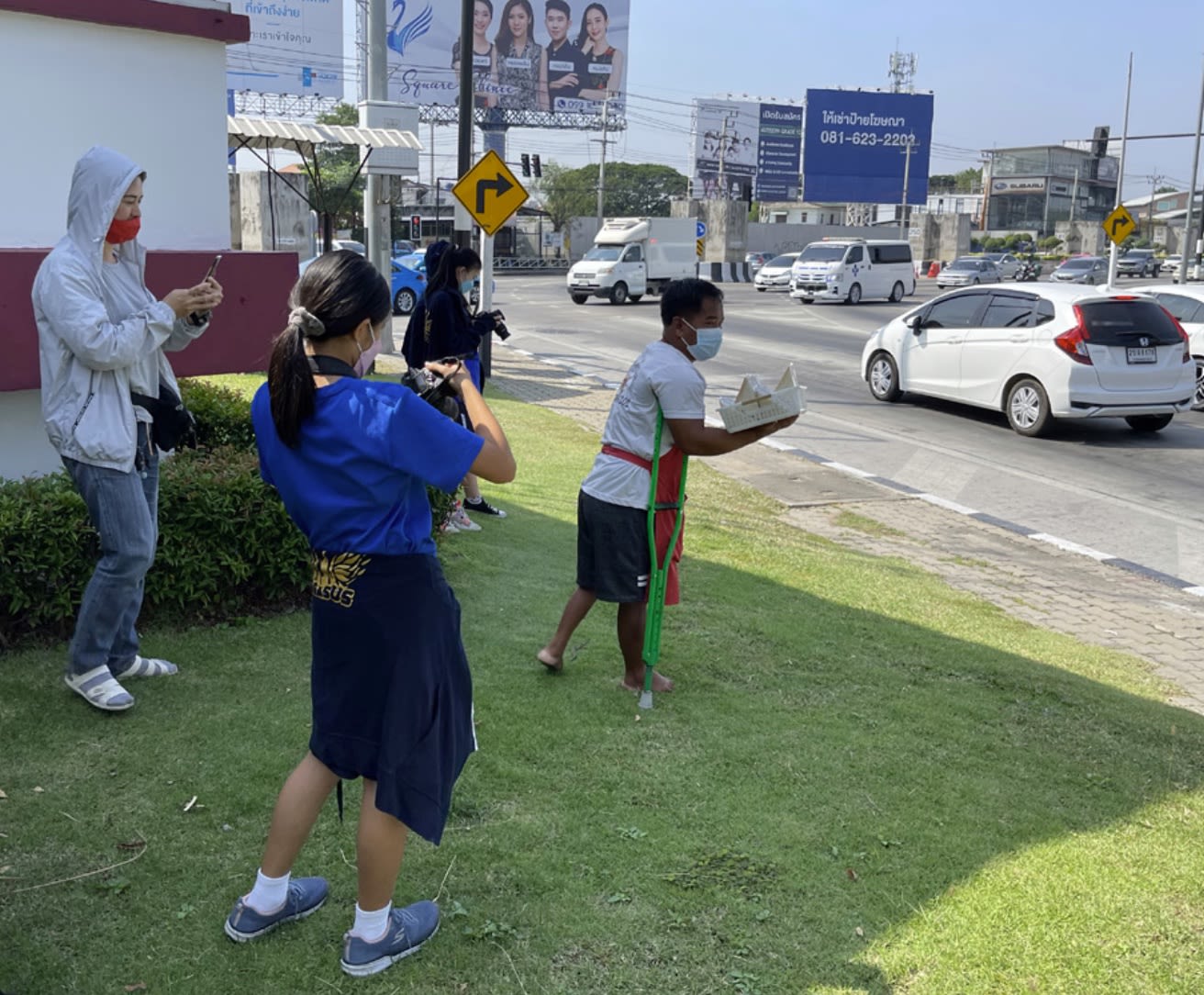 I am sure that I will remember Khun Ton's words and apply them in my life in the future. I will remember to save my money, so that I will not have to suffer when I have money problems. In the interview, we faced many problems, but we still managed to close the interview successfully.
After having a once-in-a-lifetime chance to interview Khun Ton, I learned to be grateful for what I have and never give up when there is an obstacle. This experience was cool, fun, adventurous, and exciting.
Even though I was very nervous at the beginning, but because of Looksorn, Jessica, and all the teachers and supporters who helped me throughout this whole experience, I managed to learn and understand many more things that I never knew before.
I am looking forward to meeting and interviewing a fighter like Khun Ton again.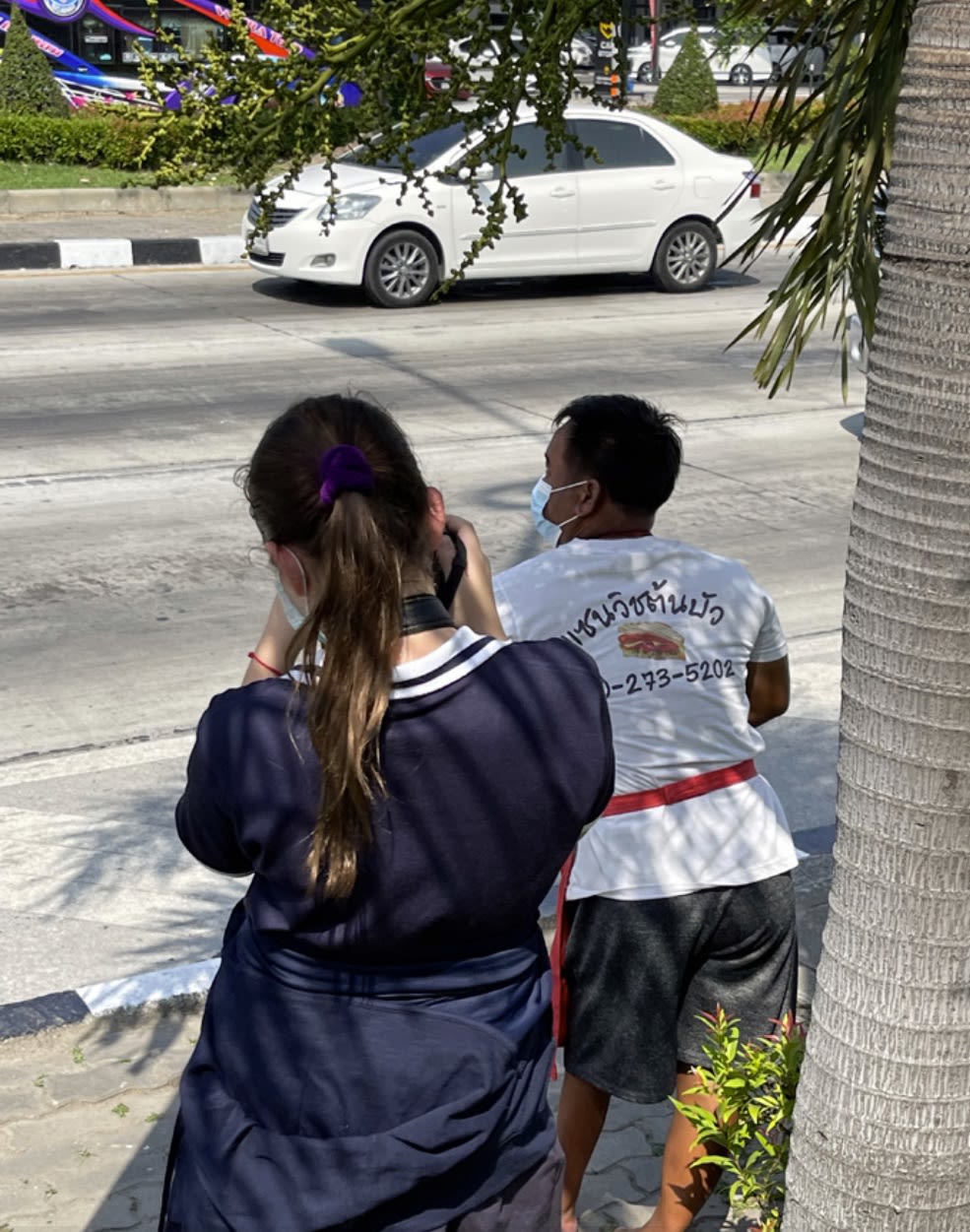 Jessica's Reflection
Interviewing someone inspirational is a once in a lifetime experience. That is what I felt when I interviewed Khun Ton. He is an inspirational person because he taught me important life lessons, such as we have to be patient in order to achieve our goals. He also taught me to be more courageous in life by not being fearful of obstacles and challenges that you encounter in life.
During the interview I learned that eye contact is what makes an interview open and strong. When I looked into his eyes while talking to him, Khun Ton started to feel more open to answer deeper questions and that's when I felt connected to him. While I was asking him questions, I noticed that he started to tear up, and that is when I knew he was more comfortable to express his feeling at a deeper level.
Another thing I learned is that social skills are very important when you do an interview. During the interview I made Khun Ton feel like we were his friends, so he could feel safe to share his story with us. I have also developed my communication skills while talking to Khun Ton when I asked him questions to find out his life story and listening to him intently when he answers the questions.
This whole expedition has inspired me to be a good person. No matter what you do, you have to try your hardest even though you are going through a hard time, because one day you will be successful.
Looksorn's Reflection
In my journey of this Learning Expedition, I learned numerous lessons in life which I will never forget. We learned how to solve problems in our daily lives. I also learned that making mistakes teaches us a lesson to let us know and do the right thing. This experience also taught me to be more independent and take care of myself without having much help from others. Furthermore, I also learned to open up to new things. I will take this learning as an inspiration and use it in my daily life.
What helped me realize all these things was when I had the opportunity to interview Khun Ton. Khun Ton has been through a lot in his life but did not even think of giving up. Talking to him taught me to work harder in life and do my best in everything that I do. He also taught me not to be discouraged easily because struggles are just normal in life. He mentioned that there might be days when the sky is dark, but we should not be afraid of it. We should go on with our lives because one day a beautiful bright sky will shine on us. This makes me think whenever I play basketball. There might be days that my team will not win, but this does not mean that we have to give up. We have to keep practicing and fighting until we will win.
As I am reflecting on that experience, I realized that Khun Ton is a resilient person because he tried harder even though his life is tough. Having polio and begging on the streets once, did not stop him from working harder in order to have a better life for him and his family.
Through this Learning Expedition, I have developed my social skills. It helped me to be more open to people whom I just met and developed my confidence when speaking to them. It also allowed me to be more adaptable whenever I am put in unfamiliar situations. I also became more self aware and now I try to think more before I speak. I have displayed my active citizenship by being a good citizen and also being compassionate to others.
This expedition truly taught me the importance of focusing on what we are doing right now and being open to learning new things in our society. I really can't wait for the next Learning Expedition and to learn something new that I never knew existed before!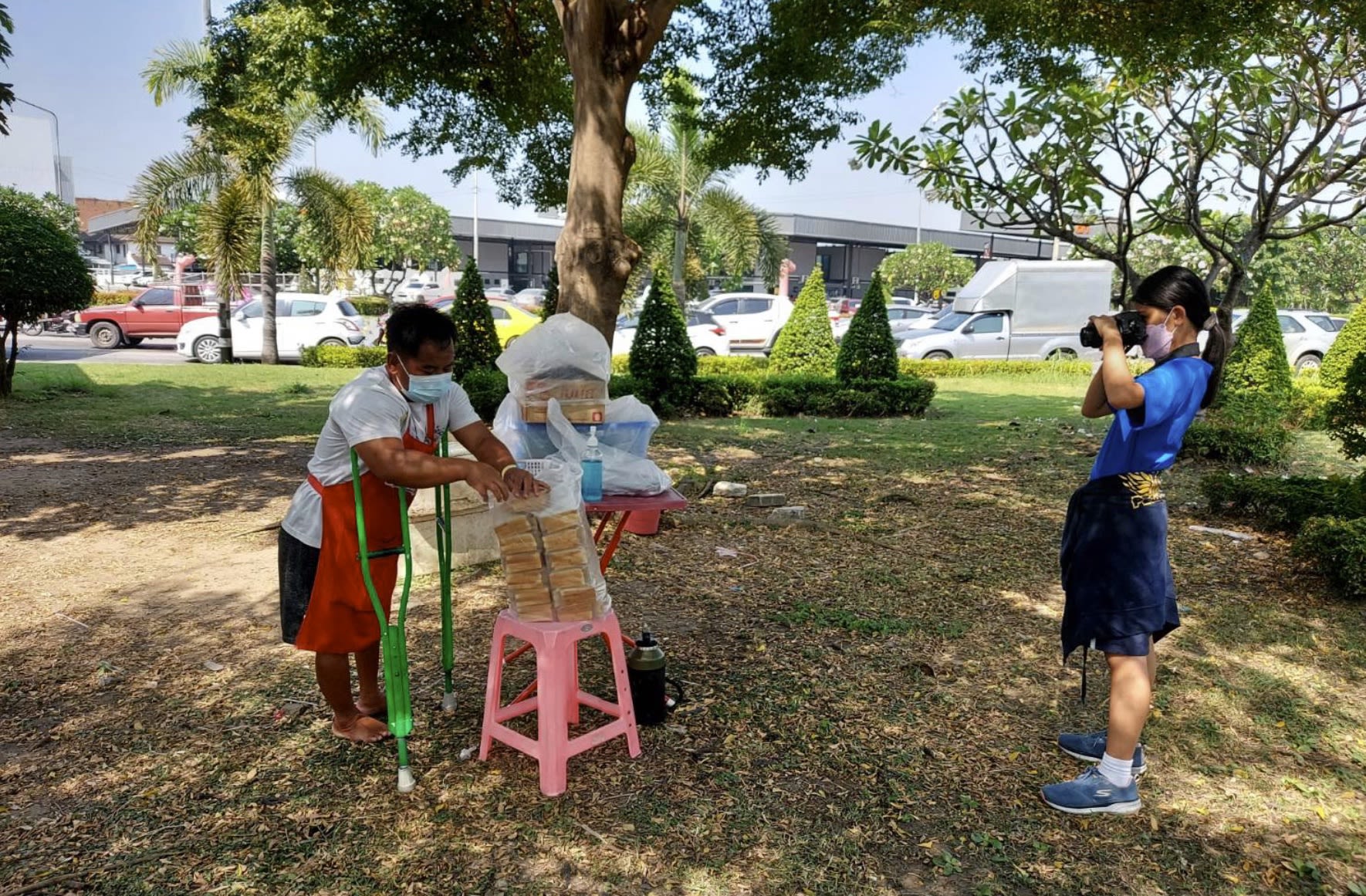 Khun Ton never thought his life would amount to anything, let alone inspire the nation and especially this group of students.
Khun Ton never thought his life would amount to anything, let alone inspire the nation and especially this group of students.