Poor left out in the cold in Philippines' race to stem coronavirus spread
For millions of slum dwellers and low-income earners, lockdown and viral fears threaten calamity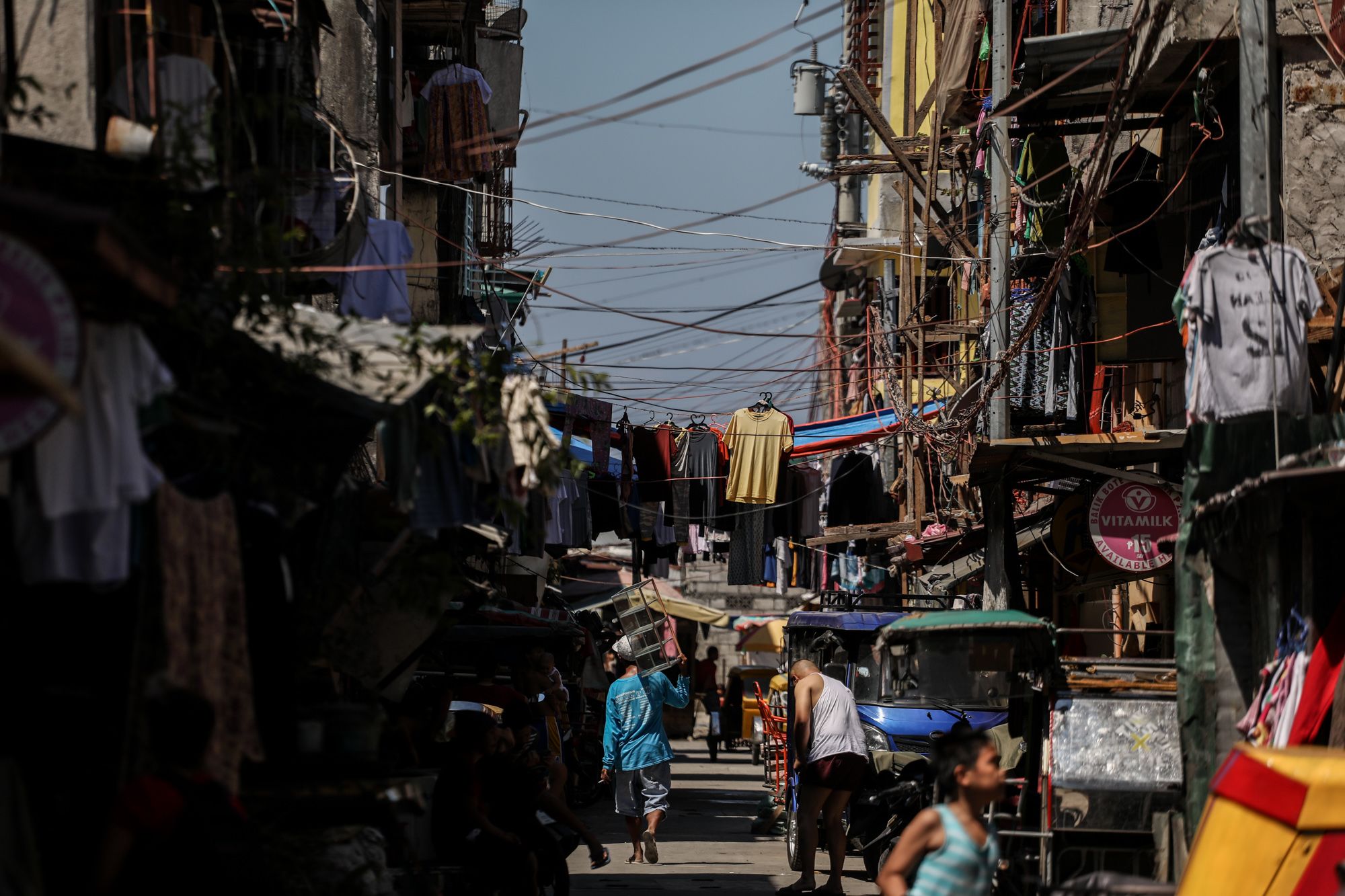 Inside Baseco compound in Manila, Philippines. (Photo by Basilio Sepe)
Inside Baseco compound in Manila, Philippines. (Photo by Basilio Sepe)
Ainie Ali's modest income from selling slippers, headscarves, and toiletries practically vanished overnight.
On March 16, President Rodrigo Duterte announced a "lockdown" or month-long community enhancement quarantine for the Philippines' main island of Luzon, which includes the capital Manila. The measure halted air and sea traffic, while curtailing overland travel.
Ainee was forced to abandon her work as a street hawker and online seller.
The "quarantine" limits movement of commercial fleet crews, and allows only registered workers and businesses to cross the border.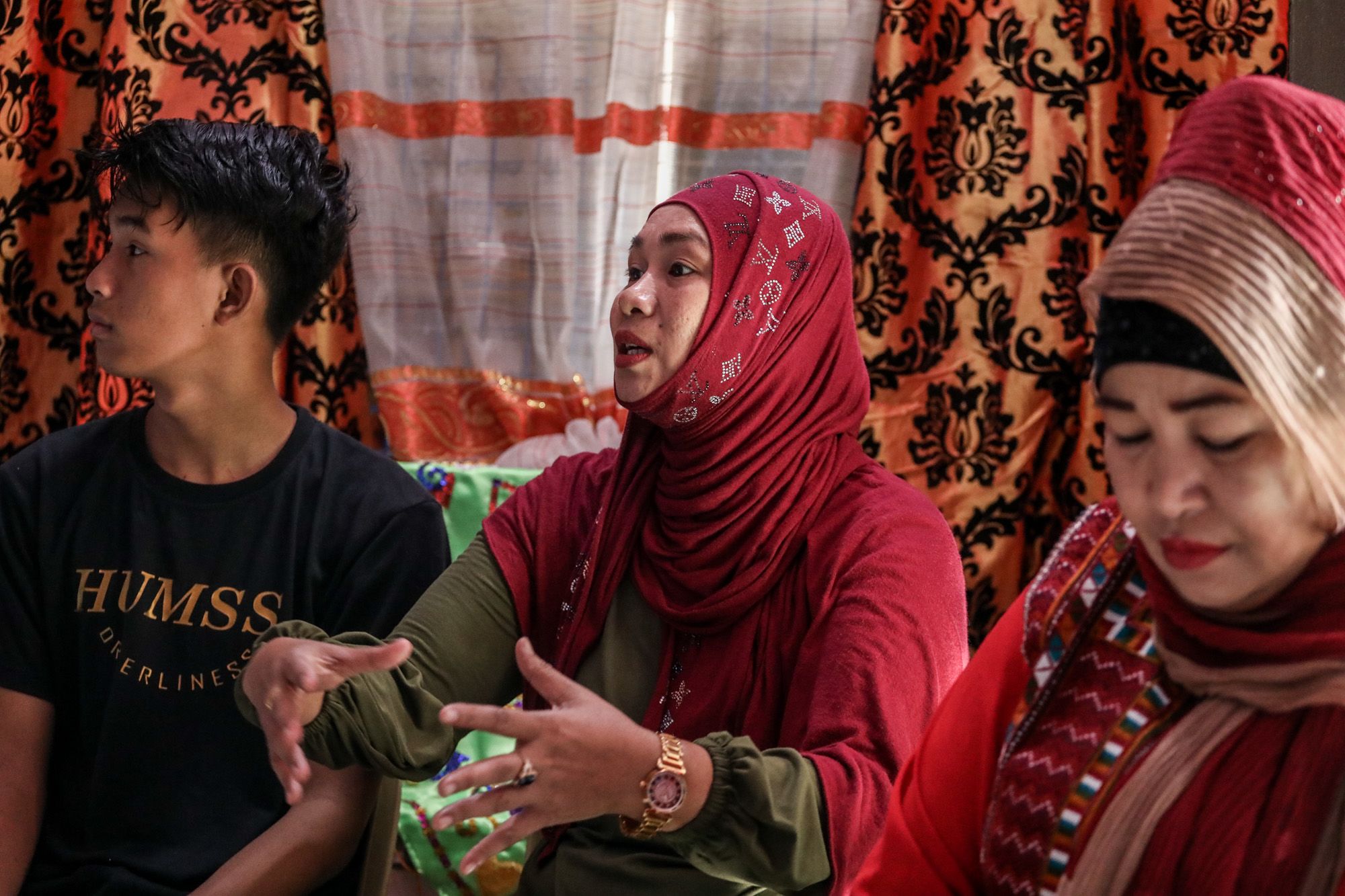 "No more couriers for deliveries" to customers outside the main island of Luzon, Ainie told LiCAS.news. "No more selling on the street."
That's a $200 loss in monthly earnings — a figure which sits on the government's poverty threshold. 
Ainie, a mother of two boys, also has to pay debts on stranded inventory being kept at a home in Baseco, a seaside urban poor community 4 km away from her hawker's spot.
'Humanitarian crisis'
The government says the quarantine will ease the spread of the new coronavirus, which has killed 12 and infected about 140 people in the Philippines, with all but three cases recorded within the last two weeks.
No one disputes the need for containment measures. 
Carmelite Priest Gilbert Billena, whose San Isidro Labrador parish serves urban poor communities on the outskirts of the capital, warned of a looming "humanitarian crisis."
Clergy and non-government organizations working at the grassroots level say patchy delivery of health services, and an information drive pock-marked with bloopers, threats, and contempt for the poor, pose a grave danger to Metro Manila's 4 million slum residents.
Grassroots health workers also deplored the dearth in protective measures while doing their rounds of vulnerable hamlets, where a full-blown epidemic could break out at any time.
Jeorgie Tonelete, head of Kabalikat organization in Baseco, said two suspected new coronavirus cases from the area have already been brought to hospitals for tests and expert care.
The disappearance of subsistence income, he warned, would strip people of resources for water and food, aiding the spread of the disease.
Sharing Ainie's lot are 5.6 million other low-income earners and small-scale entrepreneurs in Manila's bustling underground economy. 
In her one-square kilometer village crammed with 60,000 people, neighbors wonder how they will feed their families. 
Ainie has appealed to the government to plug the economic hole resulting from the quarantine.
"At least, they should look after the children's needs," she said, citing milk, diapers, and clean water as being in urgent need. 
Contractual workers, who make up 42 percent of the capital's 40-million strong private labor force, share Ainie's plight.
The labor department has promised regular workers a subsidy for lost income once emergency and vacation leave benefits are used up. 
But "contractuals" hired on "no-work, no-pay" terms do not enjoy economic protections. 
They toil mostly in the booming retail and service sector, which is reeling from the government's stringent social distancing program.
Mall operations, except for banks and pharmacies have been halted, creating a wave of labor dislocations.
With the "lockdown," thousands of mass transport drivers like taxis, buses, jeeps, and motorcycle taxis are now jobless.
"With the economy at a standstill, many citizens face severe hunger in the coming days," said Father Billena, who has called for "safety nets" to aide their plight.  
Legislators are scrambling to find them. 
Senator Joel Villanueva, who won compensation for government contractual workers, is trying to convince the labor department to expand its relief program to provide an emergency minimum wage-level subsidy for the private sector.
Senator Risa Hontiveros, an opposition legislator, filed a proposal for 10,000 pesos or $200 in cash assistance for poor and near-poor families affected by the lockdown.
"Amidst the panic, we have to remember the bigger picture," she said.
"No one should be left behind."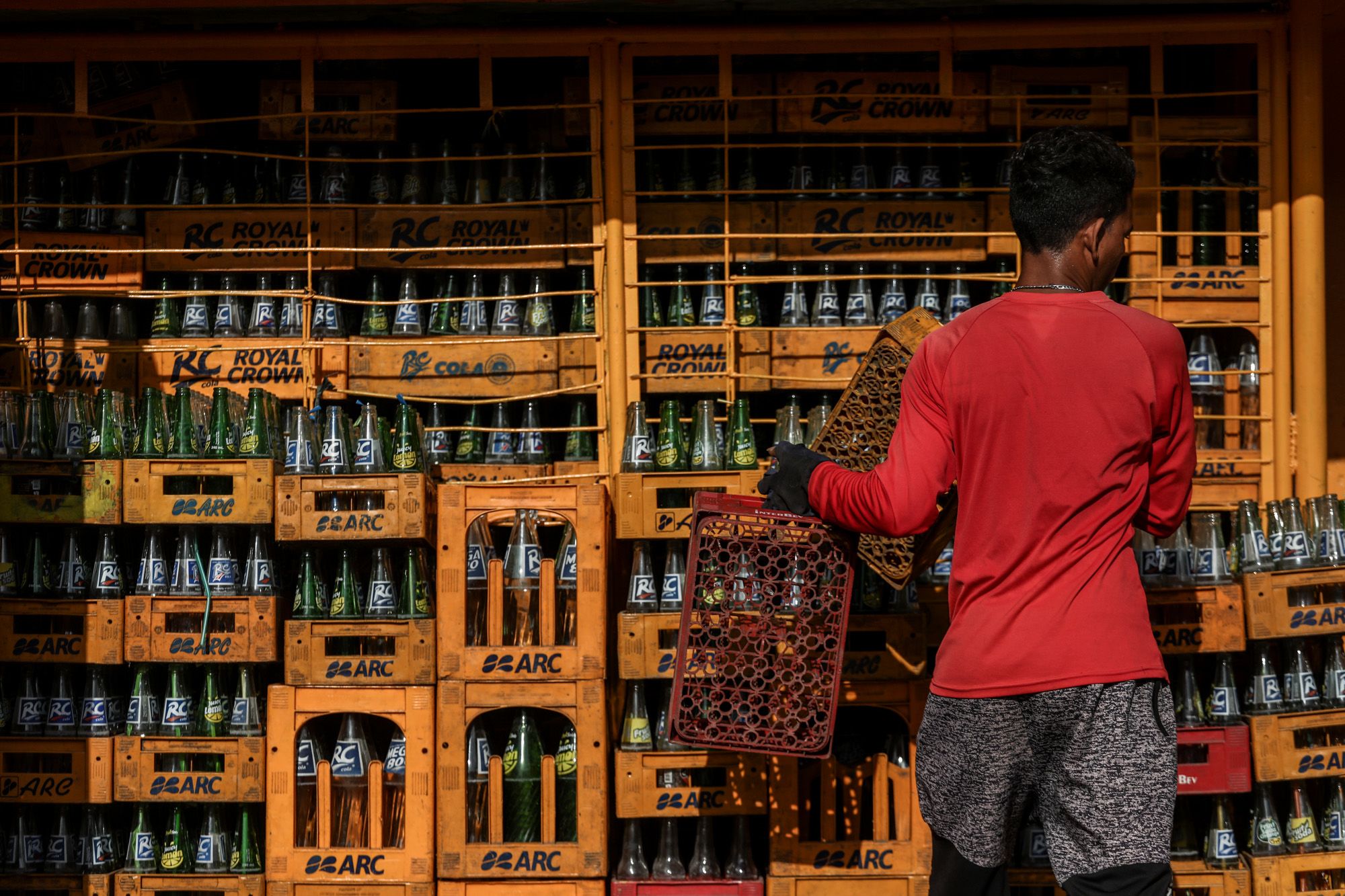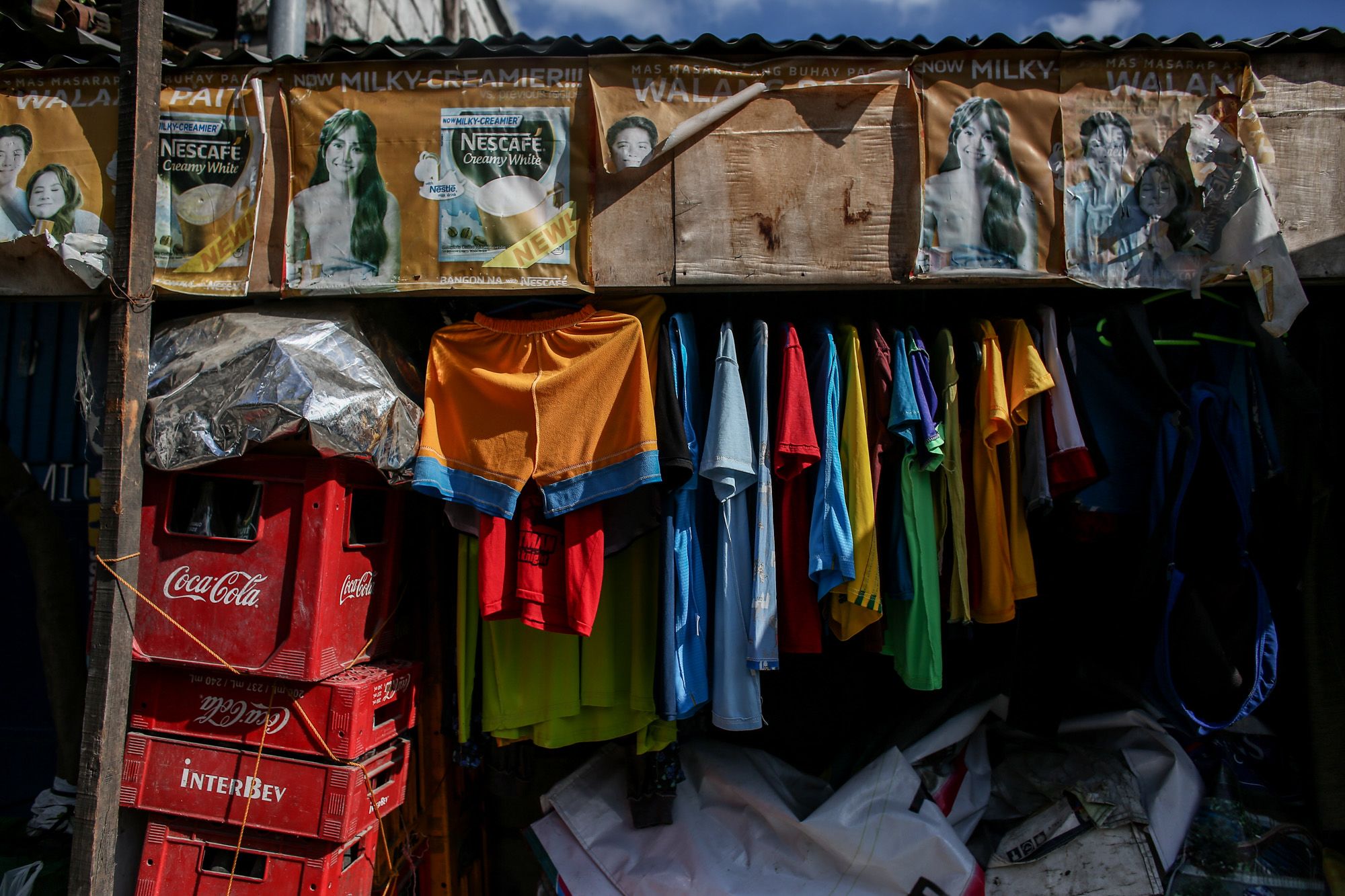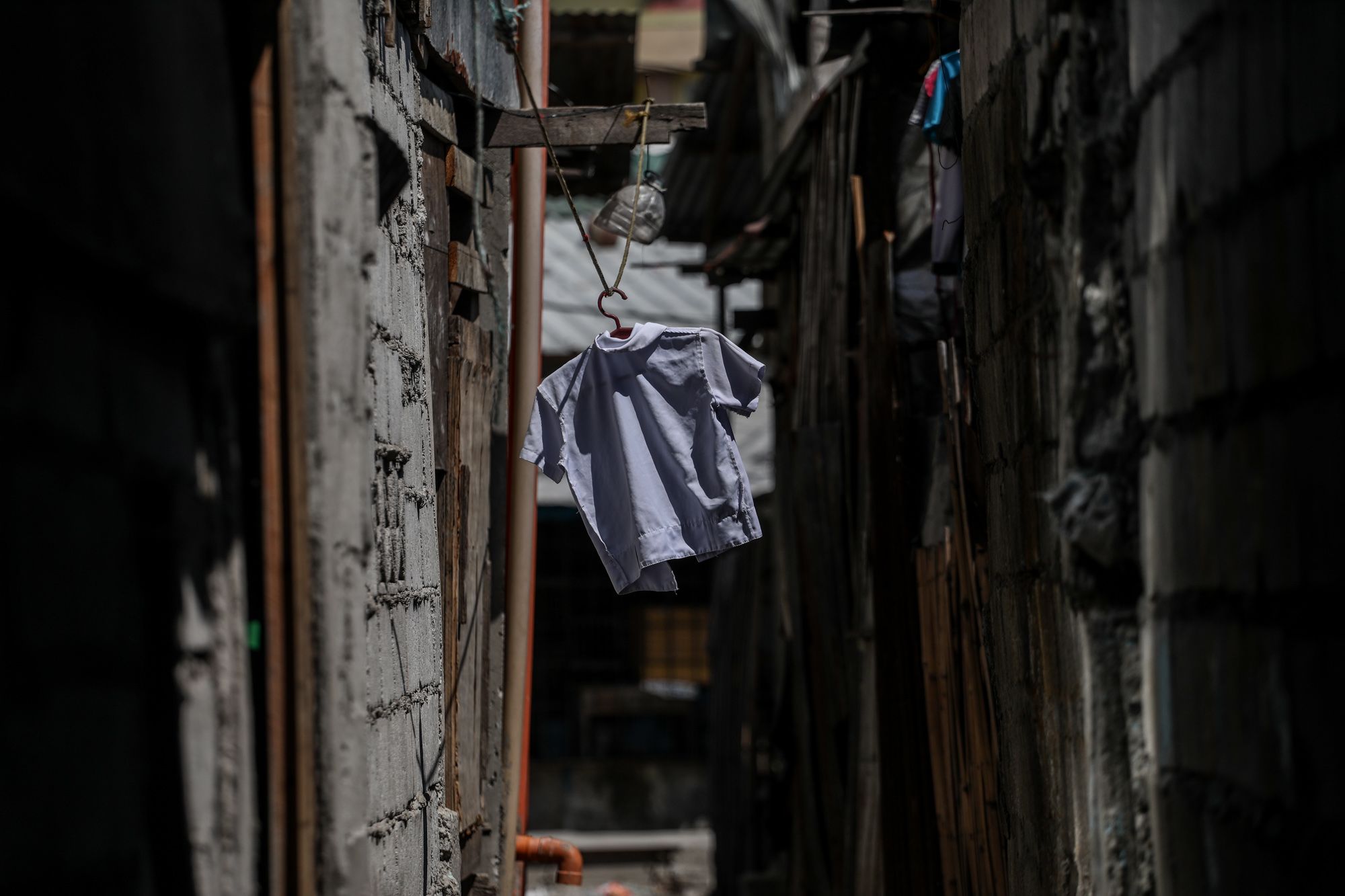 Stranded
The main sources of income at the impoverished Baseco compound are dock work at nearby domestic and international facilities, fishing, manual labor, and trading at a nearby wholesale market.
Up to 80 percent of business activity in the area is informal, with owners, like Ainie, doubling as workers. 
Trade Secretary Ramon Lopez has given them three options under the quarantine — ship out, register, or cease operations.
Registration would be difficult now. State agencies, except for frontline health, welfare, and security units, have scaled down to skeletal teams or stopped work altogether. 
Many poor Filipinos also lack legal documents.
A week before the quarantine, LiCAS.news saw a sports gymnasium full of adults, teenagers, and children lining up for birth certificates in the village of Culiat, another district of informal economy workers 20 kilometers north of Baseco.
"They are faceless, nameless to the government, unless they become targets in the war against drugs and terrorism," said Naila Asap, a community youth leader engaged in peace work as a partner of conflict specialist International Alert.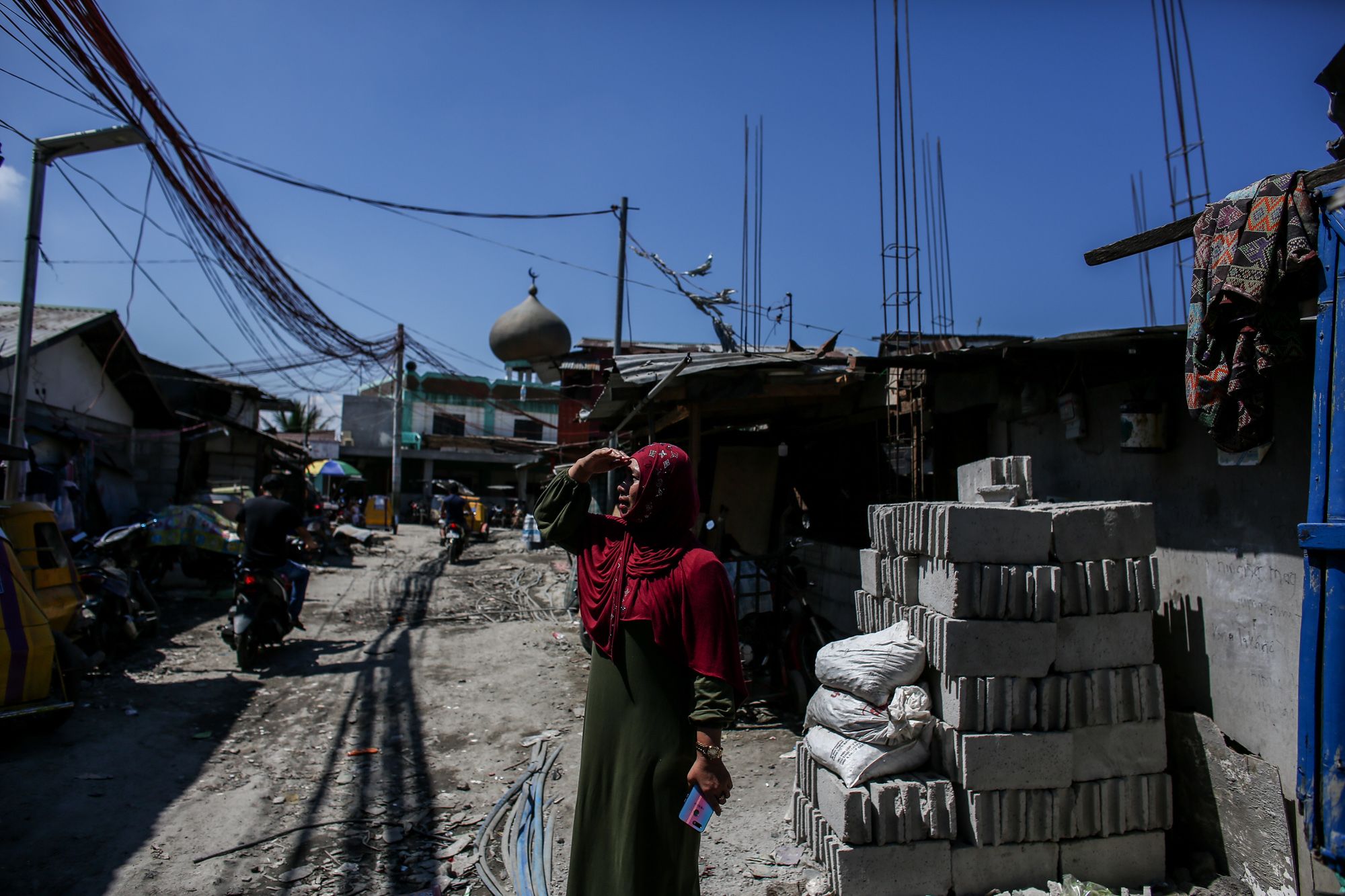 The yawning gap in the quarantine program baffles and angers those who work with the poor.
The forecast is dire. 
"If they can't work, they won't eat," she said.
At the Navotas Fish Market, 9 km northwest of Baseco, fish market supervisor Rose Deblois echoed the warning.
During the first day of the lockdown, trade slowed as fishermen and dealers swamped the administration office for permits to conduct business.
"They're all scared of the checkpoints. They can't afford to be held up," said Deblois, who is also vice president of Courage, the national organization of government workers.
Residents of two villages in her neighborhood are stranded behind the gates, unable to get to work elsewhere in the metropolis.
These communities have been among the worst hit by Duterte's drug war. 
Government statistics show fishermen are even more impoverished than farmers, making them ideal street recruits for narcotics gangs.
Navotas' poverty rate is the second-highest in the national capital region, topped only by Caloocan City, which also hosts slum communities and is considered ground zero in the drug war.
Faith-based groups and women's organizations have tried to staunch the bloodbath with community rehabilitation programs and alternative livelihoods. 
Now cut off from their jobs and markets, the endangered poor are back to square one.
'Nobody dies of hunger'
Duterte's spokesperson, Salvador Panelo, however, dismisses such concerns.
"Nobody dies of hunger," Panelo said in a radio interview. "Even if it lasts a month, you won't die."
Panelo said the government's social welfare agency would provide food relief in case stocks run out in some communities. 
But amid all the mixed signals, the poor are voting with their feet.
Thousands of Metro Manila residents jammed bus stations, airports, and piers over the weekend, in an exodus rivaling Christmas and Lent in Asia's largest Catholic-majority country.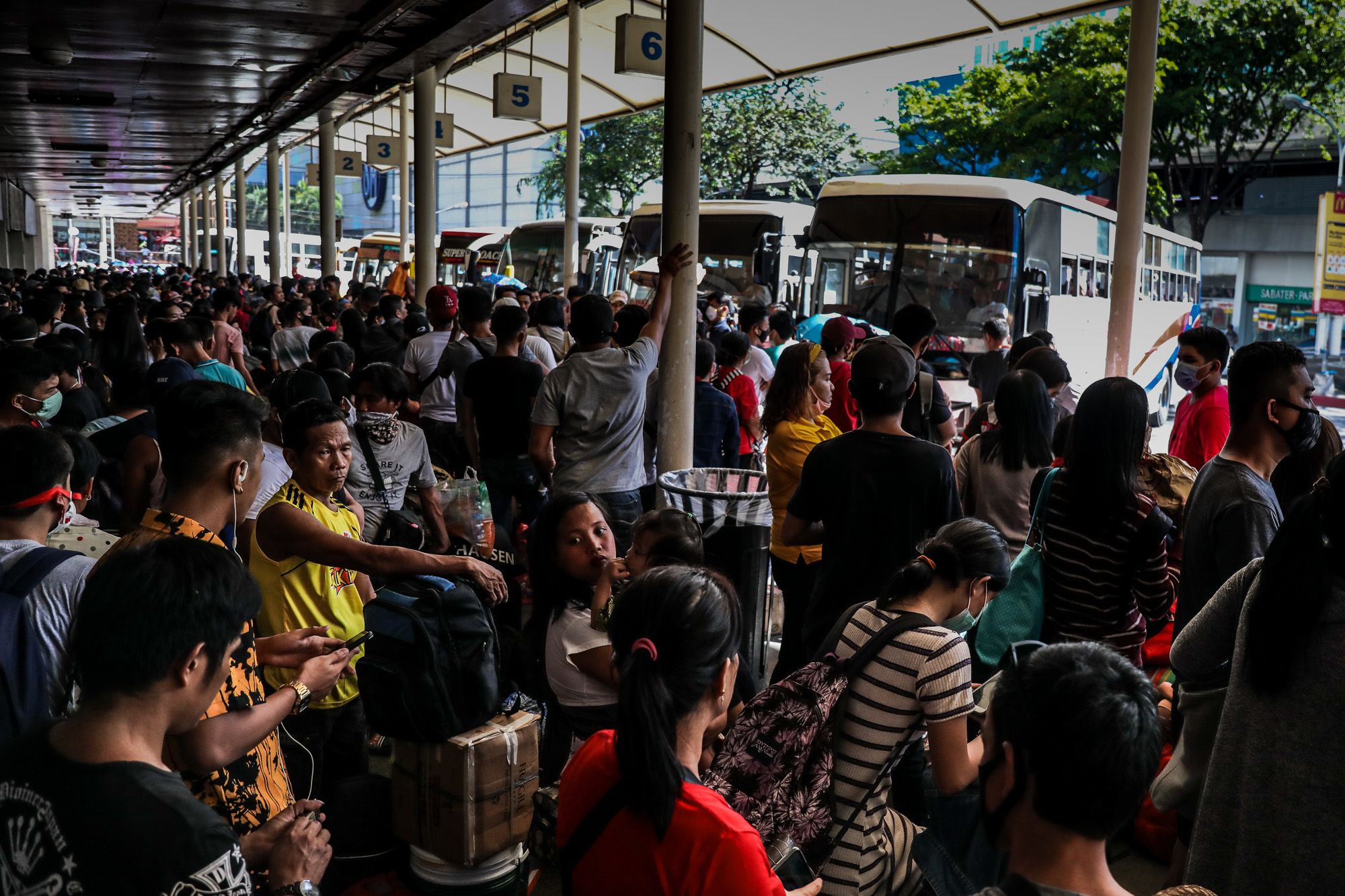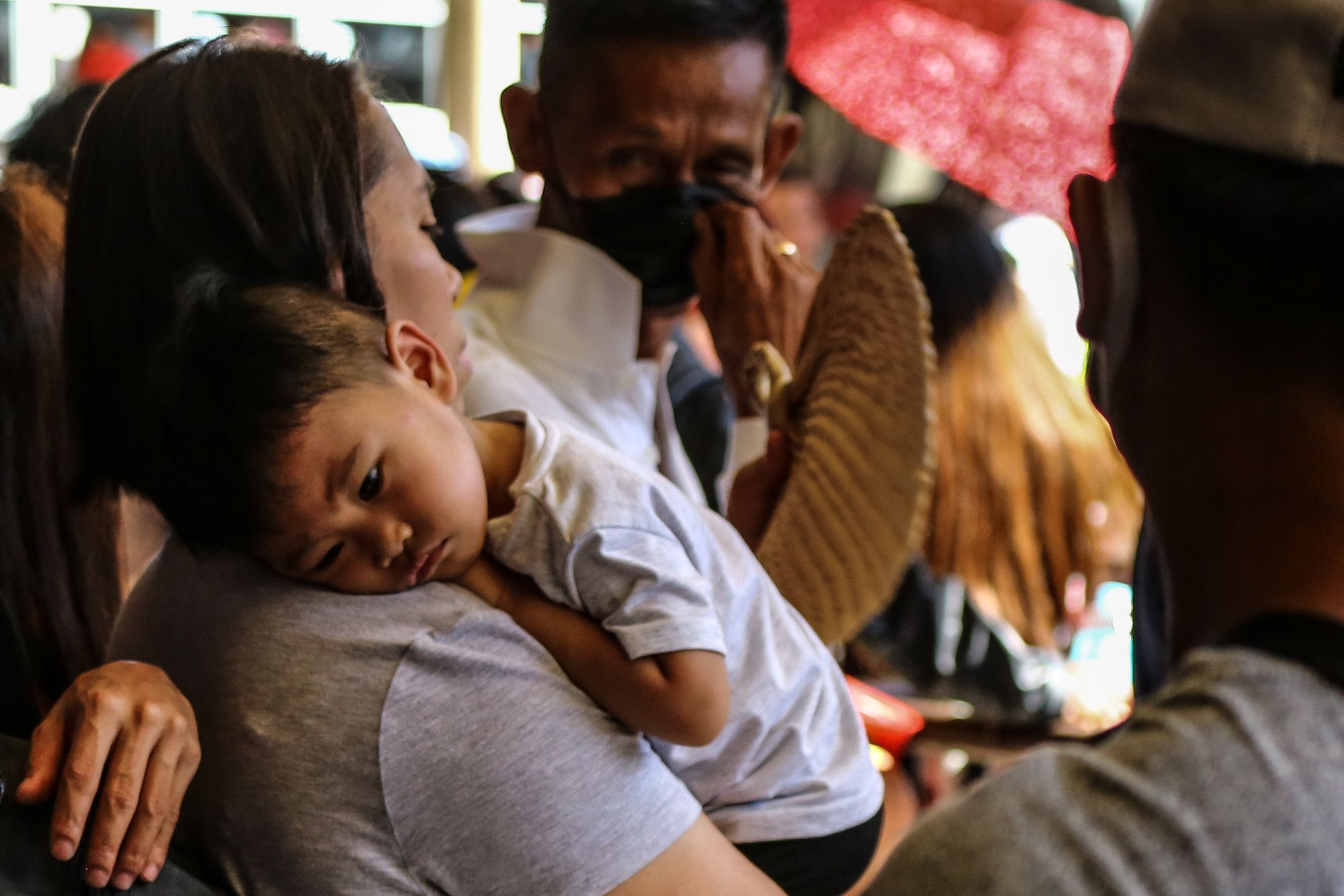 At the airports, women wailed and men raged as their children sat on suitcases, dazed amid the bedlam as flights stopped two days before the start of quarantine.
Father Billena said those men tasked with being the breadwinners of their families sent their wives and children to safety, as they scrounge for whatever income opportunities remain.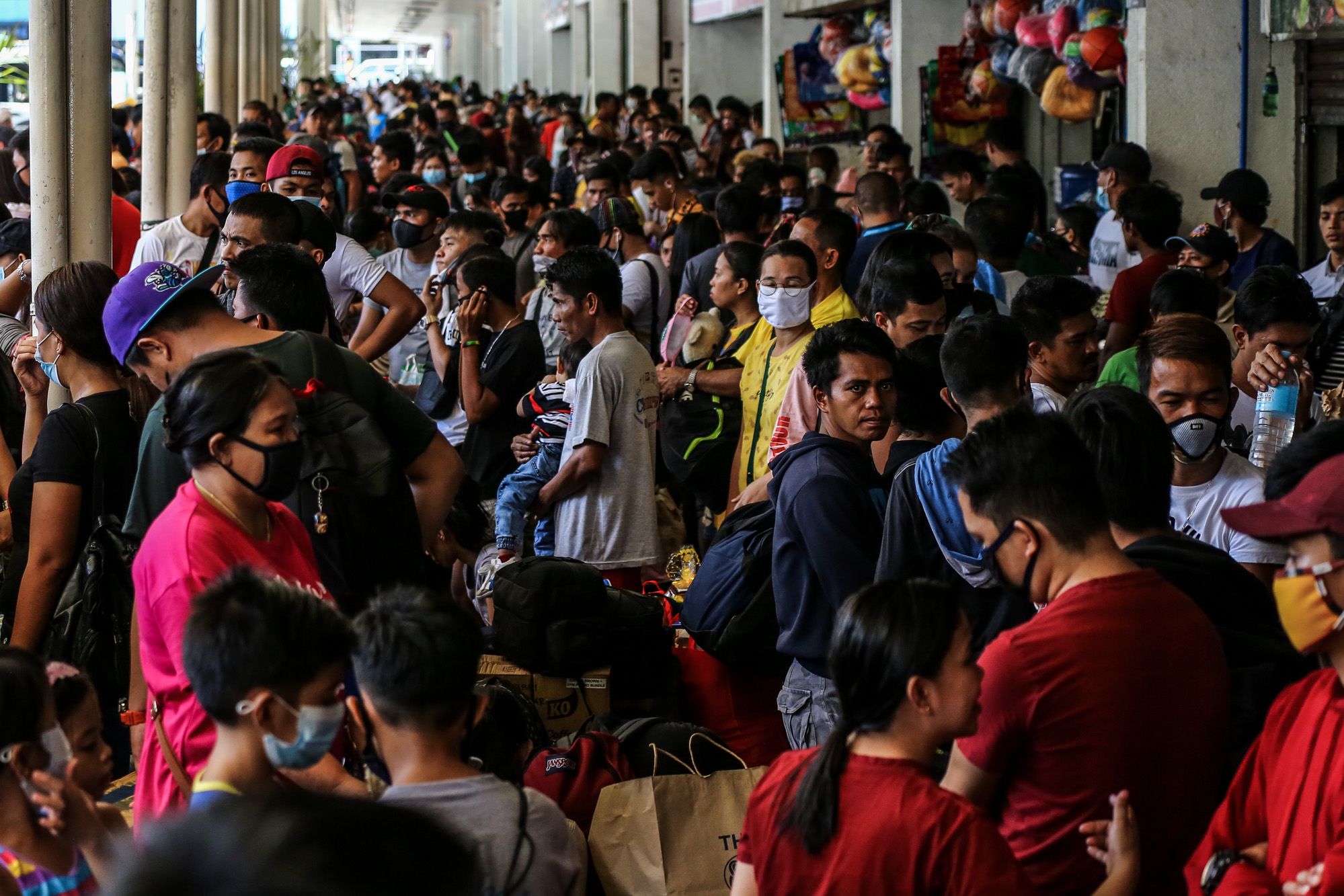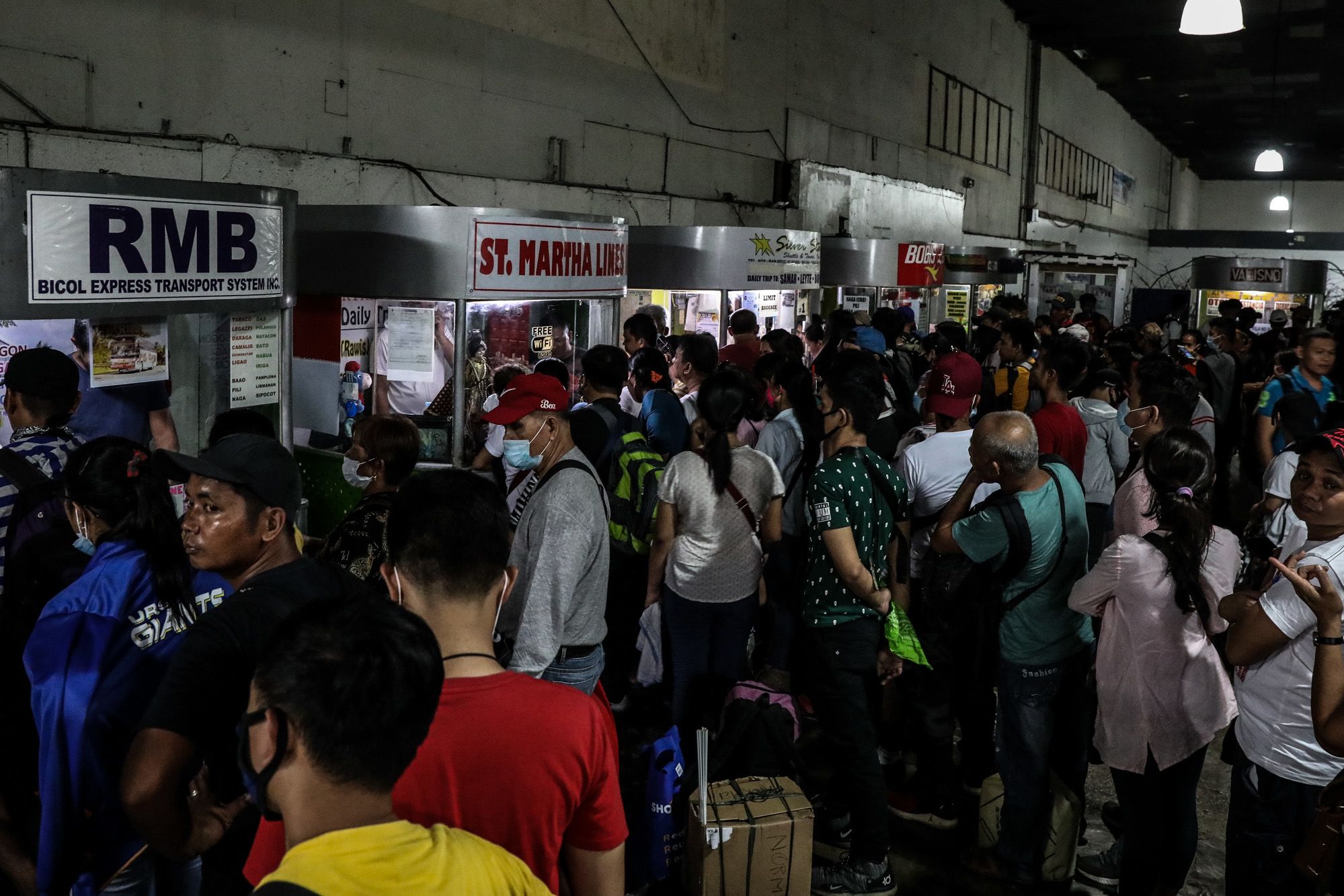 Contagion
Ainie supports the quarantine and has urged her neighbors to obey orders. But she fears the challenge of warding off infection, amid blocks of makeshift homes with little ventilation or access to clean water, could prove too much for her village.
Some 800,000 families in the metropolis stay in shanties, where lives are lived in single rooms that can be as small as ten square meters.
To compensate, the poor turn alleys into extensions of their homes. Children, many saddled with chronic malnutrition, wrestle in the dirt or chase each other around water stations and makeshift, communal kitchens.
The government's campaign against the new coronavirus place frequent washing with soap at the top of its health guidelines.
But in Baseco, few of the thick, blue rubber tubes that snake around alleys end up in indoor kitchens or bathrooms.
Ainie lives in a two-story concrete home built by her husband, but the family needs to fill up water pails and drums to keep clean.
In the two villages off the Navotas fish market, many residents have to buy their drinking and cooking water for 50 cents a container. Income loss could force them to use contaminated supplies.
"We're trying to fight a health crisis with a program that could worsen that crisis," said Deblois.
And then there is the issue of all of those cramped quarters at a time when people are being told to stay away from each other. 
"What kind of animal is social distancing," asked Vincentian priest and theology school dean Father Danilo Pilario. 
"Seventy percent of Metro Manila lives in cramped communities like this," said the priest, who preaches at a parish dubbed "Mother of the Promised Land" in the poor district of Payatas.
Payatas is a slum where 5,000 families live around trash hills that also serve as the source of their livelihoods.
"They ride in cramped jeeps, trains, and buses, and walk in crowded alleys. Physical and social space literally does not exist," Father Pilario told LiCAS.news.
The champions of the poor, however, stress that they are not parasites. They do their share in protecting communities against infections.
The Baseco Muslim Association, which normally mediates neighborhood conflicts and monitors recruitment efforts by extremist groups, has swung to new coronavirus surveillance and education.
In Payatas, Father Pilario's group of drug war widows and mothers suspended livelihood projects to sew face masks for residents who cannot buy them in stores. 
Father Billena's church group teaches poor families to mix bleach and water as a cheaper alternative to alcohol, which stores are now rationing.
But these grassroots peacekeepers and aid givers fear the odds are stacked against Manila's poor.
Dr. Julie Caguiat of the Community Medical Practitioners and Advocates Association slammed the spotty flow of information.
"An enlightened citizenry can help during crises. But nobody is telling them what to do," she said.
Her group tries to breach the information gap. But when local government officials are also confused by contradictory orders, constituents can miss out on critical aid, like testing and contact tracing.
Dr. Gene Nisperos, who works with the urban poor when he's not at Philippine General Hospital, said a quarantine would work only with strong social support.
"You need to substitute people's income so they will stay home. You need to beef up medical supplies and knowledge in village health centers," he told LiCAS.news.
But the real problem, he warned, is the compromised immunity of poor citizens.
"Playing catch up with that will be as impossible as getting rid of poverty itself within a month," he said. 
"The best we can hope for is [mitigation]: Focus on the elderly and those with existing diseases," he said. 
The virulence of new coronavirus is particularly strong with patients with preexisting conditions like hypertension, diabetes, and lung problems. 
That presents a nightmare in a country where a million citizens have tuberculosis and 50 percent of health spending is out of pocket.
The Philippine Health Insurance Corporation offers free testing for the new coronavirus, and members and their dependents can take advantage of isolation and hospitalization packages.
But the World Health Organization's country report for 2019 said not all the eligible members are aware of the benefits of the program.
The public health sector faces grave personnel and capacity problems. There is only one public doctor for every 31,000 Filipinos.
Dr. Edsel Salvana, a specialist in infectious diseases at the National Institutes of Health at the University of the Philippines, said the government foresaw the exodus to the countryside.
"[The lockdown] delay was humanitarian to give people from Manila time to return and people from the provinces, especially students studying here with limited resources, time to go home," he said in response to a question on Twitter.
"Social distancing recommendations began immediately," he added, a reference to local government officials ordering a 14-day quarantine on all arrivals.
The fleeing poor may have released some of the pressure on the national capital, but in the provinces, where the number of hospital beds are only a third of the capital's capacity, the poor could find themselves at a dead end.
© Copyright MMXX LiCAS.news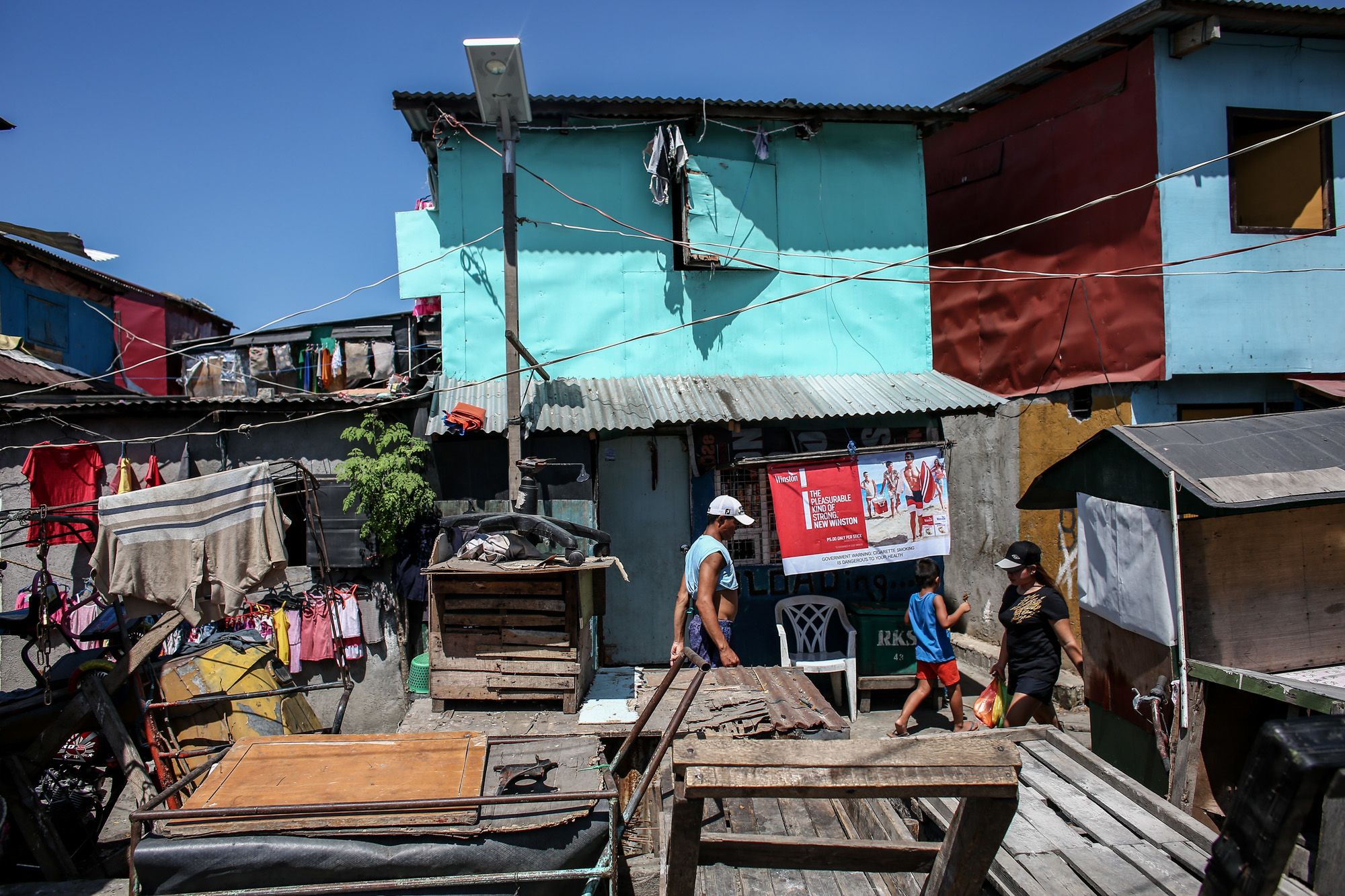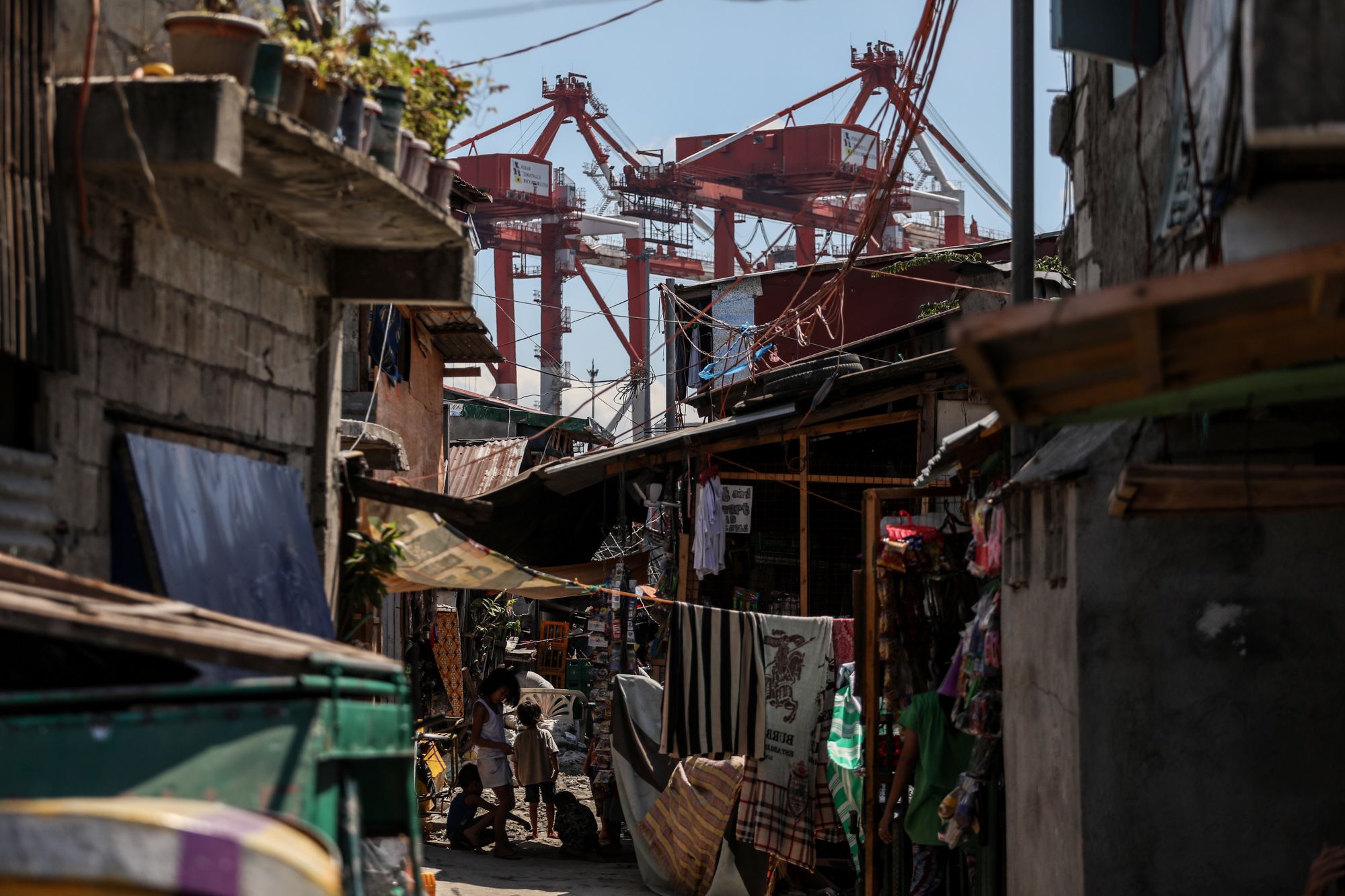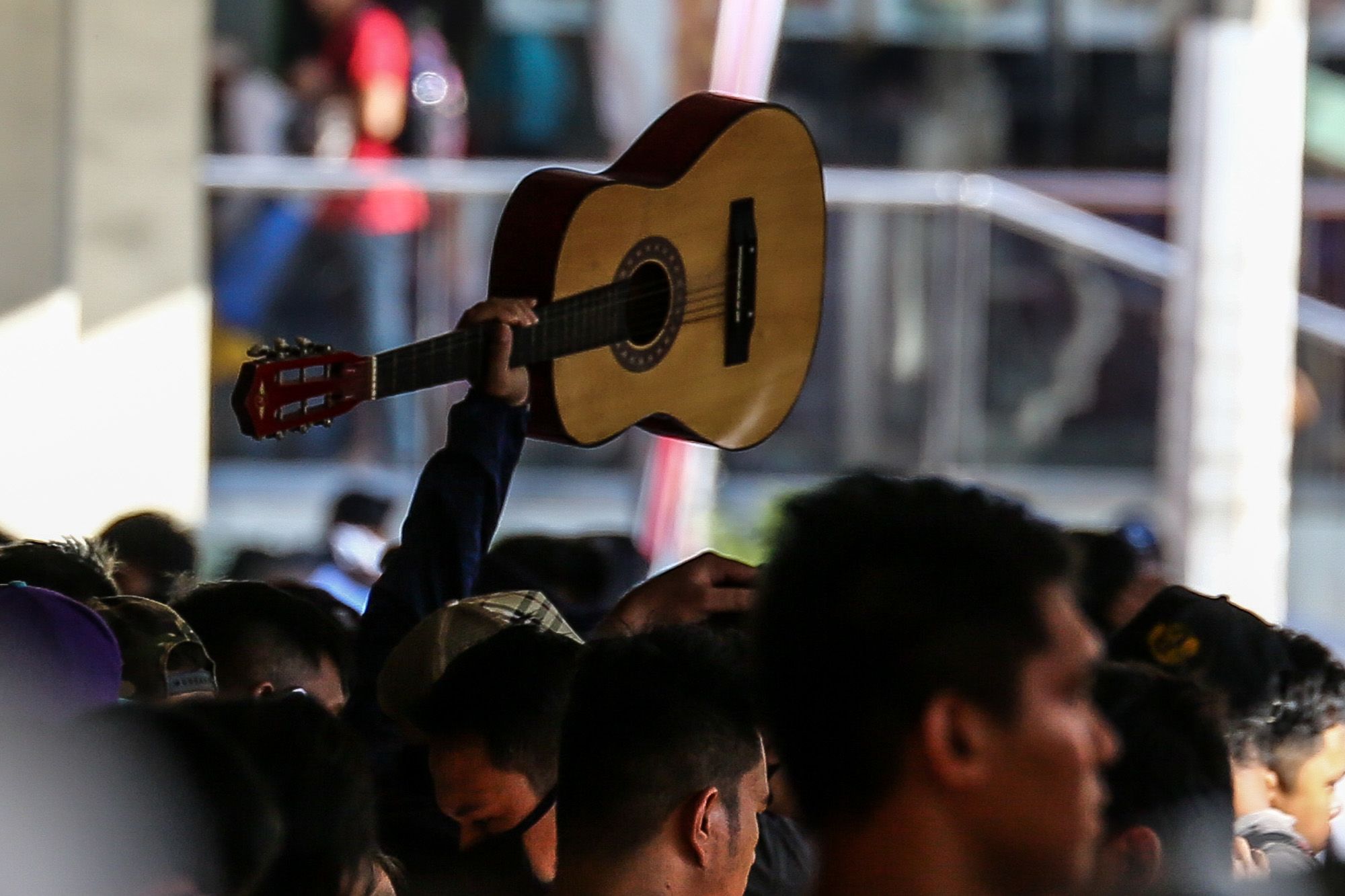 Thousands of people flee Manila on March 13, eve of the effectivity of the lockdown of the Philippine capital to stem the spread of the coronavirus disease. (Photo by Jire Carreon)
Thousands of people flee Manila on March 13, eve of the effectivity of the lockdown of the Philippine capital to stem the spread of the coronavirus disease. (Photo by Jire Carreon)