The rise in COVID-19 xenophobia in China
World reacts to a surge of Chinese state-sanctioned racism against Africans and others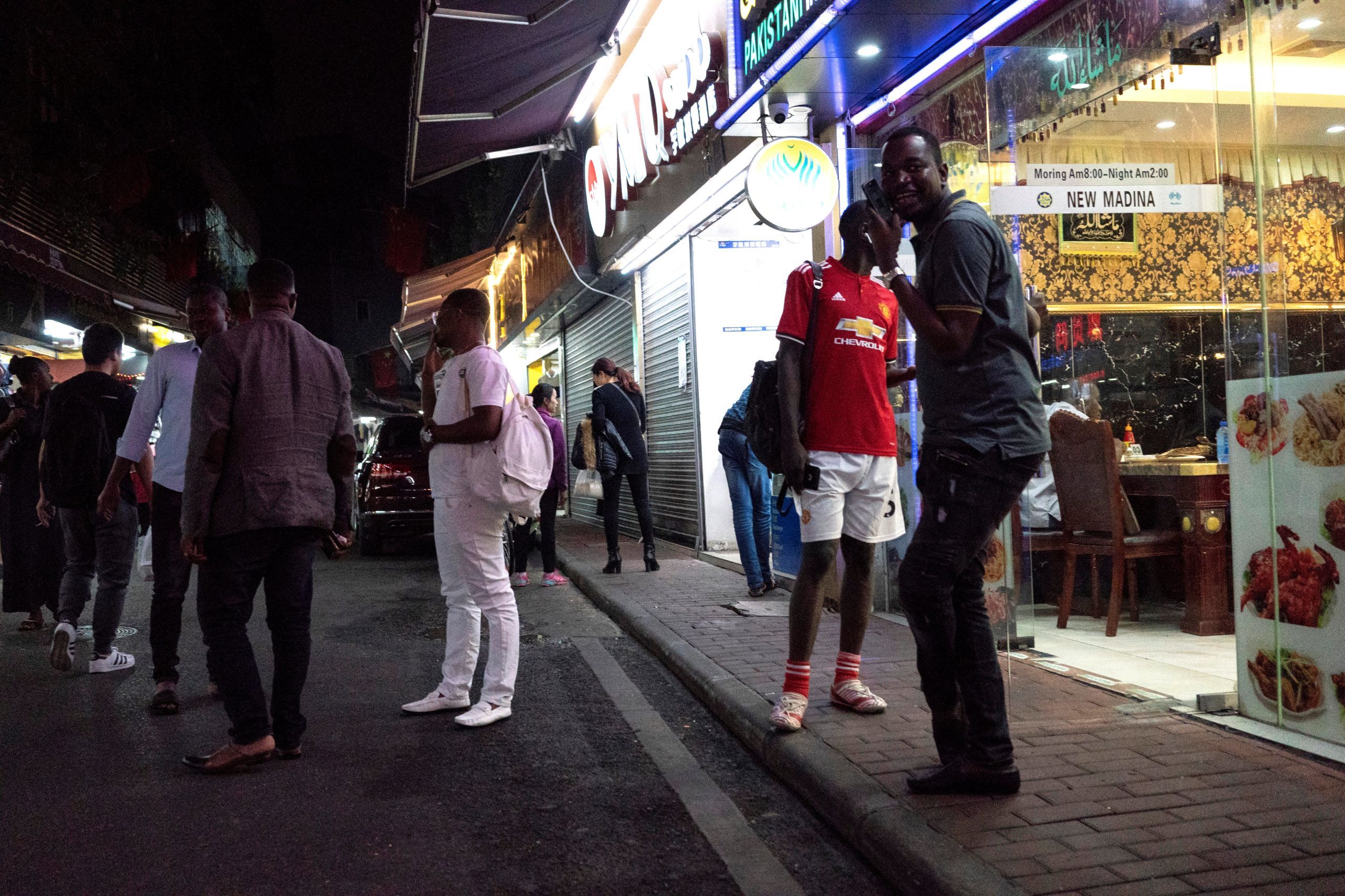 This file photo taken on March 2, 2018 shows people on a street in the "Little Africa" district in Guangzhou, the capital of southern China's Guangdong province. (Photo by Fred Dufour/AFP)
This file photo taken on March 2, 2018 shows people on a street in the "Little Africa" district in Guangzhou, the capital of southern China's Guangdong province. (Photo by Fred Dufour/AFP)
Over the past weeks, disturbing reports and video footage have emerged from the city of Guangzhou in China's south.
City, health and police officials have been subjecting people of African descent to random COVID-19 testing, forced quarantine, arrests, denial of access to supermarkets and hotels, confiscation of passports, and eviction from homes.
Photos and video from the past week show Africans huddled on Guangzhou's rainy streets, herded by riot police with no apparent place to go, and sleeping rough under bridges. The incidents are the latest evidence of China's profound racism, against not only Africans but Tibetans, Uyghurs, and even Caucasians of late.
While Beijing is quick to decry any perceived slight against Chinese abroad as racism, what minorities face in the People's Republic of China is beyond anything since Apartheid South Africa.
The media and politicians in Africa, not to mention the rest of the world, are taking notice. The continent is already sensitive over China's debt trap diplomacy, immigration of Chinese nationals, and the particular threat of COVID-19 to Africa's fragile economies and health infrastructure.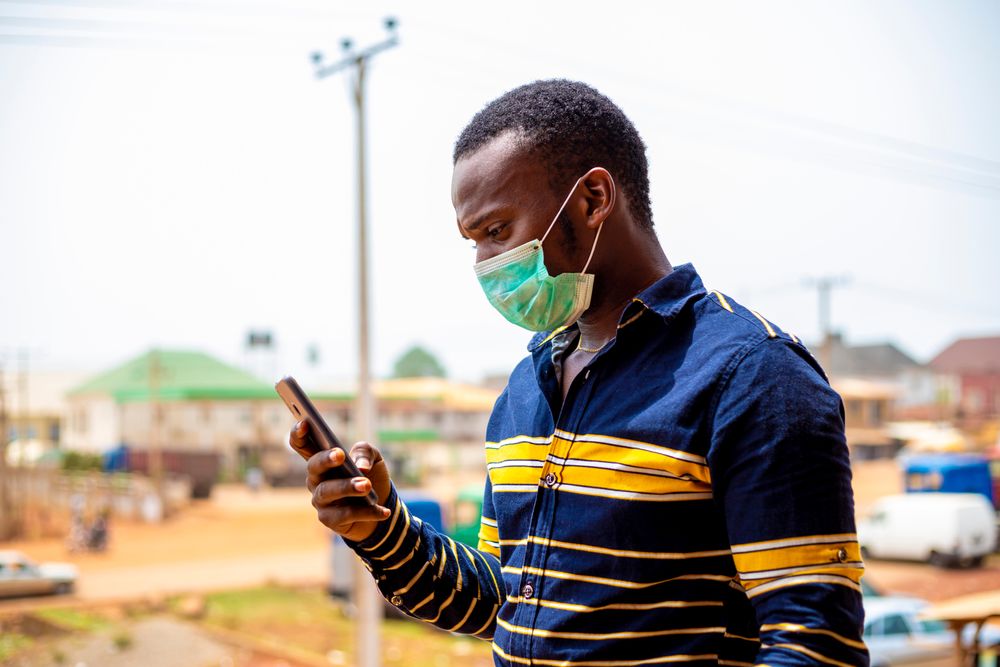 Despite lack of testing, Africa has COVID-19 cases in each of its 54 countries. By April 13, there were a total of 14,400 confirmed cases and 788 deaths on the continent.
African diplomats are feeling betrayed given their past support for China over the disease. In a rare joint note, several African ambassadors in Beijing wrote:
"The singling out of Africans for compulsory testing and quarantine, in our view, has no scientific or logical basis and amounts to racism towards Africans in China."
The most senior diplomat denouncing treatment of Africans in Guangzhou is chair of the African Union Commission, Moussa Faki Mahamat. Officials from Nigeria, Sierra Leone, and Kenya also criticized China.
They have plenty to complain about.
My Office invited the Chinese Amb to the AU,Mr Liu Yuxi, to express our extreme concern at allegations of maltreatment of Africans in #Guangzhou+called for immediate remedial measures in line with our excellent relations.The African Grp in #Beijing is also engaging with the govt pic.twitter.com/NEBStdOCeK

— Moussa Faki Mahamat (@AUC_MoussaFaki) April 11, 2020
Reports of COVID-19 discrimination against Africans in Guangzhou 
One video posted on April 10 appeared to show Chinese officials in a hallway saying that: "All black people are being quarantined." When a Chinese woman argues back, the official states that: "We're just doing our job in accordance with requirements." 
Yet another of the videos circulating out of #Guangzhou -

A Chinese woman demands answers from those sent to enforce quarantine and is told that the orders from above are to specifically target '黑人', Chinese for Black people. pic.twitter.com/wfsiOVp2g1

— Black Livity China (@BlackLivityCN) April 10, 2020
Another video shot from a darkened apartment showed security guards in the hall and included a woman's voice with an African accent stating that her landlord had switched off the lights and was giving her just an hour to leave, despite her having a lease and paid taxes. "Only in China," she said in an exasperated voice.
Another video showed approximately 15-20 Africans being herded by Chinese riot police down a street.
Dozens of interviews conducted by the Wall Street Journal, CNN and AFP with Africans in Guangzhou provide additional evidence that authorities targeted Africans regardless of whether they had a history of contact with COVID-19 carriers or traveled to cities with outbreaks. 
One exchange student from Uganda told AFP: "I've been sleeping under the bridge for four days with no food to eat...I cannot buy food anywhere; no shops or restaurants will serve me." He said that police told him "to go to another city."
AFP interviewed a Nigerian businessman who had been evicted from his apartment and said: "Everywhere the police see us, they will come and pursue us and tell us to go home. But where can we go?"
One Ugandan mother of three said she is confined to a two-bedroom apartment. She told the Wall Street Journal that on a prior lockdown she had at least been allowed to walk the grounds of her apartment building two times per week.
"I have no food left in the house. My children are going to die of starvation," she told the reporter.
A Guinean exchange student told AFP that police confined him to his home despite his having tested negative for COVID-19. He has not left China in nearly four years.
A notice handed out by staff at a McDonald's restaurant in Guangzhou stated: "We've been informed that from now on black people are not allowed to enter the restaurant. For the sake of your health consciously notify the local police for medical isolation, please understand the inconvenience caused. Police TEL: 110." McDonald's China later apologized for the incident and closed the store temporarily to train staff on "inclusive values."
On April 10, the Sierra Leone embassy in Beijing said that 14 of its citizens were in compulsory 2-week quarantine.
According to the U.S. embassy in Beijing, African-Americans were also targeted in Guangzhou. U.S. officials issued a statement on April 11 advising African-Americans not to visit the city. It read: "African-Americans have also reported that some businesses and hotels refuse to do business with them."
While not to the same extent as Africans, some Caucasians have also reported discrimination in China, including difficulty with rented apartments and hotel rooms, and incidents of harassment in restaurants. Some hotels, restaurants and bars that deny access to non-Chinese nationals have cited China's policies of stemming new infections from abroad. 
Writer Wade Shepard blogged that his story on worsening xenophobia against foreign nationals in China was rejected as too controversial by a mainstream media outlet. So, he had to publish it himself.
"Big media organizations with physical footprints in China have become pretty afraid of offending Beijing and are self-censoring in a major way," Shepard wrote in the comments section to his post.
"This article was originally intended for another publication, but they couldn't touch it. We have entered into a new age of censorship, as countries and corporations have figured out how to exert their influence over the international media to the extent that they have learned that they better watch their mouths. It's tough to be a real journalist these days," he wrote.
Shepard has written for Forbes, The Diplomat, The Guardian, South China Morning Post, and The Atlantic.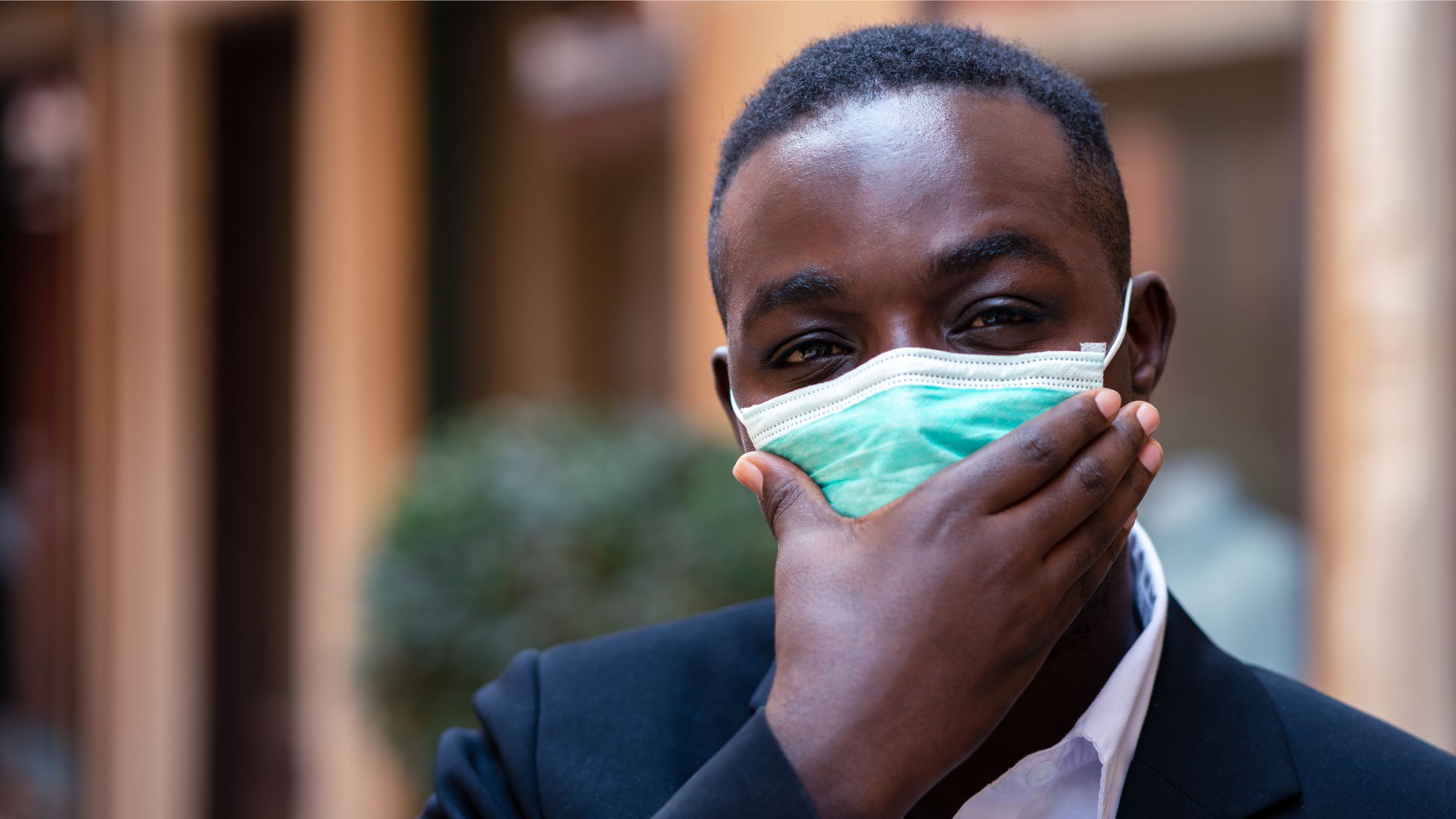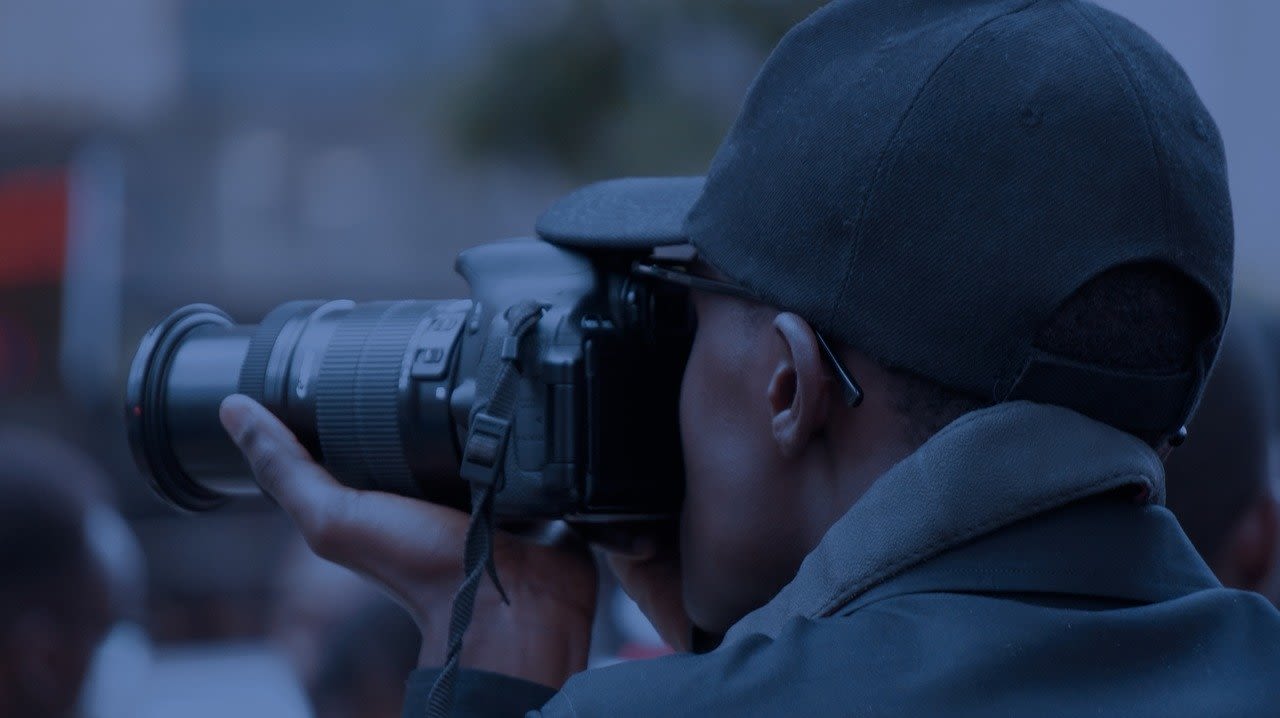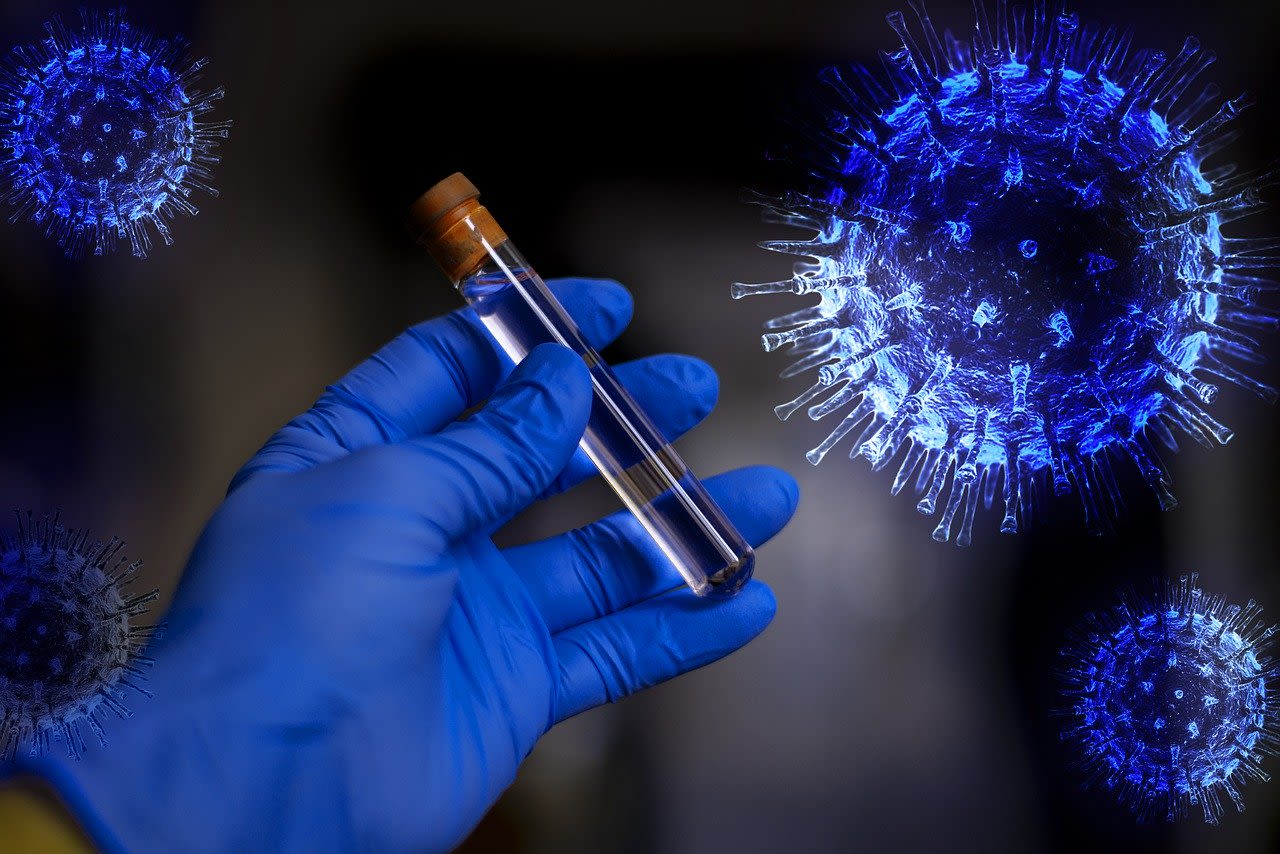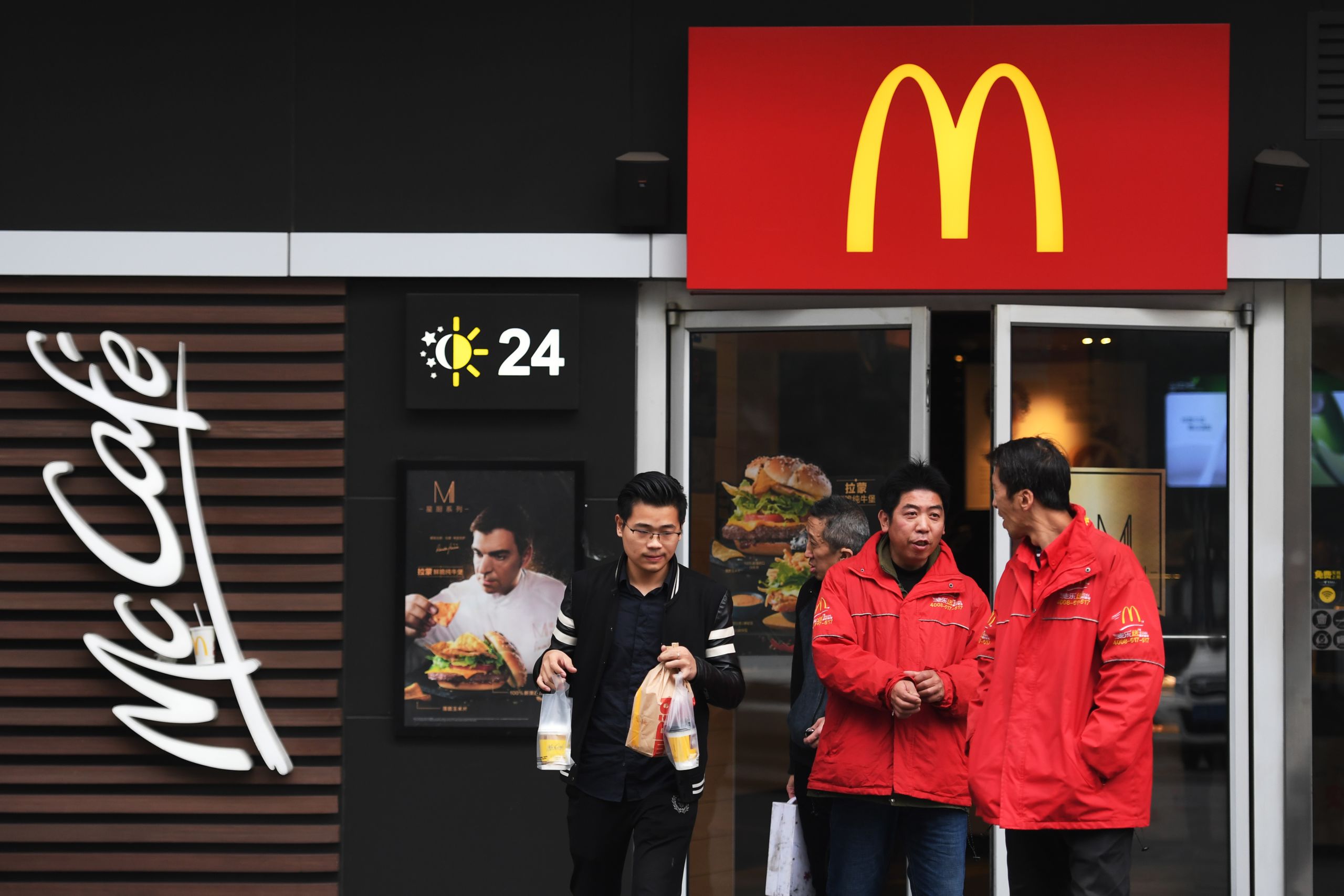 People stand outside a McDonald's restaurant in Beijing on Oct. 26, 2017. (Photo by Greg Baker/AFP)
People stand outside a McDonald's restaurant in Beijing on Oct. 26, 2017. (Photo by Greg Baker/AFP)
China's response to accusations of discrimination
Beijing has swung into damage control to staunch the recent outrage over Guangzhou.
China's Foreign Ministry spokesman Zhao Lijian urged local officials on April 10 to "improve their working mechanisms." So far, that has been the only indication that the Chinese Communist Party (CCP) is trying to correct the racism that erupted in Guangzhou. But he followed that with a denial of the problem, saying: "I want to emphasize that the Chinese government treats all foreigners in China equally." 
Perhaps to decrease criticism over the Guangzhou incidents, Beijing donated medical supplies to 18 countries in Africa the week of Monday April 6.
According to an April 13 state media tweet, Zhao Lijian tried to blame the United States for the protests against discrimination in Guangzhou, despite most of them coming from Africa. He stated that: "U.S. accusations of China mistreating Africans in China are false, immoral, and irresponsible." The spokesman did not attempt to refute in detail the plentitude of evidence emerging from the city.
Blaming the victim
Chinese authorities are also blaming Guangzhou's Africans for the new racist policies. According to local officials, the discrimination in Guangzhou was preceded by eight Africans who were diagnosed and spent time in Yuexiu district, known as the city's "Little Africa" or derogatorily as "Chocolate City."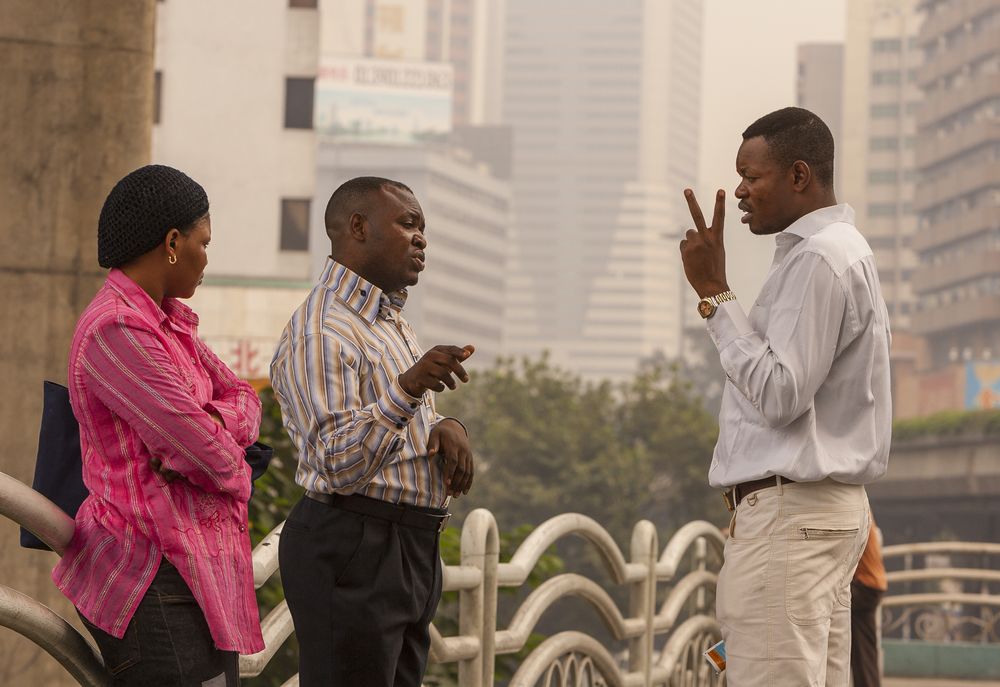 Guangzhou has the largest African population in China, as the city since the 1990s attracted traders from Kenya and Nigeria to buy goods for export. Before news of the virus broke in late December, more than 13,600 Africans resided in the city. Now its African population is just 4,500.
The eight infected individuals included five Nigerian nationals who ostensibly caused public anger following reports that they broke a mandatory quarantine and visited public places including eight restaurants. Some 2,000 people with whom they allegedly came into contact were tested or underwent quarantine according to China's state media.
While China is no stranger to xenophobia and racism, the COVID-19 pandemic has taken hostility toward foreigners to an alarming new level. This Cartoon Depicts Rule-Breaking Foreigners As Trash To Be Sorted!!!!

#SomeoneTellChina pic.twitter.com/GQokdpA1uO

— UGAMAN #STAYHOME 🔱🔱 (@Ugaman01) April 8, 2020
A Nigerian man who allegedly bit the face of a Chinese nurse also supposedly increased anger against Guangzhou's African population. The man had supposedly tested positive for COVID-19 and was resisting treatment. The story drew fiery social media criticism by Chinese netizens.
Police and the public health bureau in Guangzhou told reporters on April 7 that officials responded to rumors that "300,000 black people in Guangzhou were setting off a second epidemic." The rumor "caused panic" according to the officials, who disputed its veracity even as they fuelled it by revealing it to the media.
China's claim of extinguishing COVID-19 leads the country towards xenophobia
Racist measures against Africans in Guangzhou may have gained force from comments by Secretary General Xi Jinping on April 8. According to Xinhua:
"Noting that China is under rising pressure of guarding against imported COVID-19 cases, Xi said new difficulties and challenges have emerged for China's work resumption and economic and social development. Xi called for preparedness in mind and work to cope with prolonged external environment changes. Xi urged unremitting efforts in guarding against imported cases from abroad and preventing a resurgence of the outbreak at home and demanded redoubling efforts in economic and social development."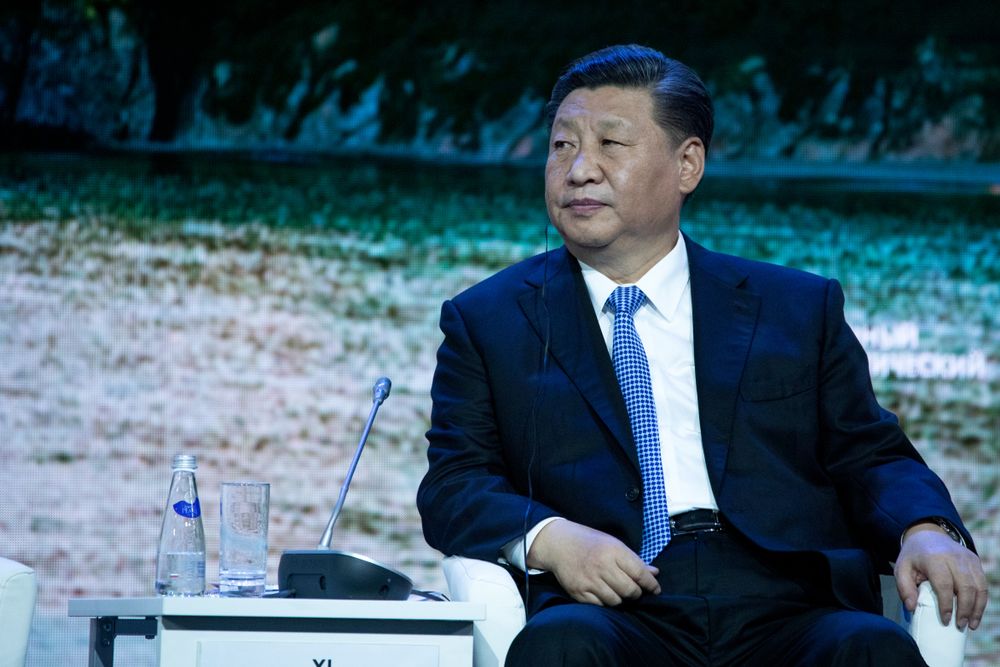 Xi and other high government officials in China have not made statements to quell discrimination against Africans in China. Neither did officials immediately remove a racist cartoon circulating on Wechat on April 5 that showed Chinese pandemic workers throwing Africans and Caucasians in trash and recycling bins. By April 14, however, the content had been deleted by the author.
COVID-19 related xenophobia has been growing in China since the country claimed to have beat the disease with a negligible number of new cases after mid-February.
The lower figures coming from China are widely reported by the west's mainstream media without much critical reporting. Meanwhile, the highest numbers of confirmed cases are now recorded in the United States and Europe, likely due to a higher rate of testing. This has allowed Chinese officials to claim that their own authoritarian model is superior for controlling the disease as compared to the rest of the world. That message is being accepted as truth by some Chinese citizens, increasing their xenophobia and demand for new travel restrictions to stop the import of the disease from abroad. 
China's state media is fueling this fear of foreign countries with human interest stories, one of which shows the better treatment of Caucasians as compared to Africans. On April 2 the Global Times posted a video of a white "American girl who spent two decades in #China [and] posted an SOS video looking for help to return to Guangzhou from #London."
She was reportedly assisted by Chinese netizens to return to China, where she told state media: 
"I feel so secure to be back home in China. I support the precautions adopted by China that can guarantee everyone's health and safety. I was in a state of panic when I was in the UK because I could foresee the pandemic befall [sic]. And I know what we are supposed to do. Because I have witnessed how China contained the outbreak in 5-6 weeks. However, I noticed they [the UK] have no idea. There is no temperature screening. Only a few people wear masks in the airport. Nobody wears a mask in daily life. Wearing masks may even invite trouble."
At this point in the interview the Global Times spliced in footage of a white woman throwing a piece of cardboard and yelling towards the camera. "I felt anxious when I was in the UK," the woman continued. "Because I know the seriousness of the pandemic. But people donned a very casual attitude. Living in China has made me a Guangzhou girl."
Ostensibly to prevent infections from abroad, the country closed its borders on March 28 to foreigners, including those holding visas or residency permits.  
China persists in claiming that new cases in China are imported from abroad, and some western media is repeating the story.
A Bloomberg article on April 7, for example, stated: "Imported infections have become a major threat to rekindling the virus in China after draconian measures managed to reduce local infections to a crawl."
The article cited the Health Commission of Heilongjiang Province as reporting 60 imported cases the first week of April, all but one coming from the Russian city of Vladivostok by car or bus after a flight from Moscow. The article did not detail whether the imported cases are of Russian or Chinese nationals.
Beijing's claims of almost zero new domestic cases since mid-February is based on self-reported data. It is difficult to confirm these reports as foreign health officials, such as the U.S. Centers for Disease Control and Prevention, are not allowed free access to the country. The CCP is able to intimidate local scientists into either staying quiet or supporting the government's chosen message. 
One expert in Hong Kong, however, has spoken out. Epidemiologist Ben Cowling at Hong Kong University believes that the true number of COVID-19 infections in China is much higher than admitted by authorities. He estimated 232,000 infections on the mainland by Feb. 20. On that date, the self-reported cases from China were just 55,508, and trending towards zero new daily infections.
According to one report, approximately 80 percent of the new imported infections in Guangdong province were actually from Chinese nationals returning from abroad. The capital of Guangdong is Guangzhou. Of 183 imported infections recorded by Guangdong by April 12, only 38 were foreign nationals. Of these, only 22 were African citizens.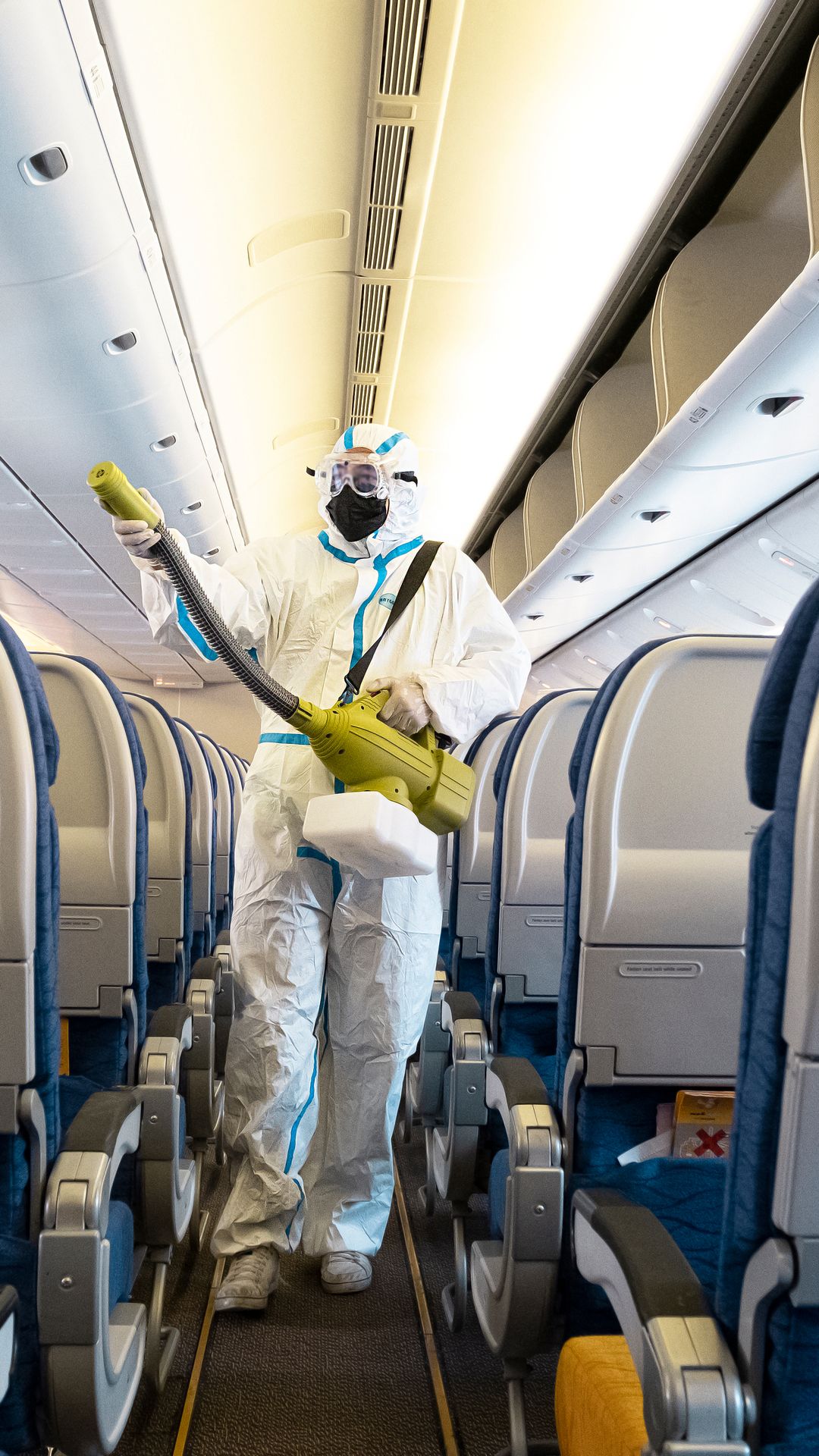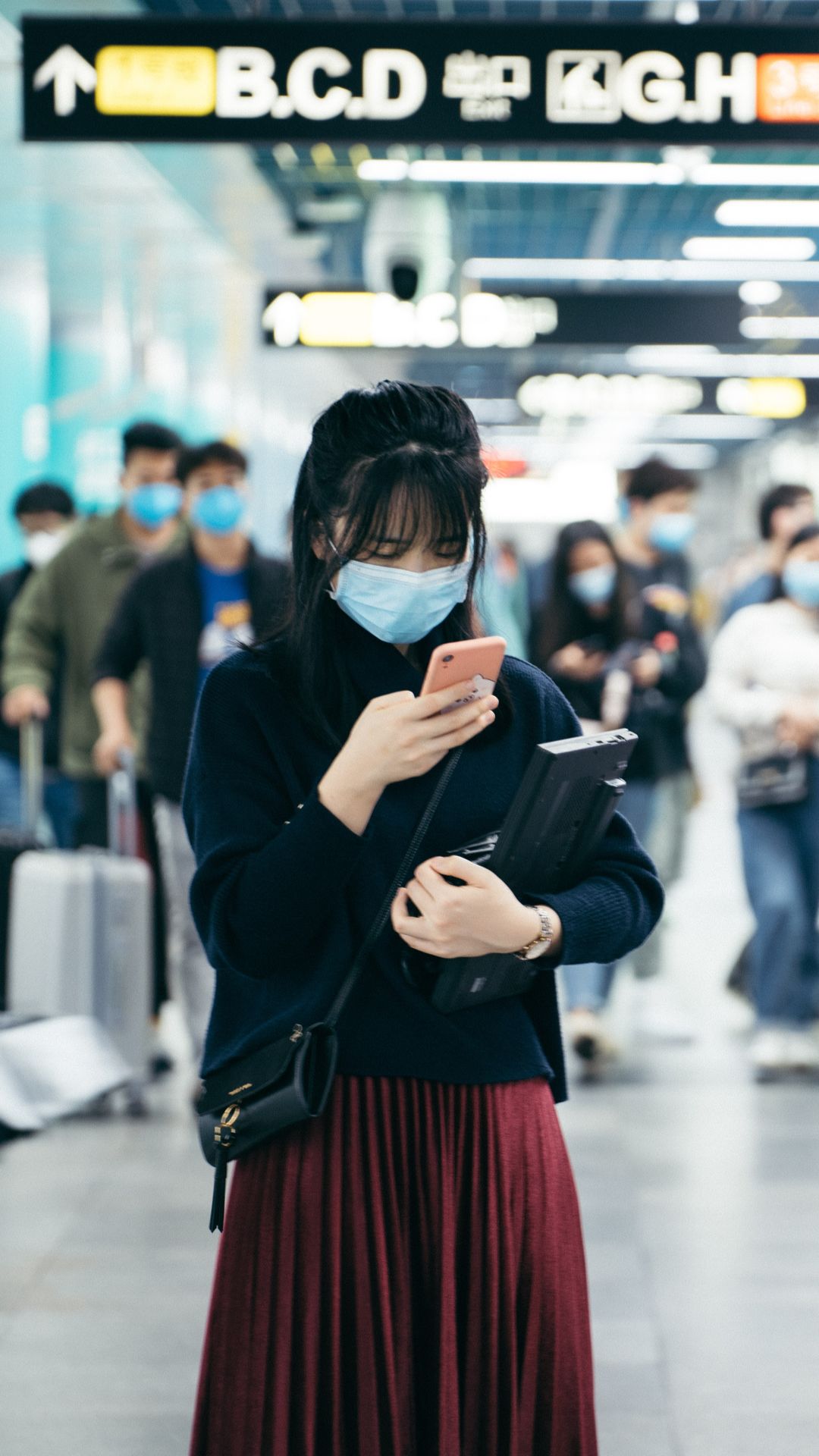 History of racism against foreigners in China
In 2016, a commercial for Qiaobi laundry detergent (see above) in China showed a smiling Chinese woman putting detergent into the mouth of a lustful African male, and then stuffing him into a washing machine and turning it on. Following a cycle that included muffled screams, he emerges as a "clean" Chinese male who winks at the viewer as the text "Change begins with Qiaobi" is displayed on the screen. The commercial apparently aired for months in China without significant criticism, only later erupting in the English-language press. 
Racism against Africans in China is consistent with its history of maltreatment of internal minorities like Tibetans and Uyghurs. Their languages and religions are being wiped out by the CCP, which has detained 1-3 million Uyghurs and other Turkic Muslims in "reeducation camps" since 2016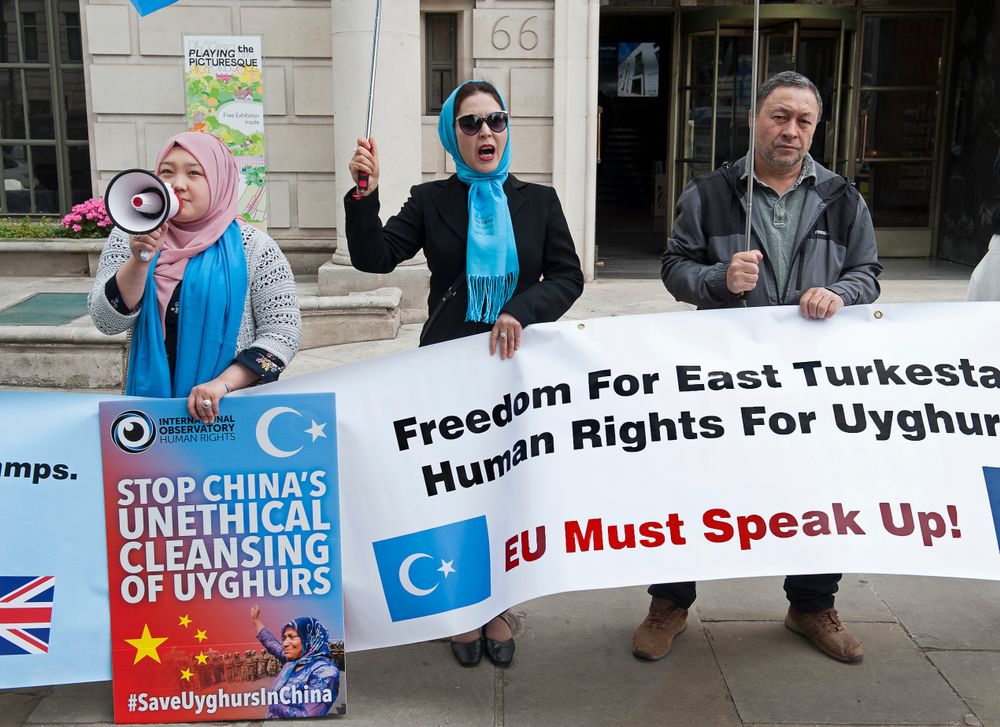 In the 1950s, a revolt by Tibetans resulted in harsh repression by the People's Liberation Army (PLA), and over 1.2 million deaths according to the Tibet government in exile. Between 1951 and 1984, this included 432,705 killed in uprisings, 342,970 starved to death, 173,221 deaths in prison, 156,758 executed, 92,731 tortured to death, and 9,002 who committed suicide.
Racism is institutionalized in China through privileging the Mandarin language and reserving high political posts for the Han majority.
Mandarin is pushed as the only legitimate language in China, with minority languages facing growing institutional discrimination. The Uyghur language in China's northwest, and Tibetan in the southwest, face the greatest obstacles.
However, Hong Kongers are the latest external population whose language is being discriminated against, and that is being othered, entrapped, and digested by the CCP. Huge demonstrations erupted in June 2019 after the Hong Kong government attempted to pass legislation that would have allowed extradition to the mainland. The pro-democracy protesters have been called "cockroaches" and brutally suppressed by Hong Kong police.
All seven members of China's highest political body, the Politburo Standing Committee, are of the Han ethnicity. There are 56 officially-recognized "nationalities" (minzu 民族) in China, but 91.5 percent of China is Han. The minzu of each Chinese national is stamped on their identity cards. Cantonese speakers are not considered a separate minzu.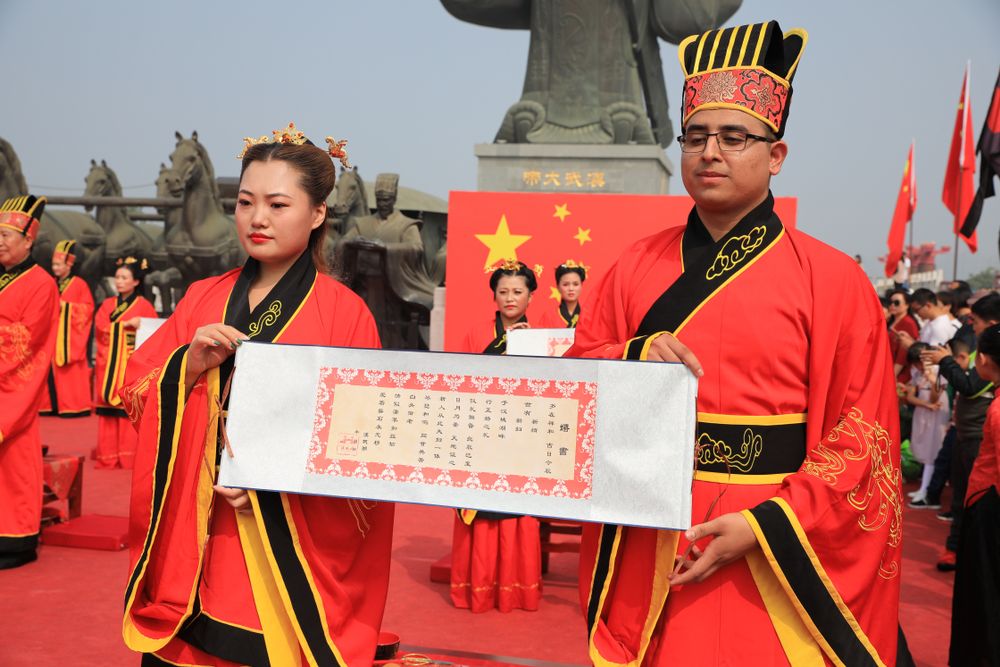 There have only been four non-Han members of the 24 member Politburo since 1949. Only one has ever reached the Standing Committee. All of China's top leaders since Mao have been Han.
Ethnic minorities in China are rarely given any position other than those that are largely ceremonial.
"Han are the core of the Chinese nation and, many believe, reflect the most culturally advanced elements," according to sinologist James Leibold writing in 2012. "To many Han Chinese, [their dominance] reflects the natural state of being, where the primitive yet colorful minorities sing and dance while the advanced Han lead the nation and its industry."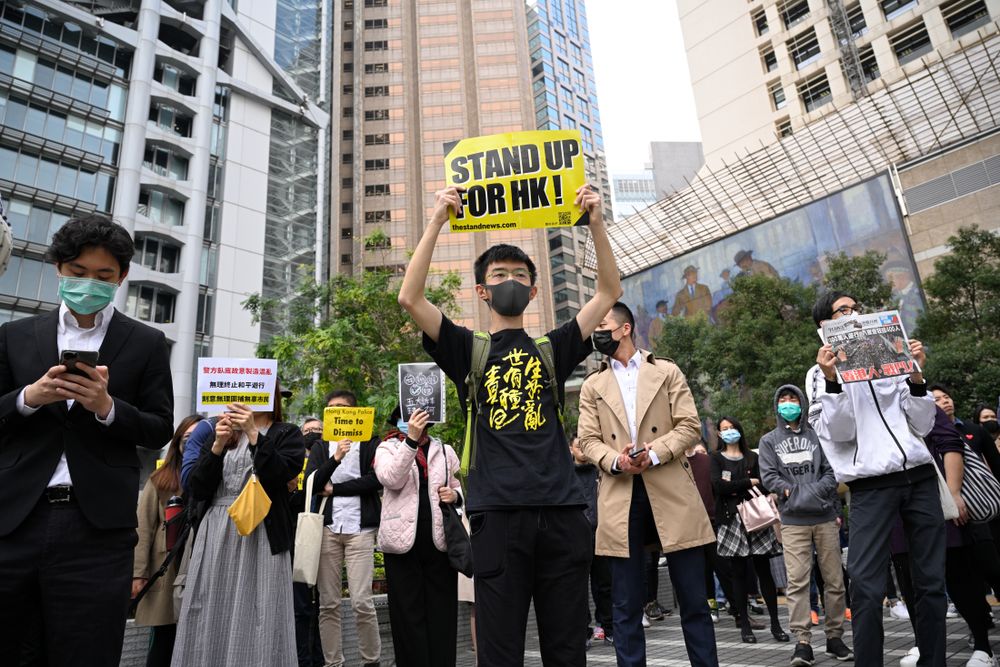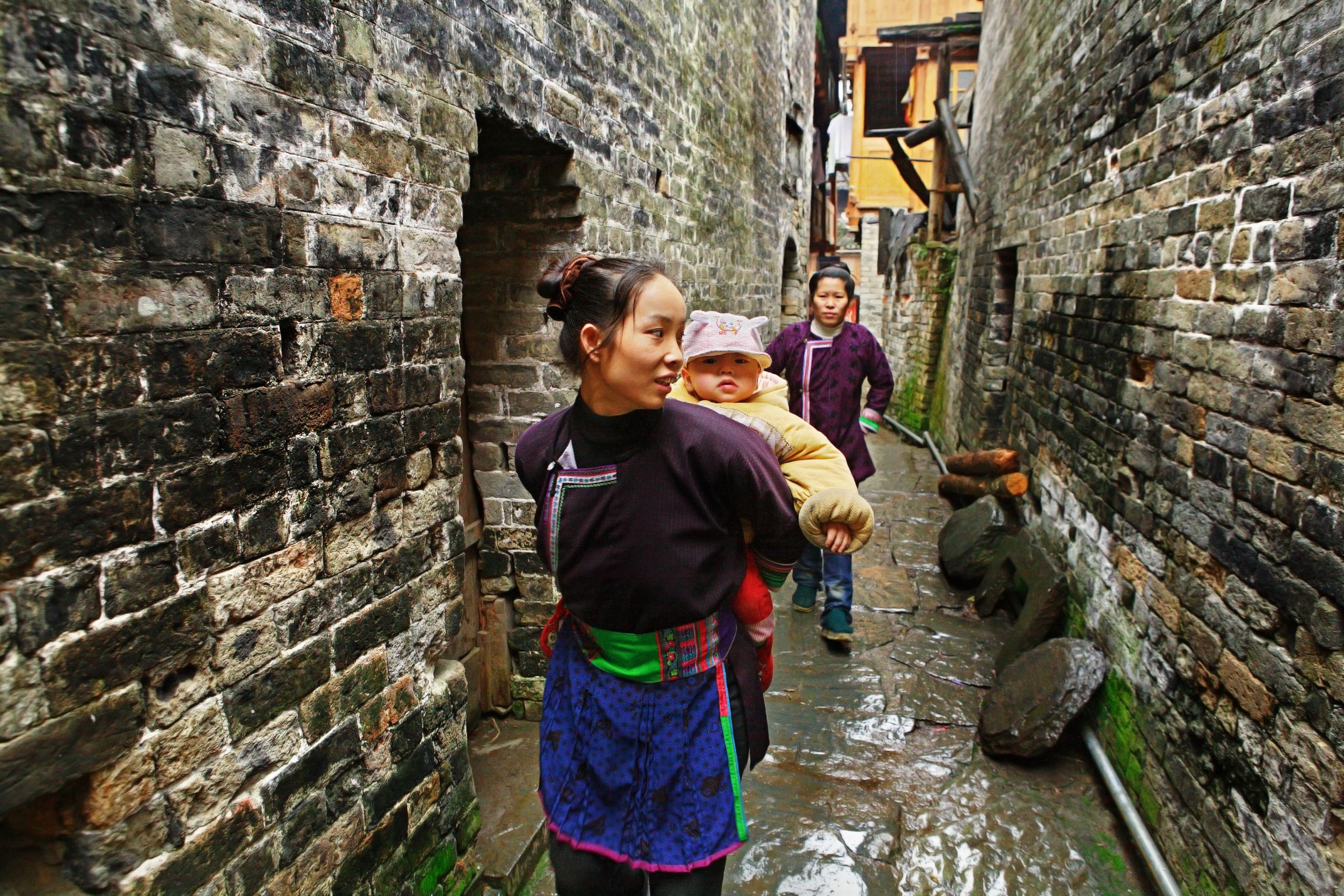 Women walking along a narrow street of Zengchong Dong ethnic minority village, in Guizhou, China. (shutterstock.com photo)
Women walking along a narrow street of Zengchong Dong ethnic minority village, in Guizhou, China. (shutterstock.com photo)
Racism against Chinese abroad
To be sure, Chinese and those who look Asian have also faced growing racism due to COVID-19.
On Feb. 24, four young men allegedly assaulted a Singaporean man in London. They kicked and punched him, yelling:
"We don't want your coronavirus in our country."
London police released photos of the suspects, stating: "There's no room on our streets for this kind of violent behavior and we are committed to finding the perpetrators."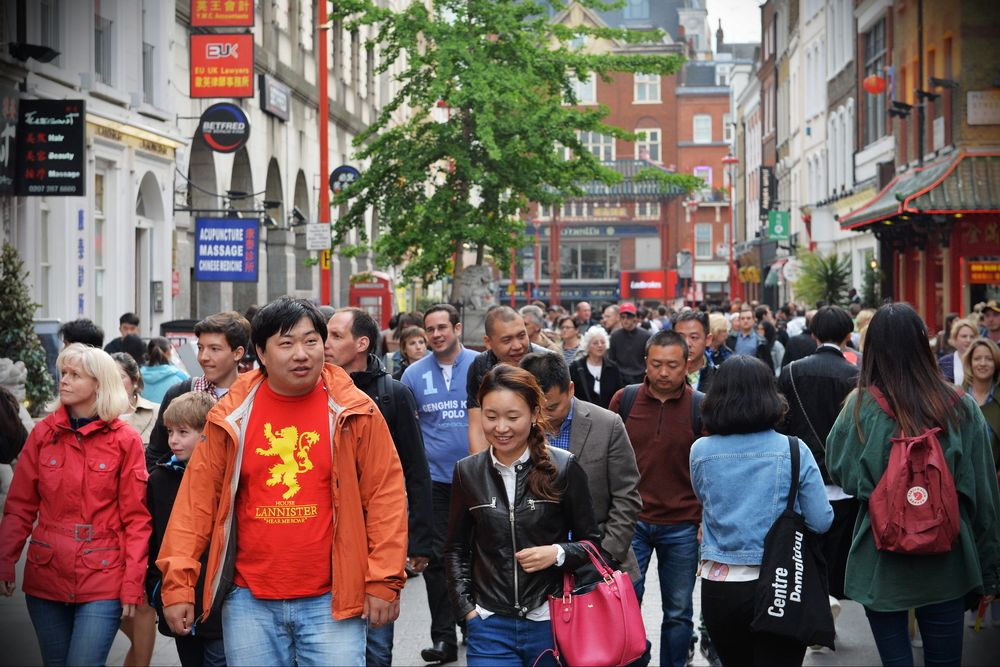 On March 14, a 19-year-old man attacked an Asian-American family at a supermarket in Texas. He stabbed several of them. Two children aged 2 and 6 were among the family. The suspect said he launched the attack "because he thought the family was Chinese and infecting people with the coronavirus."  The FBI listed the attack as a hate crime, and the suspect is in jail awaiting court.
In a February incident caught on video in Los Angeles, a Thai woman was subjected to a 10-minute racist rant against Chinese and COVID-19 by an intoxicated white man. CNN and NBC covered the incident sympathetically for the Thai woman.
Asian Americans report rise in racist attacks amid pandemic
Asian Americans report rise in racist attacks amid pandemic
These incidents, however, demonstrate that American and British suspects are isolated individuals who are being investigated, prosecuted, and subjected to negative media coverage for their alleged racism. 
On the other hand, in Guangzhou, the police are the ones discriminating against Africans in an institutionalized manner, including to the point of mass evictions and use of riot police to drive people out of town based solely on their skin color.
China's media typically ignores these racist policies or tries to blame the United States for protests against the policies.
Given the ubiquity of institutionalized racism in China, whether against Africans, Uyghurs, Tibetans, Caucasians or even Cantonese-speaking Hong Kongers, the world should be wary of allowing China to increase its power and influence yet more.
International measures should be put in place, for example joint economic sanctions and broader diplomatic censure, to ensure that the CCP cease its destabilizing discrimination.
---
Anders Corr holds a Ph.D. in government from Harvard University and has worked for U.S. military intelligence as a civilian, including on China and Central Asia.
The views and opinions expressed in this article are those of the author and do not necessarily reflect the official editorial position of LiCAS.news
This article was published April 17, 2020.
© Copyright 2020 LiCAS.news